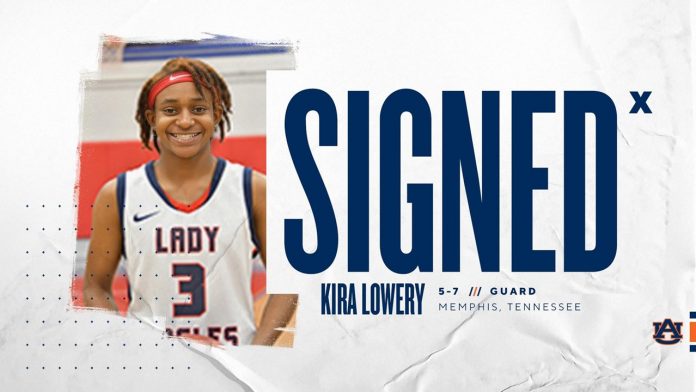 Special to the
Opelika Observer
Kira Lowery, an NJCAA All-American in 2020, will join the Auburn women's basketball team for the 2020-21 season, head coach Terri Williams-Flournoy announced today.
Lowery, a 5-foot, 7-inch guard from Memphis, played the last two years at Dyersburg State Community College in Dyersburg, Tennessee. As a sophomore, she averaged 23.3 points per game to rank third in the nation in scoring, and she was second nationally in steals with 4.0 per game. She was named a third-team NJCAA All-American, giving the Tigers two All-Americans in their incoming class.
"Kira will be a great addition to our 1-to-2 bunch with our 'juco' backcourt joining Keya Patton," Williams-Flournoy said. "Her experience at the point guard position will help give us the leadership we need. She has explosive quickness and loves to push the ball in transition. Adding another NJCAA All-American will help us compete in the tough Southeastern Conference!"
At DSCC in 2019-20, Lowery led the Lady Eagles to a 24-8 record and a third-place finish in the Tennessee Community College Athletic Association. Along with her team- and conference-leading 23.3 points and 4.0 steals per game, Lowery shot 60.8% from the floor and added 4.8 rebounds and 5.4 assists per contest. She was named the TCCAA's top offensive player and was a first-team all-conference selection.
As a freshman, she led the Lady Eagles with 14.5 points/game to go along with 3.8 assists, 3.5 rebounds and 2.8 steals per contest.
Lowery played her prep basketball at Southwind High School in Memphis, where she led the Jaguars to a regional runner-up finish in 2018 and scored over 1,000 career points.
She is the fourth signee for Coach Flo's Tigers in the 2020 class, joining two other junior college transfers in Keya Patton (Indianapolis, Ind.) and Alycia Reese (Columbus, Ga.), along with incoming freshman Romi Levy (Herzliya, Israel).