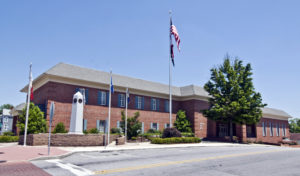 City Council committed to upkeep, maintenance of dilapidated structures
By Rebekah Martin
Associate Editor
The Opelika City Council and administration is committed to taking care of Opelika's beautiful neighborhoods, communities and homes according to city council president Eddie Smith. Part of that commitment means dealing with owners who neglect the upkeep and maintenance of their properties. In many cases, the city must take legal action to remove structures that have been deemed dangerous or dilapidated.
"We are committed to doing away with as many dilapidated homes as we possibly can," Smith said. The city is currently in the process of demolishing several properties, a costly process that can last more than 180 days.
According to city attorney Guy Gunter, the process begins with the building inspection department deeming a structure needing to demolished. Proper notice must be given to the owner through certified mail, notifying them of a public hearing at a city council meeting. From that point, the city council must determine whether the structure is unsafe to the point of being a public nuisance.
If the council orders a demolition, property owners have 10 days to file an appeal with the circuit court. The circuit judge will then decide the fate of the structures.
Gunter said seven properties owned by Sirco, Inc. are in the demolition process, and the company filed an appeal Oct. 27 to block the continuation of the city's attempts to demolish them.
"It just so happens that Sirco owns a great many of (these properties) and we're not picking on Sirco, but we are focused on eliminating, to the extent that we can, dilapidated homes, whomever they belong to," Smith said. "It is a bunch of work, and it's not cheap to do. Not only do we have a cost in preparing, but then we have costs in the actual tearing down of the structures," Smith said.
Safety is the primary reason legal action is taken according to Smith. "If a kid or someone decides one of these houses is a cool place to play, they could fall through the floor, they could fall through a window, they can do anything that would be harmful, so safety is the number one priority."
Smith said the case will come before the Lee County Circuit Court on a date that has yet to be set. "Now the circuit court will make the decision on whether the city is within its rights to continue or if Sirco has the right to stop us from moving forward."
Smith said taking legal action is a last resort for properties that are eyesores or are too dangerous to leave standing, and the city would prefer owners to simply maintain their homes. "We're not in the business of deciding whose property needs to be torn down and whose doesn't. It would be much more amenable to everyone if the property owners would keep the property maintained so that we never come to the point of us looking at filing a lien to dilapidate their homes," Smith said.
Attempts to contact Sirco, Inc. and its legal representation were unsuccessful.