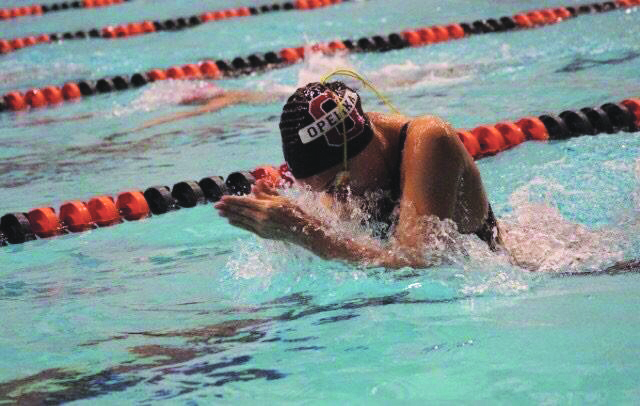 By Morgan Bryce
Associate Editor
Opelika High School's Bradi Jones was recently named as a member of the USA Swimming Scholastic All-American Team for her outstanding performance in academics and athletics.
The school system's first winner since the revitalization of the Opelika Swim Team, Jones joins 1,621 other swimmers nationwide in receiving the recognition, which is based on a student's GPA and their best individual performances in state meets or tournaments. She currently maintains a 3.8 GPA at OHS and turned in a blistering 1:04.21 time in the 100-meter breaststroke during last December's AHSAA State Swimming and Diving Championships held at Auburn University.
"It was really exciting to see my name on the list. I'm proud and honored that I have the grades and the times to be able to get (this recognition)," Jones said.
At eight years old, Jones said she took her first swim lessons at the recently opened Opelika Sportsplex and instantly fell in love with the sport.
"(The spirit of) competing is what really drew me to the sport. Seeing the results that come out of that is what I love so much," Jones said.
Nearly 10 years later, Jones still actively trains at the Sportsplex with the members of the Opelika Swim Team.
Balancing her hectic schedule in the classroom and pool can be challenging, with training for meets taking place year-round. With her success in the pool though comes the ability to be a mentor and role model for younger swimmers, a duty that Jones said she does not take lightly.
"As one of the older swimmers on the team, (I thrive) on being able to be a positive influence and leader for younger kids who are learning the basics of swimming and what it takes to do well," Jones said.
Several Division I programs have offered Jones scholarships, and she said she will explore her options before making a commitment. She plans to continue swimming at the next level and major in a subject closely tied to the medical field.
The Opelika Swim Team will participate in the "Trick or Treat Meet" Oct. 6 at the Columbus Aquatic Center, located at 1603 Midtown Drive.
For more information on Jones's recognition, visit swimswam.com/usa-swimming-recognizes-1622-scholastic-all-america-selections/.