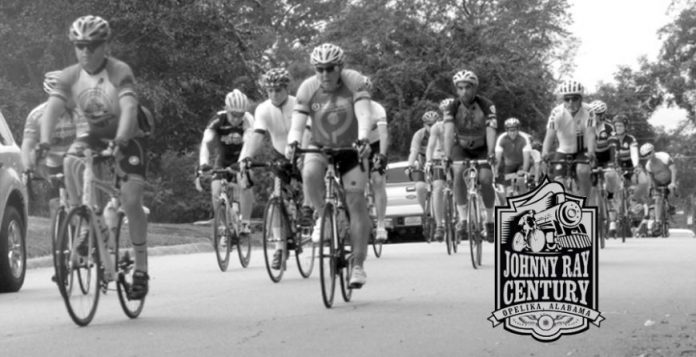 By Vanessa Poulson
For the Opelika
Observer
A fall classic is racing back through Opelika this September. The Johnny Ray Century Bicycle Ride, sponsored by the Opelika Bicycle Advisory Committee, will be held Sept. 22 from 7 a.m. – 4 p.m.
The ride is once again working with the Davis Phinney Foundation, to support their mission with Parkinson's. Proceeds will benefit the organization's mission of helping people with Parkinson's Disease live better lives on a daily basis by informing others about the disease, and funding innovative early-stage research here in the United States and internationally.
The timetable for the Johnny Ray Century Bicycle Ride is as follows:
7 a.m. – Registration opens at Trinity United Methodist Church
8 a.m. – Mass start for all ride distances
10 a.m. – Drawing for the Grand Door Prize
11 a.m. – Post-ride meal available to riders
4 p.m. – Course swept and closed
The event will feature a variety of different bike routes through the lush East Alabama countryside, including the options of a 20, 34, 63, or 105 mile route-following the now abandoned 19th Century Central of Georgia railroad spur.
The corresponding names of the routes are as follows:
20 miles – Cusseta Commuter
34 miles – Twin Silos Shuttle
63 miles – Lafayette Short Line
105 miles – Johnny Ray Century.
Along the 105-mile route, riders will get to see historic Downtown Roanoke, where it is believed that the ride's namesake, train conductor Johnny Ray, is supposedly buried. All of the riders will bike through a variety of counties in Eastern Alabama, including Lee, Chambers and Randolph Counties. Depending on the route that the rider selects, they may be able to see other historic sites like a World War II-era steel Bailey Bridge and a rare wood-truss bridge. Riders on the Roanoke Express have the option to race the historic Johnny Ray train.
The cost of registration is $35 per person. Road surfaces along the routes vary from asphalt to chipseal. Helmets are required on all four of the race routes and the event will go on rain or shine.
For more information or updates, like and follow the Opelika Bicycle Advisory Committee's Facebook page.