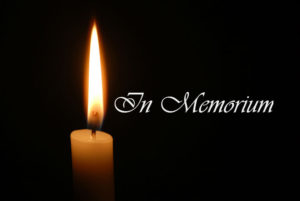 Joan Wheeler
DeLoach
Joan Wheeler DeLoach, 87, passed away peacefully on Tuesday, May 21, 2019 at Oak Park Nursing Home. She is now in the presence of our Lord and Savior where she is healed and there is no more pain and suffering.
A funeral service was held at 2:00 pm, Friday, May 24, 2019 at Jeffcoat-Trant Funeral Home, officiated by Sean Rezek with visitation at 1:00 pm prior to the service.
Joan was born November 9, 1931 in Jacksonville, Florida to the late William Britton Wheeler, Sr. and the late Evelyn Davis Wheeler Royal.
She was preceded in death by her loving husband of 65 years, Eugene DeLoach, her parents and her brother, William Britton (Billy) Wheeler, Jr.
She and Gene lived most of their lives in Pepperell Village. They both worked and retired from Ampex/Quantegy Corporation after many years of service. You never saw one without the other until Joan got sick. They loved each other dearly and deeply and are now together again.
She was a loving Wife, Mother, Grandmother, Great-Grandmother and friend to many. She loved Jesus, her family and her friends. She was a member of Pepperell Baptist Church for many years where she taught Sunday school and sang in the choir. She is currently a member of Trinity United Methodist Church in Opelika where she and Gene enjoyed helping with the bulletins each Wednesday and she loved singing in the choir until her health prevented her from participating.
She is survived by her sons: Randy DeLoach of Salem, Russell DeLoach (Lesa) of Alabaster, Billy DeLoach (Joni) of Salem; 4 grandchildren: Chris DeLoach (Stacy), Brandon DeLoach (Kristin), Monica Bateman (Jared), Jason DeLoach; and 5 great-grandchildren: Bailey, Cullen, Madison, Kyrie and Carter.
The family would like to thank Oak Park Nursing Home Staff for caring for our Mother for the last several years. A special thanks to Christine Perry for the love, kindness and care she gave to our Mom. We would also like to thank Paige Moeller for being a wonderful friend to our Mom and for being so faithful in making a special trip to Oak Park each month to make sure our Mom always looked beautiful.
Flowers will be accepted or donations can be made to Trinity United Methodist Church in Opelika.
Jeffcoat-Trant Funeral Home and Crematory directed.