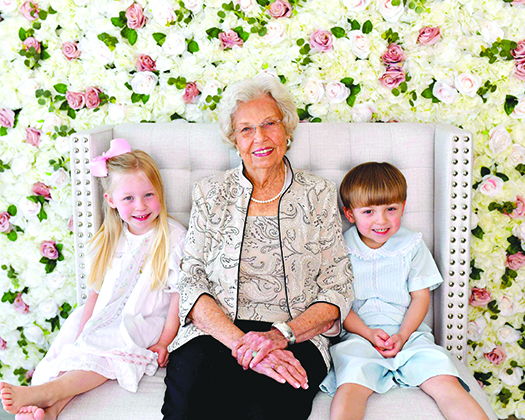 In a country setting surrounded by cotton fields, Jeanette Torbert begins preparing traditional Thanksgiving dishes ahead for her family. While family members will bring dishes, Jeanette prepares most of the meal, and being 89 years of age has not slowed down her love of having family in her home for Thanksgiving, as well as Christmas dinner.
Jeanette has two children, Sara Jane Tatum and Allen Torbert, who live in Opelika. Sara Jane and her husband Dr. Tim Tatum have two grown children — Katie, who is married to Jared Moore with two children, Sara and Matthew; and Matt and his wife Lauren. Allen and Ruth Torbert have one son, AJ.
When Jeanette was growing up on a farm in Marvyn, her family raised turkeys and killed hogs in the fall. On Thanksgiving, they had a traditional meal with roast turkey and ham, and her mother, Helen Ingram, would make a big pan of Cornbread Dressing. Jeanette learned to cook from her mother, who also taught her four brothers.
Her mother enjoyed cooking for family and friends. When Jeanette's brothers brought their friends home, their mom would cook a big pot of field peas, along with other dishes.
During World War II, when the family received stamps for food, her father, Llewellyn Ingram, would give them to their friends since they grew all their food. They canned their garden vegetables and had cows for milk and making butter.
After Jeanette's brothers were grown, at Thanksgiving she would miss two of her brothers and two uncles who were serving in the war.
When Jeanette graduated from Beauregard High School, she attended API, now Auburn University. She taught school in Carrollton, Georgia, one year and then taught in Columbus, Georgia, for a year. When she married Henry Allen Torbert, they lived on a farm in Society Hill, four miles from where she grew up.
Henry Allen and his brother Charles were farmers. They grew cotton, had cattle and a country store that mainly catered to farmers with plow parts, cotton and garden seeds, as well as fertilizers and chemicals. They also owned a cotton gin.
Fall was considered the best time of year with harvest, football, Thanksgiving and the children's birthdays. The men in the family would duck hunt during winter.
When Sara Jane and Allen were growing up, the family would have dinner at Jeanette's mother-in-law's house the Sunday before Thanksgiving. Then, they would go to Jeanette's parents' house in Marvyn on Thanksgiving day with extended family, including 16 cousins. Jeanette remembers there were tables all over the house filled with children.
While everyone took dishes, Jeannette's mother still cooked the turkey and ham and made the dressing.
Sara Jane has fond memories of Thanksgiving growing up with happy days at the farm. In the fall, the farm and the family's cotton gin were like a playground for her with bales of cotton, wagons full of cotton and the cotton seed house.
When Allen and Sara Jane were in their teens, their father became ill. Jeanette helped with bookkeeping for their farm. After Henry Allen passed away, Jeanette continued living on the farm.
While she no longer has a garden, Jeanette has pots of tomato plants and dill for making her pickles. She also makes a lot of jelly to give away.
After her mother, Helen, passed away, Jeanette began having Thanksgiving at her home for her children and grandchildren, and now two great grandchildren. Jeanette makes her mother's Cornbread Dressing, but she substitutes white bread for the homemade biscuits her mother used. Her mother made biscuits for breakfast every morning.
Jeanette will cook a hen with onion and celery for stock to use in the dressing. She will prepare it a week or more ahead of Thanksgiving and freeze it. She will also make a sweet potato casserole topped with pecans ahead to freeze.
She will set the dining table days ahead of time and roast the turkey the day ahead. Jeanette likes to have as much done ahead as possible.
"I want to be rested on Thanksgiving, so I can sit and enjoy the family," she said.
Sara Jane will take Squash Casserole, Asparagus and Cheese and Tim's grandmother's chocolate cake (Deet's 1234 Cake with Chocolate Icing). Ruth will make Broccoli Salad and Pumpkin Pie. Sometimes Jeanette will also prepare green beans or Green Bean Casserole and cook rice for the gravy.
On Thanksgiving day, after the family leisurely savors a wonderful meal together, they will help Jeanette decorate the Christmas tree.
The family will celebrate Christmas twice with an early celebration with turkey and ham. For Christmas dinner, Jeanette will serve her Shrimp Casserole that she has prepared the day ahead with salad and green beans. Ruth will bring carrots, and Sara Jane will bring the family favorite Red Velvet Cake.
As Thanksgiving approaches, Jeanette is thankful for many things.
"I am thankful for my health, my family, the Lord and our country," she said. "I have faith that we will one day have a country like we once had.
"I am thankful to the Lord Jesus for all the blessings poured out on us, especially having Mom all these years after losing my father when I was 16 years old. I am thankful for Mom's health at age 89 and all the things she passed down to us.
"I am glad that at Thanksgiving and Christmas I can go home to the farm where I grew up."
Mom's Cornbread Dressing
Jeanette Torbert
I substitute white bread for homemade biscuits that my mother Helen Ingram used.
Cook cornbread according to recipe on cornmeal bag. Cool and crumble.
4 cups chicken broth (Boil a chicken or hen for the best broth. If using canned broth, add one stick melted butter.)
2 cups chopped celery
1 cup chopped onion
10 slices white bread, pinched into small pieces
1 sleeve soda crackers, crumbled
5 eggs
Salt and pepper to taste
Cook celery and onion in broth until tender. Mix breads, crackers, eggs, broth with celery and onion, salt and pepper. Add additional broth until consistency desired (should pour like cake batter).
Bake at 350 degrees for approximately 30 minutes until lightly browned and set in the center. Freezes well.
Butterbeans
1 pkg. frozen tiny lima beans (I like Pict Sweet Farm brand.)
1 cube Knorr chicken bouillon
Salt to taste
½ stick butter
Boil lima beans on low in salted water with chicken bouillon on low for approximately 30 minutes. (If they boil on high, they will be starchy.) If needed, cook longer. When cooked, stir in butter.
Asparagus and Cheese
Sara Jane Tatum
4 Tbsp. butter
4 Tbsp. all-purpose flour
Pepper to taste
1 tsp. salt
2 cups milk
2 cups shredded sharp cheese
2 cans extra-long (thin) asparagus
Melt butter. Stir in flour, salt and pepper. Pour in milk slowly. Cook until thick and remove from heat. Stir in cheese.
Put asparagus in baking dish. Pour cheese mixture over asparagus. Bake at 350 degrees for 30 minutes or until hot and bubbly.
Squash Casserole
Sara Jane Tatum
1 lb. squash, sliced
1 large, sweet onion, chopped
1 stick butter
1 egg
½ cup mayonnaise
Salt and pepper to taste
2 cups shredded sharp cheddar cheese
Cook squash and onion in water until tender. Drain and mash together. Add butter, egg, mayonnaise, salt, pepper and cheese. Put in greased casserole dish. Bake at 350 degrees for approximately 40 minutes until light brown and firm.
Green Bean Casserole
4 cans French style green beans
16 oz. sour cream
2 cans mushroom soup
1 tsp. garlic powder
2 cups shredded sharp cheese
1 stick butter
1 cup Ritz or saltine crackers
French's "French Fried Onions"
Drain and rinse green beans. Mix sour cream, mushroom soup and garlic powder. Add to beans. Put in greased casserole dish. Sprinkle cheese on top of bean mixture.
Melt butter and add cracker crumbles. Put cracker mixture on top of cheese. Bake at 350 degrees for 45 minutes. Add French's Fried Onions on top and bake 10 more minutes.
Broccoli Salad
Ruth Torbert
2 bunches broccoli
1 cup craisins or dark raisins, optional
1 small red onion, chopped
¾ cup dry roasted sunflower seeds or pecan pieces
1 cup mayonnaise
¼ cup sugar
2 Tbsp. white vinegar
4 slices crispy bacon, crumbled
Wash broccoli well, cut tops only and place in salad bowl.
Mix with craisins/dark raisins, onion and sunflower seeds/pecan pieces.
Mix sugar and vinegar; add mayonnaise. Stir with spoon and pour over salad.
Mix well. Top with crumbled bacon right before serving.
Baked Green Beans
2 cans whole or cut green beans (not French style)
2 cooked strips bacon, crumbled
1/2 cup brown sugar
1 stick margarine or butter
Garlic salt
Rinse and drain green beans. Place in a buttered casserole dish. Sprinkle with lots of garlic salt, crumbled bacon and brown sugar. Dot with margarine. Bake uncovered at 350 degrees for 30 minutes or until beans are tender. Stir after 15 minutes.
Vidalia Onion Casserole
6 Vidalia onions (or sweet onions)
6 Tbsp. butter
16 oz. shredded Swiss cheese
1 can cream of chicken soup
2 Tbsp. soy sauce
1 cup half and half
1 small loaf French bread
Butter to spread on bread
Cut onions into ¼ inch slices. Sauté onions in 6 Tbsp. butter until onions are tender and transparent. Put in the bottom of 9 x 13 casserole dish. Cover onions with Swiss cheese.
Mix soup, soy sauce and half and half. Pour over Swiss cheese. Cut French bread into slices and spread slices with butter. Arrange to top. Bake at 350 degrees for 30 minutes.
Hot Artichoke Dip
14 oz. can artichoke hearts — drain and chop
1 cup mayonnaise
1 cup grated parmesan cheese
½ tsp. garlic powder
½ tsp. Worcestershire sauce
Combine all ingredients, mixing well. Spoon into lightly greased small casserole dish. Bake at 350 degrees for 20 minutes. Serve with Melba Toast.
Pumpkin Pie
Ruth Torbert
2 eggs, slightly beaten
15 oz. Libby's solid pack pumpkin
¾ cup sugar
1 ½ tsp. pumpkin pie spice
12 oz. evaporated milk or light cream
9-inch unbaked deep dish (4 cup volume) pie shell with high fluted edge or two 8-inch pie crusts
Mix filling ingredients in order listed.
Pour into pie shell.
Bake in a preheated 425 degree oven for 15 minutes. Reduce temperature to 350 degrees and continue baking for 45 minutes or until knife inserted in center of pie filling comes out clean.
Cool. Garnish with whipped cream, if desired.
Deet's 1234 Cake
Tim Tatum's Grandmother
1 cup Crisco
2 cups sugar
3 cups all-purpose flour
4 eggs
1 cup milk
4 tsp. baking powder
2 tsp. vanilla
Cream Crisco and sugar. Add flour, eggs and milk, alternating them. Add vanilla and baking powder. Pour in greased and lightly floured cake pans. Bake at 350 degrees for 20 minutes or until cooked. Frost layers with Deet's Chocolate Icing.
Deet's Chocolate Icing:
1 stick butter
2 squares chocolate, unsweetened
2 cups sugar
½ cup pet milk
½ tsp. vanilla
Put first 4 ingredients in pan. Let butter and chocolate melt on medium heat while stirring. Let boil rapidly for 1 minute. Beat until right consistency. Ice cake quickly before icing hardens.
Nona's Red Velvet Cake
Jeanette's Niece
2 cups sugar
2 cups canola oil
2 eggs
1 bottle red food coloring
1 tsp. white vinegar
2 ½ cups all-purpose flour
1 tsp. salt
1 tsp. baking soda
2 Tbsp. cocoa
1 cup buttermilk
1 tsp. vanilla
Cream sugar and oil. Add eggs. Beat well. Add red food coloring. Add vinegar. Sift together dry ingredients. Alternate adding buttermilk and flour mixture, starting and ending with flour. Add vanilla last.
Pour into three (8-inch) greased and floured pans. Bake at 350 degrees for 20 minutes or until toothpick comes out clean. Cool and ice with following frosting.
Cream Cheese Frosting:
1 stick softened butter
8 oz. cream cheese, room temperature
1 box confectioners' sugar, sifted
1 tsp. vanilla
1 cup chopped nuts, optional
Cream butter, cream cheese and sugar in mixer. Add vanilla. By hand, add nuts. Frost cooled cake.
Beverly's Pineapple Casserole
Jeanette's Niece
20 oz. pineapple, drained
3 Tbsp. sugar
6 Tbsp. butter, melted
3 Tbsp. flour
5 oz. shredded cheddar cheese
1 cup butter crackers, crumbled for topping
Mix all but crackers and put in casserole dish. Top with crumbled crackers. Cook at 350 degrees for 30 minutes.
Smothered Quail
Sara Jane Tatum
6 to 8 quail
Salt and pepper
½ cup butter
3 Tbsp. flour
Milk
Salt and pepper quail all over and roll in flour. Melt butter in large skillet. Brown quail over medium heat. Remove quail. Add 3 Tbsp. (or more) flour, salt and pepper.
Brown flour lightly and slowly pour in enough milk to make a white gravy. Add more salt and pepper if needed.
Return quail to skillet. Simmer on low heat for 30 minutes, basting often. Keep adding milk so gravy doesn't get too thick. Serve the gravy over rice or biscuits.
Broccoli Casserole
2 (16 oz.) pkgs. frozen broccoli
1 can cream of mushroom soup
½ cup mayonnaise
1 egg, beaten
1 cup plus ¼ cup cheddar cheese
½ cup Ritz cracker crumbles
Cook broccoli until soft. Cut into bite size pieces. Mix broccoli, soup, mayonnaise, egg and 1 cup cheese. Pour into greased 8 x 8 pan.
Top with cracker crumbles and bake for 30 minutes at 350 degrees. Sprinkle on rest of cheese and return to oven until cheese melts.
Broccoli Soup
Sara Jane Tatum
½ lb. fresh broccoli
2 cups chicken broth (can use more)
3 Tbsp. margarine
2 heaping Tbsp. flour
2 cups half and half
Salt and pepper to taste
Cook broccoli in broth until tender. Remove broccoli and save broth. Puree broccoli. Melt margarine and stir in flour to make paste. Slowly add broth until mixture is smooth. Add half and half and stir until soup is hot. Add broccoli, season, and heat. Freezes well.
Shrimp Casserole
Jeanette serves this at dinner on Christmas Day.
1 medium onion, chopped
½ cup green peppers, chopped
1 large can mushroom pieces, drained
1 stick butter
3 cups cooked shrimp
1 box Uncle Ben Long Grain and Wild Rice
2 cans cream of chicken soup
Crushed Ritz crackers
Butter for topping
Sauté onion, peppers, and mushrooms in stick of butter.
Add 3 cups cooked shrimp (can use more).
Prepare rice according to the package directions and mix with above.
Add cream of chicken soup. Put mixture in long casserole dish. Top with crushed Ritz crackers. Dot with butter,
Bake at 350 degrees for 30 minutes until hot and bubbly.
Jeanette's Duck and Wild Rice Casserole
A favorite to serve during duck hunting season. Does not have a "wild" taste.
2 large wild duck, cleaned
3 stalks celery, cut into 2-inch pieces
1 onion, halved
½ tsp. salt
¼ tsp. pepper
6 oz. pkg. long-grain and wild rice mix
4 oz. can sliced mushrooms
½ cup chopped onion
½ cup melted butter
¼ cup all-purpose flour
1½ cups half and half
1 Tbsp. chopped fresh parsley
½ cup slivered almonds
Combine first 5 ingredients in a large Dutch oven. Cover with water and bring to a boil. Reduce heat and simmer for 1 hour or until ducks are tender. Remove ducks from stock. Strain stock and reserve. When ducks cool, remove meat from bones and cut into bite size pieces; set aside.
Cook rice according to package directions. Drain mushrooms and reserve liquid. Add enough duck broth to mushroom liquid to make 1½ cups. Set aside.
Sauté chopped onions in butter until tender. Add flour, stirring until smooth. Add mushrooms. Cook 1 minute, stirring constantly. Gradually stir in mushroom/broth liquid. Cook over medium heat, stirring until thickened and bubbly.
Stir in duck, rice, half and half and parsley. Spoon mixture into a greased 2-quart casserole dish. Sprinkle almonds over the top. Cover and bake at 350 degrees for 15 to 20 minutes. Uncover dish and bake an additional 10 minutes.
Cooked Custard Homemade Ice Cream
7 cups milk
2 cups sugar
4 Tbsp. flour
7 eggs
1 can evaporated milk
1 can condensed milk
Heat milk in a double boiler. Mix sugar, flour and eggs. Add to heated milk and stir until thick. Remove from heat. Add evaporated milk and condensed milk. Cool mixture. Use electric ice cream maker to freeze ice cream.