By Ann Cipperly
Over the years as Jane Thrash was a busy, successful businesswoman, she always made time to dine nightly with her family seated around the table, which would feature a lovely centerpiece. Now that Jane's and husband Ed's three daughters are grown with families of their own, the tradition continues for holidays, birthdays and other special days. Along with sharing recipes for these occasions, Jane and her daughter Alicia look back over the family's companies, with two, Heartstrings Enterprises and Initial Outfitters, conducting business in every state before they were sold.
Jane's and Ed's lovely home in White Oaks was built with a large dining room opening from the spacious foyer. Ed built a table that fits at the end of their dining table that goes under the arched opening into the foyer to fit all 16 members of their family.
The Thrashes' three children and grandchildren include: Alicia and Jim Storbeck with children, Josh, Paola; Amy and Scott Padgett with two children, Katie and Tyler; and Holly and Mike Keel and their children, Jorja Jones, Sawyer and Summer Jones and Levi Jones.
Jane and Ed both grew up in Montgomery where they were high school sweethearts. Following high school, Jane attended Samford in Birmingham, while Ed graduated from Auburn University. A week after Jane graduated, they were married. While Ed served in the military for two years, they lived at Fort Polk in Louisiana for a year. When he served in Korea, Jane moved back to Montgomery and taught school.
The Thrashes moved to Auburn in 1970 for Ed to work with Alabama Power. Jane taught some at Lee Scott but was mostly a stay at home mom when daughters, Alicia, Amy and Holly, were growing up. They enjoyed doing crafts together. Later Ed, Jane and her daughters made crafts to sell at Betty's Cabin, which was owned by Betty Woodward.
When a store space opened in downtown Auburn, Ed encouraged Jane to open a business, as Alicia was getting ready to leave home to attend Samford. Being a close knit family, Ed knew it was going to be difficult for Jane. Since her mother and grandmother had both sold cosmetics when she was growing up, Jane had an interest in sales.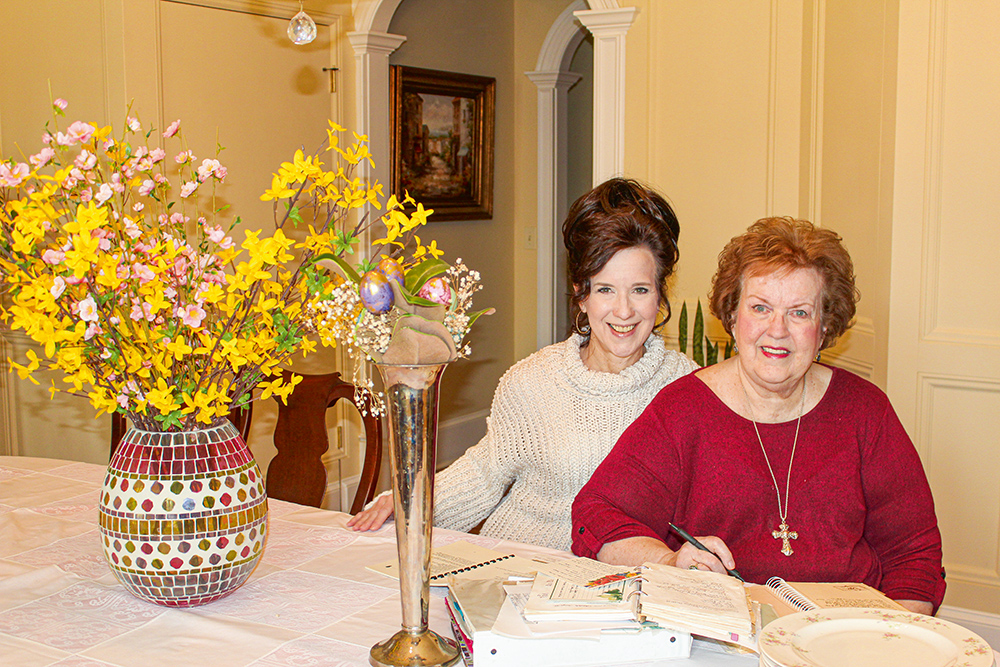 In 1986, Jane opened Heartstrings, which was a popular retail store with home and seasonal décor, various collectibles and other items. Three years later, they expanded the business, purchasing the building next door. As the business continued to grow, they expanded the upstairs for sorority merchandise.
"It was wonderful," Jane said, "and I had wonderful employees and still stay in touch with some of them." She became friends with many of her customers. Everywhere she goes, people remember Heartstrings.
In 1997, Heartstrings Enterprises started a wholesale business to provide monogramed jewelry and gifts to other stores across the country.
In 2006, Alicia and her husband Jim started Initial Outfitters, which was a direct sales company that allowed women across the country to have their own business, selling through the home-sales format. It offered different merchandise than what other businesses were selling.
While all three business were successful, the retail store, Heartstrings of Auburn, closed in 2007 when Jane retired. Alicia and Jim sold Heartstrings Enterprises when they adopted two children, and they sold Initial Outfitters last year, with businesses in all 50 states.
"Making the decision to open our own business was the best decision we ever made," Alicia said. "It was hardest thing we have ever done, and the most fun we have ever had. The very beginning stages are tense, hard and challenging. Then, it was absolutely thrilling when we started to see success and opportunities that were there not only for our family but for everyone around us.
"We were working with a lot of the same vendors in Mexico forever. We were able to think about what our growth was going to mean for them and their families. We built personal relationships with them, and to see our orders grow meant a lot to them, their employees and the artisans. We could see a huge ripple effect.
"That was a really good feeling to know every time we were able to take that business forward it wasn't just for our team. We were making a difference for so many more. It was incredibly rewarding."
Since selling the businesses, Alicia has been trying to figure out what God wanted her to do next. "I was thinking about the talents and gifts God has given me and how He wants me to use them. For starters, I now have an on call position as a Spanish language interpreter at East Alabama Medical Center Health and love it."
Jane is enjoying being home in retirement and stays busy planning special occasions for family get-togethers. While she did not start cooking until after getting married, Jane studied home economics in high school and college. While in college, Jane had to prepare a meal and arrange a centerpiece for the table. "To this day, I cannot serve a meal without a centerpiece," she said.
Jane has to have the table set ahead of time and will have an elegant centerpiece. She wants her grandchildren to grow up to know how to sit at a nice table and dine on a good homemade meal, as well as have good manners.
"The big thing for me is getting together with family," Jane said. "If you don't get together you kind of lose each other. You have to make that a purpose in your life. We get together for holidays and birthdays. One of the grandsons can't stand for everyone not to be at the table, so we added on to the table for everyone to sit together.
"I think it is so important to sit at the table with family. Stories we tell generally happened around the dinner table."
The recipes for these occasions have evolved, and the menu changes according to the season and holiday. Each grandchild has a favorite recipe, and she is sharing those recipes. Jane compiled a cookbook with handwritten recipes for each of her daughters and assembled a cookbook for the grandchildren. She also published a small cookbook with party dishes when she owned Heartstrings.
Alicia, Amy and Holly divide the cooking, with each preparing a couple of dishes. This keeps it easy as no one has to do a great deal of cooking for the get-togethers. The husbands help too by doing the dishes. The family keeps it a team effort.
For the meals, the main dishes and sides are served on the counter bar in the kitchen, while the desserts are arranged on the bar in the breakfast room. Before the family dines, they stand in a circle and hold hands. They sing "Blessed Be the Ties that Bind" before every meal.
After lunch, the family will play games outside. At Easter, they will play an egg toss game.
"You have to work at it to keep the family together," Jane said. "It just doesn't happen. You have to make it a priority to have get-togethers and do things together. We have also taken some pretty memorable vacations together."
Jane feels fortunate that all of their children and grandchildren have been able to stay in the area. "We have been blessed," Jane says, as she gathers her cookbooks together to plan another get-together.
Cattleman's Dip
Best "football food" ever. Easy to make, hot, great with chips and crackers, and everyone loves it.
2 8 oz. blocks of cream cheese
5 oz. dried beef, finely chopped
1 tsp. garlic powder
1 cup sour cream
2 tsp. minced onions or 1 tsp. onion powder
1 tsp. white pepper (optional)
1 tsp. black pepper
1 cup chopped pecans
2 Tbsp. butter
Soften cream cheese in microwave for 1 minute. Stir in sour cream, spices, and dried beef. Spread mixture evenly into an ovenproof dish ( I use a pie pan.). Sauté pecans in butter and spread over cream cheese mixture. Bake at 350 degrees for 20 minutes or until bubbly. Serve with crackers (we like Wheat Thins).
Dill Pickle Sandwiches
Wait until you try these! Everyone will want the recipe, regardless of where you serve them.
16 slices white bread, crusts removed OR flour tortillas
16 dill pickle spears
8 oz. pkg. cream cheese
½ packet Hidden Valley Ranch dressing mix
Pickle juice
1 Tbsp. mayonnaise
Roll the bread slices out with a rolling pin until very flat, including the edges. Soften the cream cheese in the microwave for 1 minute. Add dressing mix, mayonnaise, and enough pickle juice to soften mixture to a spreadable consistency.
Spread cream cheese mixture over bread, being careful not to get too close to the edge. Place 1 pickle spear on the edge of the bread and roll up. When all are finished, cover with a barely damp paper towel and refrigerate for 30 minutes. Slice into ¼ inch rounds and serve!
Penne all' Arrabbiata
In Italian, Arrabbiata means "angry"! According to my interpreter while visiting there, this dish "must be angry to be good!" This is Maria's family recipe. My favorite souvenir from my travels to Rome! We make it every week (at least) at our house. It is a great side dish with meat, or main meatless dish. Just add a salad and bread…and voila!
½ lb. penne pasta
1 can tomato sauce
1 clove garlic, minced or 1 tsp. pre-minced
Crushed red pepper
Olive oil
Salt
Parmesan or Pecorino Romano or Mozzarella Cheese
Bring water to boil for your pasta and add salt so that it is "salty like the ocean." Cook the pasta just until it is not hard inside, but still firm. Drain immediately, do not rinse. It will continue to soften a little as it sits both in the colander and on your plate.
Make your sauce after you put the water on to boil. Everything will be ready at once!
In a saucepan, heat about 1 Tbsp. of olive oil and sauté the minced garlic just until it starts to turn white/golden. Immediately add your tomato sauce and stir. Add about ½ tsp. salt and a couple of shakes of crushed red pepper, but this is absolutely to taste. Very angry to Maria may be tremendously different than very angry to you! Better to add too little than too much because you can always add more!
Combine cooked pasta with sauce and serve sprinkled with cheese.
If you make a lot of this, combine only what you are going to use and store the remaining sauce and pasta separately. Otherwise, the pasta will soak up all the sauce and be a very different dish.
Colleen's Manicotti
This is a birthday tradition at our house! Jim's mom's manicotti. Not the traditional ricotta filled dish, but a meaty, delicious treat!
1 lb. ground beef
¼ tsp. garlic powder
1 cup cottage cheese
4 oz. shredded mozzarella cheese
½ tsp. salt
½ cup mayonnaise
1 box manicotti shells, cooked, drained, and spread on a towel
32 oz. of your favorite pasta sauce – she uses one with mushrooms
½ tsp. dried oregano
Parmesan cheese
Brown beef with garlic powder. Drain fat. Mix with cheeses, salt, and mayonnaise.
Spread a little sauce over the bottom of a 9×13 baking dish.
Fill each shell with this mixture and place in pan in a single layer. Pour remaining sauce over the shells. Sprinkle with oregano and parmesan cheese. Cover with aluminum foil. Bake at 325 degrees for 20 minutes. Remove foil and bake 10 minutes longer.
Serve with salad and bread and enjoy! This can also be made with large shell pasta if you can't find manicotti.
Grilled Barbecue Chicken
This marinade! Seriously we could eat this every day, use this chicken in every recipe, and never get tired of it! One granddaughter simply calls it Vinegar Chicken, and asks for it all the time!
1 stick butter
1 cup vinegar
¼ cup water
2 Tbsp. salt
½ tsp. pepper
1 tsp. poultry seasoning
1 tsp. paprika
Put everything into a small pan and bring to a boil. Cool completely before pouring over boneless chicken breasts. Marinate 12-36 hours. Grill, bake, or sauté in a skillet. We like it grilled best! Serve with Loaded Creamed Potato Casserole and loads of summer veggies!
Unbelievable Brownie Pie
This was served at our rehearsal dinner, and we loved it so much that we begged Rex Barrington to share the recipe! Here it is!
2 squares unsweetened chocolate
½ cup butter
2 eggs
1 cup sugar
2 Tbsp. flour
1 tsp. vanilla
1 pie shell, unbaked
Melt chocolate in a saucepan over low heat and add ½ cup butter. Stir until melted. Remove from heat. Add remaining ingredients and mix well.
Pour into unbaked pie shell. Place this in a cold oven and turn heat to 350 degrees. Bake for 30 minutes, and do not overbake! Garnish with whipped cream and shaved chocolate. You can add ½ cup of chopped nuts as a variation.
Lemon Meringue Pie
Daddy's favorite! So much so that he is literally known to eat it with a toothpick to make it last longer!
1 pie shell, baked
½ cup lemon juice
1 tsp. grated lemon rind or ¼ tsp. lemon extract
1 14 oz. can sweetened condensed milk
2 eggs, separated
¼ tsp. cream of tartar
4 Tbsp. sugar
Combine lemon juice and grated lemon rind. Gradually stir in condensed milk. Add egg yolks and stir until well blended. Pour into chilled pie crust.
Add cream of tartar to egg whites. Beat until almost stiff enough to hold a peak. Add sugar gradually, beating until stiff but not dry. Pile lightly on the pie filling.
Bake at 325 degrees until lightly browned, about 15 minutes. Cool before serving.
Sour Cream Cornbread
Such a favorite that the recipe lives in the outside window sleeve of the recipe notebook.
2 eggs
½ cup vegetable oil
8 oz. sour cream
1 can creamed corn
2 cup self-rising corn meal
Put a cast iron pan with 1 Tbsp. butter into a 400 degree oven. Mix all ingredients together and pour into cast iron pan. Bake for about 30 minutes. Hot and buttered is the best!
Loaded Creamed Potato Casserole
One of our family's favorite sides, we serve this with burgers, grilled chicken, barbecue, Easter ham and Thanksgiving turkey! It's almost impossible to make too much of it.
3 lb. russet potatoes, red potatoes, or both – boiled until soft enough to mash
16 oz. cottage cheese
8 oz. sour cream
1 stick butter
1 Tbsp. salt
2 tsp. pepper
1 tsp. garlic powder
2 cup grated cheese – cheddar jack or mozzarella are our favorites
In a large pot, mash potatoes with butter, salt, pepper, and garlic powder. Stir in cottage cheese and sour cream. Taste and adjust seasonings. Stir in cheese.
Scoop into a 9×11 casserole dish and top with additional cheese. Bake at 350 degrees for about 30 minutes or until potatoes are bubbly. If you made it ahead and put it in the refrigerator, this will take longer, and you should top it with aluminum foil for the first 20 minutes or so.
Variations: add bacon bits, green onions, slivered almonds, or other favorite potato toppings.
Party Chicken
This makes an elegant dish and is as perfect for a holiday gathering as it is for a weeknight dinner.
4 boneless chicken breasts, cut in half to make 2 thinner breasts
8 strips bacon, cut in half
4 oz. chipped dried beef
1 can cream of mushroom soup
8 oz. sour cream
Divide chipped beef into 8 equal portions. Place one portion on one end of the cut side of a chicken breast. Roll up and wrap with a bacon strip to secure. Place chicken rolls in a 9×11 dish.
Combine soup and sour cream. Spread over chicken. Top with remaining bacon. Bake 3 hours uncovered at 275 degrees. The result is the most tender chicken you have ever eaten!
Serve over rice, with steamed broccoli almondine for a delicious meal.
Chicken Roll-Ups
A family favorite. A sure bet when we want to see the grandkids is to tell them these are waiting for them, and they will be over! One even said when offered "Grandmom, I will NEVER turn down Chicken Roll-Ups!"
5 oz. can of chicken, drained and chopped finely
1 medium green bell pepper, chopped finely
¼ cup pimento
2 Tbsp. mayonnaise
½ tsp. salt
8 oz. can of crescent rolls
Mix all ingredients together except rolls. Grease a cookie sheet. Separate crescent roll dough into 4 rectangles on a lightly floured surface. Place 2 dough rectangles with short sides together, slightly overlapping. With a lightly floured rolling pin, roll dough into a 15"x4" rectangle. Spread chicken mixture onto crescent rolls and roll up jelly roll style. Slice into appx. ½" sections, place flat on cookie sheet and bake for 20 to 30 minutes at 350 degrees.
Serve with chicken flavored rice, a green vegetable, and fruit.
Variations: we have revised this many times, omitting peppers and pimentos and adding cheese, almonds, and other goodies that we enjoy. Feel free to improvise!
Broccoli Amandine
2-3 cups fresh broccoli crowns, cut into bite sized pieces and steamed
½ cup butter or margarine
3 Tbsp. lemon juice
½ tsp. salt
½ cup slivered blanched almonds
Melt margarine in a small saucepan. Add lemon juice, salt and almonds. Simmer for 5 minutes. Drain broccoli, toss with sauce and serve.
Squash Casserole
Jane's mother's recipe! It has definitely stood the test of time and is a summertime favorite.
2 cups fresh squash
1 large white onion, chopped and sauteed
1 pkg Ritz crackers, crushed
¼ cup butter, melted
2 eggs
½ cup milk
Salt and pepper
Sook squash and onion until tender. Drain off all liquid. Beat eggs and milk together and add to the squash. In a separate bowl, combine cheese, butter, and cracker crumbs. Add ½ of the cracker mixture into the squash and pour squash mixture into a buttered casserole dish. Sprinkle remaining crumb mixture on top. Bake 25 to 30 minutes at 400 degrees.
Chocolate Icing
No matter what cake you put this on, it is our family favorite. Literally all of us ask for this icing on our birthdays! It is originally from a crazy cake recipe, but we just make a boxed cake and ice it with this icing. It is to die for!
1 stick margarine
4 Tbsp. cocoa powder
6 Tbsp. milk
1 lb. powdered sugar
1 Tbsp. vanilla
1 cup chopped nuts (optional)
Bring margarine, cocoa, and milk to a boil. Add powdered sugar, vanilla, and nuts if using. Spread over cake while both are hot.
Pear Salad
This recipe is from a military friend of ours, given to me when we were stationed at Ft. Knox, Kentucky. It is light, refreshing and a uniquely different side to serve!
1 can pears
1 pkg. lemon or lime Jell-O
1 cup Cool Whip
3 oz. cream cheese, room temperature
1 cup chopped pecans
½ cup mayonnaise
Lemon juice
Heat the juice from pears and dissolve Jell-O. Allow to cool completely. Mash pears and combine with cream cheese, Cool Whip, nuts and cooled Jell-O mixture.
Add a splash of lemon juice to mayonnaise and mix in a separate bowl. Serve salad with a dollop of the lemon mayonnaise on a lettuce leaf.
Derby Pie
This recipe came from a Samford University hallmate who was from Kentucky – home of the authentic Derby Pie! This is unbelievable served warm but is still incredible once it's cooled down. Serve with ice cream!
1 cup sugar
½ cup flour
2 slightly beaten eggs
½ cup cooled melted butter
1 cup chopped nuts
1 cup chocolate chips
1 tsp. vanilla
1 unbaked pie shell
Mix sugar and flour. Add eggs and stir. Add remaining ingredients and stir just until combined. Pour into unbaked pie shell and bake at 325 degrees for about 1 hour. Test with a toothpick to make sure it's not runny before removing from the oven. Cool slightly before serving.
Dark Chocolate Fudge Brownies
I have never made anything more frequently requested or devoured more quickly than these brownies! It's crazy! It's simply a matter of changing up the directions on the box a little!
3 boxes Betty Crocker Dark Chocolate Brownies
1 tsp. espresso powder (optional)
3 eggs
Water and oil as called for on package
This recipe is for two 9×13 pans. There's just no way to make it right otherwise. Plus, you will want that many when you see how good they are!
In a very large mixing bowl, empty the 3 boxes of brownie mix. Add espresso powder, water, oil, and eggs. I always put the eggs in one spot and lightly beat them before mixing everything together. This keeps you from getting stringy pieces of egg in the brownies.
Gently stir, no more than 35 times (seriously, count.) Just enough to get most of the mix wet. Divide into the two pans and bake at 350 until the edges are set and the very center is still slightly jiggly. Take them out immediately.
Best tip ever – cut the brownies with a plastic knife. No gooey mess, no brownies sticking to the knife!
Add nuts, chocolate chips, or anything else that you like in your brownies if you want to make them even more over the top. You can't mess them up with more good stuff!
Sour Cream Pound Cake
A favorite that has been in our family for years! Nothing tastes better than a fresh, warm, pound cake with whipped cream!
1 cup butter
3 cups sugar
6 eggs
8 oz. carton sour cream
3 cups all-purpose flour
1 tsp. vanilla
½ tsp. baking soda
Bring all ingredients to room temperature for best results. Sift flour and baking soda together and set aside. In a large bowl, slowly cream butter and sugar until fluffy. Add eggs one at a time, beating well after each. Stir in sour cream. Slowly add flour mixture ½ cup at a time. Pour into a greased and floured Bundt pan, or 2 loaf pans. Bake at 325 degrees for about 1 hour. Check to see if a toothpick comes out clean. If not, bake up to 30 minutes longer, checking every 5 to 10 minutes. Nothing is worse than a dry pound cake!
Chicken Curry
This recipe was given to us by friends who lived in Africa for a season. It is now our favorite Christmas meal, one that the entire family looks forward to.
3 chicken breasts, boiled and shredded
Broth from chicken breasts
1 small white onion, chopped finely
1 can crushed tomatoes
1 clove garlic, minced or 1 tsp. minced garlic
In a large pot, sauté onions and garlic until soft, then add tomatoes. Simmer and add the following spices:
1 tsp. each: ginger, cinnamon, nutmeg, cloves, turmeric, salt, pepper
1 Tbsp. each: curry powder, brown sugar
¼ tsp. each: cayenne pepper, chili powder
Stir together and let simmer. Add shredded chicken, and:
2 cups chicken broth
1 cup milk
Now mix 3 heaping tablespoons of flour with some of the hot liquid until a paste forms and add that to the sauce. Stir very well.
Simmer at least 1 hour and up to 4 hours, stirring regularly so that it doesn't burn.
Serve over rice, with all the following condiments to choose from. The more you add, the better it tastes, but everyone likes a different combination so just set the bowls of condiments out and let everyone personalize their plate!
Condiments: peanuts, raisins, chopped onion, chopped green bell peppers, pineapple tidbits (drained), coconut, sliced bananas, chopped tomatoes