By Ann Cipperly
Framed across the front with wrought iron fencing, the historic SmithT house "Toad Hill" will be the setting for a scrumptious four course Italian dinner with wine pairing as one of the silent auction items for the Empty Bowls Preview Party, March 26, at the Heritage House. Two excellent cooks, Peg Weiss and Kitty Greene, chair of the Empty Bowls Advisory Board, are preparing the dinner from scratch with a flawless, superb blending of Italian flavors from Tuscany and the Como Lake region.
Kitty resides in the stunning house at Toad Hill and has restored every room, with numerous areas for relaxing and admiring the woodwork throughout. The parlor was the setting for the wedding in the Norma Rae movie. Local designer Dick Moreman furnished the room. While Kitty updated the parlor, she left the elegant drapes that had been dipped in tea to give an aged look in the movie.
Built circa 1910 by the third John SmithT, the stately brick house features a spacious front porch with white columns soaring two stories. SmithT, who owned a building supply company, lived there for many years. Then the house stood vacant for ten years before it was purchased in the 1970s by Thurman Moore.
Kitty and her husband purchased the house in 1986 and began restoring every room, adding unique stained glass in the dining room and at the top of the stairs. The enhancements included a separate garden room for entertaining on the grounds in the back of the house.
This spacious garden room with high ceilings and windows that open to bring in fresh air is equipped with a kitchen. Towering trees were planted in two corners to embellish the garden setting. A wrought iron door opens to the garden and a goldfish pond.
The elegant four course Italian dinner will begin in the garden room with two tasty appetizers served accompanied with wine. With a wooden ceiling, Saltillo tile flooring and spacious windows for savoring the garden views, the space offers a relaxing social venue.
Following courses will be served in the main dining room furnished with antiques. After a special dessert, soothing cups of hot chocolate laced with liqueur will cap the elegant dinner on a sweet note.
A few years ago, Kitty and Peg each served separate dinners in their homes for the silent auction. In 2020, they combined their talents to offer an Italian four course dinner at Toad Hill. They divided the courses and then cooked together at Kitty's to finish the menu and will do the same for the dinner this year. The menu will vary, but Peg will prepare her popular focaccia rolls this year as well.
Peg has a love for baking and will also prepare the dessert. Growing up in Iowa, the talented baker learned cake decorating from her mother, who was an expert in the art. Peg picked up the skill quickly. By the time she was in college she was a master at decorating cookies.
After graduating from Iowa State and receiving a master's degree in Arizona, she began teaching kindergarten. When the mother of one of her students brought her a gingerbread house for a gift, Peg was intrigued. She took the cake apart and drew a pattern, then experimented with gingerbread recipes.
Five years later when Peg and her husband Peter moved to Ithaca, New York, she was looking for something fun to do from home for extra income. Peg and a friend, Susan Gordon, who also did cake decorating, started a business called The Gingerbread House. "We got together and baked cakes while our children played," remembers Peg.
During the Christmas season, they created hundreds of gingerbread houses and decorated cookies at their shop. For an annual three-day festival in upstate New York, they sold hundreds of gingerbread houses as fast as they could make them.
When Peg's partner's mother was heading a charity event in New York, she asked them to bake a hundred gingerbread houses for the charity. While attending the event, they learned Parents magazine was looking for someone to bake a gingerbread house for the cover of a December issue.
They submitted a photo, and their gingerbread house was selected. Peg and Susan spent three days assembling the elaborate Victorian gingerbread house in a kitchen-equipped photographer's studio in Manhattan. The president of Parents magazine was so impressed with the creation that she asked them to make an identical one for the editor of the publication's German counterpart.
During this time, Peg and Susan were also designing Christmas display windows for gourmet shops in New York and Philadelphia. The windows were filled with gingerbread houses and decorated cookies. Along with thousands of their cookies, they prepared all kinds of cakes, including ones shaped as Easter baskets, fire trucks, airplanes, among others. One of the most unusual cakes was shaped like a beer keg to serve 500 people.
Peg and her family moved to Auburn in the 1980s for Peter to accept a position in the School of Architecture at Auburn University. For the City of Auburn's sesquicentennial celebration, Peg was asked to bake a cake for 750. The huge cake featured reproductions of landmark buildings from the 1850s. She designed cakes of the buildings, then placed them on the cake.
As she continued to bake for her children and friends, Peg went back to her second love of teaching. She taught preschool, then started her own preschool, Indian Pines Country Day School. Peg has retired and sold the preschool. She now teaches grandchildren to cook.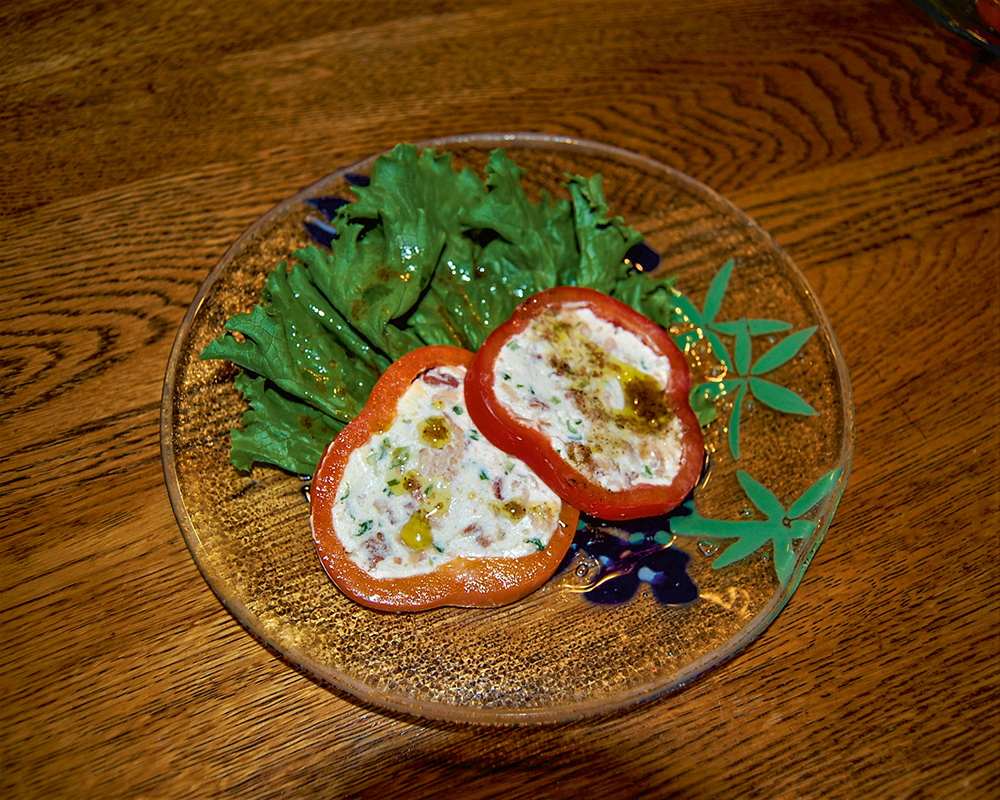 While Kitty (Katherine) was born in Arkansas, her father was in the military, and they moved frequently and lived in over ten states and in Germany. After high school, Kitty attended the University of Georgia where she received her degree in psychology, then her master's at Mississippi State, and her doctorate at the University of Alabama before teaching at Auburn University for five years.
On weekends Kitty enjoys cooking and entertaining. She learned to love cooking growing up and prepared specialty dishes with her mother. Being from a large family in New York state, her mother also had a love of entertaining.
From traveling extensively, Kitty has developed a fondness for a variety of cuisines. When entertaining, she plans ahead and will have everything prepared before guests arrive. She enjoys cooking for her two daughters and three grandchildren when they visit.
Italian cuisine is a favorite of both Kitty and Peg. They have traveled together to Italy, including to Lake Como, Rome and Tuscany. With their fondness for Italian dishes, they selected this theme for their impressive four course dinner for six this year.
"We both like to try new recipes, and we both like to socialize," said Peg. "We like to meet new people."
"We wanted to do something to help the Food Bank," added Kitty. "People like to visit historic homes. I feel honored to be able to live in this house, and I like to share it with others."
Those interested in the dinner can bid on it during the silent auction at the Empty Bowls Preview Party March 26 from 7 p.m. until 9 p.m. at the Heritage House. The evening will feature signature cocktails and a tasting table from John Emerald. Beer and wine will also be served as well as a variety of appetizers and sweets. Bow and Arrow, The Waverly Local and Venditori's Italian Restaurant, among others, will provide appetizers, while Cakeitecture Bakery and Mama's Secret Cookies will offer desserts.
Select a special empty bowl and browse the items for the silent auction while listening to live music by the Frank Bock Quartet. Only 75 tickets will be sold for this entertaining evening at the historic Heritage House. A special package is also offered for those who would like to extend the evening by spending the night at the inn and savoring a delectable breakfast.
The silent auction will feature items with different themes, including It's All About Her, It's All About Him, It's All About Fashion, It's All About Art, It's All About Dining and It's All About Our Community. Along with the Italian dinner, other special items include a year's worth of lawn care and a signed Bruce Pearl basketball.
Another silent auction will be held at the Opelika-Auburn Empty Bowls Event April 9 from 10 a.m. until 2 p.m. at the Opelika Recreation Center on Denson Drive. A large variety of gorgeous pottery and bowls will be for sale, and soup and bread will be served under a tent. Live music will entertain those attending.
All of the proceeds from the Preview Party and Empty Bowls Event go to the Food Bank of East Alabama. With rising prices on gas and food, more local families are in need. By attending these events, you are able to help families while enjoying a fun time with good food, purchasing lovely handmade bowls and silent auction items.
Other ways to give include becoming a sponsor or donating online which will go directly to the Food Bank. Buy tickets to the Preview Party at www.4emptybowls.com/2022preview/. For further information, you can also email 4emptybowls@gmail.com or call Kitty Greene at 334.744.4807 or Holly Judd, assistant chair of the Advisory Board at 334.559.2461.
Cena Italiana di Toad Hill
Kitty Greene and Peg Weiss served this menu at the 2020 Italian dinner, and they will prepare a similar menu for the four course dinner offered in the silent auction this year.
Antipasti
Toast alla 'nduja con sedano sottaceto (Nduja Toast with Pickled Celery)
Olive assortite (Assorted Olives)
Mozzarella marinata (Marinated Mozzarella)
La Marca Prosecco
Primi
Zuppa Di Funghi Al Tartufo (Mushroom Truffle Bisque)
Rotoli di focaccia trapuntata (Quilted Focaccia Rolls)
Cascina Galarin Nuvole 2017
Secondi
Pasta al Ragù alla Bolognese (Pasta with Bolognese Sauce)
Tenuta Lodola Nuova Vino Nobile di Montepulciano 2011
Insalata
Salad de Poivrons Farci (Pepper Slices with Cream Cheese Filling)
Molo 8 Lambrusco Mantovano
Dolce
Cannoli Mandorle Tostate ed Espresso (Roasted Almond & Espresso Cannoli)
Cioccolata calda italiana piccante (Spicy Italian Hot Chocolate)
Digestivo
Limoncello cremoso (Creamy Limoncello)

Antipasti
'Nduja Toasts with Quick-Pickled Celery
'Nduja is a spicy, spreadable sausage that can be purchased online or in specialty shops
½ cup finely chopped inner celery stalks
¼ cup Champagne vinegar
1 Tbsp. granulated sugar
1 tsp. kosher salt
20 (1/4-inch-thick) baguette slices
8 oz. 'Nduja (such as La Quercia) at room temperature
Extra virgin olive oil, for serving
Flaky sea salt, for serving
Celery leaves, for garnish
Toss together celery, vinegar, sugar and kosher salt in a medium bowl until salt and sugar dissolve. Let stand at least 15 minutes. Meanwhile, lightly toast or grill baguette slices.
Drain pickled celery. Spread 'Nduja evenly on toasts using a small offset spatula. Arrange toasts on a platter or board. Sprinkle pickled celery evenly over toasts. Drizzle with oil; sprinkle with flaky sea salt. Garnish with celery leaves.
To make ahead, prepare and drain the celery mixture. Refrigerate overnight.
Fresh Mozzarella with Herbs
3 Tbsp. extra-virgin olive oil
1 tsp. fresh thyme
1 tsp. finely chopped fresh rosemary
1 tsp. chopped fresh oregano
¼ tsp. red pepper flakes
Coarse salt and freshly ground pepper, to taste
1 lb. fresh mozzarella, cut into ¼-inch-thick slices or tiny balls of fresh mozzarella
Olives, crackers, bread, and sliced cured meats (such as salami Toscana) for serving
Combine oil, herbs, red-pepper flakes, salt and pepper in a small bowl. Drizzle over mozzarella. Let stand 20 to 60 minutes. Serve with olives, crackers, bread, and cured meats.
Mushroom Truffle Bisque
Recipe from Longhorn Steakhouse
2 Tbsp. butter
4 oz. white button mushrooms, sliced
4 oz. baby portobello mushrooms, sliced
1/2 cup white onion, chopped
1/2 tsp. salt
1 tsp. chopped garlic
2 cups low sodium chicken broth
1 cup heavy cream
1/2 tsp. truffle oil
Melt 2 Tbsp. butter in a medium sized skillet over medium heat.
Add sliced mushrooms and chopped onion. Sprinkle mushrooms and onions with salt.
Cook until onions have become transparent and mushrooms have released their water.
Add chopped garlic and sauté for 1 to 2 minutes.
In a medium sized saucepan add chicken broth and mushroom mixture. Heat through.
Use either a stick blender, or a food processor to process soup. Process soup until mushrooms are chopped very fine.
Add heavy cream to soup, and heat until soup is warm.
Add truffle oil just before serving. You may want to drizzle a bit of sour cream if desired on the soup just before serving.
Pasta with Bolognese Sauce
Recipe from Serena Cosmo's The Ultimate Pasta & Noodle Cookbook
3 Tbsp. extra virgin olive oil
1 medium yellow onion, grated or finely diced
2 inner pale green celery stalks and fronds, grated or finely diced
Salt
2 lbs. ground meat (a blend of pork, veal, and beef gives wonderful flavor)
2 cups whole milk
2 28-oz. cans peeled whole tomatoes (preferably San Marzano tomatoes pureed in a food processor or blender)
2 bay leaves
7 cloves or 1 tsp. ground cloves
Heat a large, heavy bottomed pot or cast iron Dutch oven over medium-low heat for 2 to 3 minutes. Add the olive oil and turn the heat up to medium-high. Heat the oil for a couple of minutes, then add the onion, celery and a couple pinches of salt and mix well.
When the vegetables begin to sizzle, lower heat to low and give them another stir. Cover and cook for 30 minutes, stirring occasionally. (It may seem like a long cooking time, but don't be tempted to turn up the flame to make this process go faster. This step slowly brings out the natural sweetness of the onion and celery, and rushing it can make them taste bitter instead).
Turn the heat up under the pot to medium-high and add the ground meat. With a potato masher or wooden spoon, press down on it to break up large chunks. When the meat has turned a grayish brown and there is no pink remaining, add the milk. Continue cooking, stirring occasionally, until the milk has completely evaporated. (The milk acts as a meat tenderizer here).
Add the tomatoes to the pot, along with the bay leaves, cloves, and a few pinches of salt. Stir and bring to a boil. Adjust the heat to low and cook, uncovered for 4 hours, stirring every 30 minutes or so. You should see a gentle bubbling in the pot. You can choose to cook it even longer if you have time, because the longer it cooks, the better it tastes. You'll know the sauce is done when it has visibly thickened and the fat has separated and is bubbling on the surface.
Discard the bay leaves. Use or cool, transfer to an airtight container, and refrigerate or freeze.
Serve with tagliatelle, pappardelle, maltagliati, or fettuccine.
Insalata
Pepper Slices with Cream Cheese Filling
Medium or small red, orange, yellow, or green bell peppers
Wash peppers, cut a slice from both ends, and remove seeds and membrane. Stuff with cream cheese filling and chill for 12 hours. Slice thin with a sharp hot knife and replace in refrigerator. Serve on a bed of lettuce with French dressing.
Filling:
1 clove garlic
8 oz. cream cheese
1 Tbsp. crisped chopped bacon
1 Tbsp. chopped chives
2 ½ Tbsp. chopped celery
Salt, paprika, and cayenne pepper to taste
Rub a bowl with garlic. Mash cream cheese until soft and add bacon, chives and celery. Season with salt, paprika and cayenne pepper.
French Dressing:
½ tsp. salt
½ tsp. pepper
9 Tbsp. olive oil
4 Tbsp. vinegar
½ tsp. dry mustard
1 clove garlic
Whisk ingredients until smooth and pour in jar. Cover and refrigerate. Shake well just before using. The garlic clove should be removed after 24 hours if dressing is stored. Makes 1 cup.
Dolce
Roasted Almond & Espresso Cannoli
(Delicious.com.au)
¼ cup whole almonds
1/3 cup caster sugar, plus extra 1 ½ Tbsp.
2 ½ cups fresh ricotta
½ cup good-quality mascarpone
1 Tbsp. very strong espresso
1 Tbsp. amaretto liqueur (optional)
1 tsp. vanilla bean paste
12 cannoli shells
Preheat oven to 400 degrees and line a baking tray with foil.
To make praline, place almonds on a second baking tray and roast for 10 minutes or until darkened.
Place sugar in a small saucepan over medium heat and cook for 3 to 4 minutes or until a dark caramel. Add almonds and swirl to coat. Pour onto prepared tray, cool completely, then finely crush.
By hand, whisk ricotta, mascarpone, extra, sugar, espresso, amaretto, if using, and vanilla in a bowl until smooth. When ready to serve, spoon or pipe mixture into cannoli shells and scatter with praline.
Spicy Italian Hot Chocolate
(Delicious.com.au)
1/2 cup cocoa powder
1/3 firmly packed cup brown sugar
1 Tbsp. cornstarch
1 tsp. ground cinnamon
1/4 tsp. dried chili flakes
1 tsp. ground allspice
A pinch of sea salt
Combine ingredients in a bowl, then divide among 4 jars.
Accompany each jar with the following note: heat 1/2 cup (125 ml) milk in a saucepan over medium heat until warmed.
Whisk through hot chocolate mixture until combined. Gradually add another 1 1/2 cups milk and bring to a simmer.
Reduce heat to low and cook, whisking constantly, for 2-3 minutes until hot chocolate thickens slightly.