BY KENDYL HOLLINGSWORTH
KENDYLH@
OPELIKAOBSERVER.COM
AUBURN—
Play time just got a lot more fun for everyone.
Auburn officially opened its new inclusive playground at Town Creek Park June 1, and according to Parks and Recreation Director Becky Richardson, the community response has been positive.
"We've had a lot of visitors since it opened last Wednesday," she said.
The playground's opening has also generated significant buzz on social media, with several residents praising the park for being "awesome," "beautiful" and "a dream come true." Other eager parents tagged friends and family in the comments to alert them to the news and schedule playdates.
The playground features five large playground pods and a total of more than 30 play structures, according to Therapeutic Programs Coordinator Elizabeth Kaufman. Richardson said each pod features different activities.
"One pod has all musical equipment, and another pod has a really, really big play structure and climbing walls and other things, and some of the other pods have other types of equipment with a lot of it having things that are handicap-accessible," she said. "It also has a selection of fitness exercise equipment that are both accessible and regular equipment."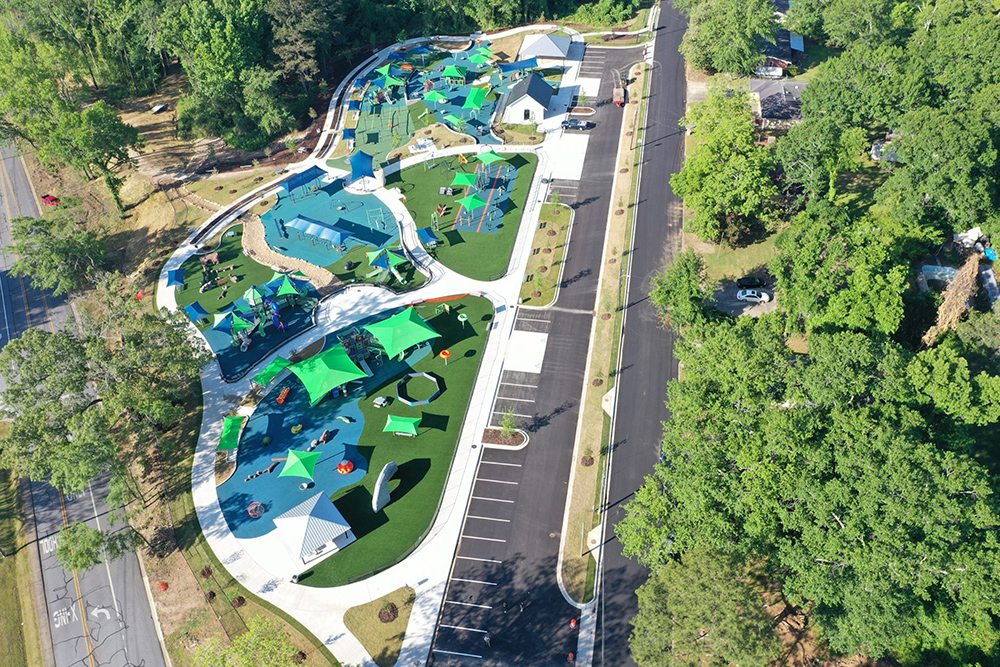 Other highlights include a zip line and a Gaga Ball Pit. Richardson said the playground also features artificial turf under each play structure, which is more friendly to wheelchairs and other mobility devices, and extra-large transfer stations make it easier for all children to get to each pod. Accessible seating and other accessible play structures are also present.
"We have done handicap accessibility work in all of our playgrounds, but the inclusive playground has a higher degree of that," she added.
The variety in physical and entertainment structures also seeks to cater to individuals of different ages, interests and abilities.
In addition to the play equipment, visitors can find multiple shades and benches, a restroom building, two pavilions and additional parking on site.
While the playground is open to the public, the Parks and Recreation Department advised that some areas will be closed off at first as crews perform some finishing work.
According to Richardson, the idea for a more inclusive playground came about 10 years ago when a group of citizens went to the Parks and Recreation Advisory Board to ask about incorporating something similar.
"We started working on it, and it gradually grew into this idea," she said. "Of course, as Auburn has grown and gotten bigger, the need for it to be a bigger facility has grown as well."
In January 2021, Auburn City Council approved construction and equipment contracts and voiced its support for the project.
Ward 6 Council Member Bob Parsons, whose district covers Town Creek Park, thanked the Parks and Recreation Department and Parks and Recreation Advisory Board for bringing the vision to life this year.
"I am thrilled about the inclusive playground," he said. "Auburn has a lot to be proud of by making this commitment to its citizens. I hope our city continues to develop in this type of direction."
The new playground is located at 430 Camellia Drive in Auburn. It is free to all and open daily from sunrise to sunset. Overflow parking is available at the park's overflow lot on Gay Street. Anyone wishing to reserve the pavilions may do so by contacting the Harris Center at 334-501-2930 or webparksrec@auburnalabama.org to discuss available dates and times.
A grand opening ceremony for the park will be held at a later date.