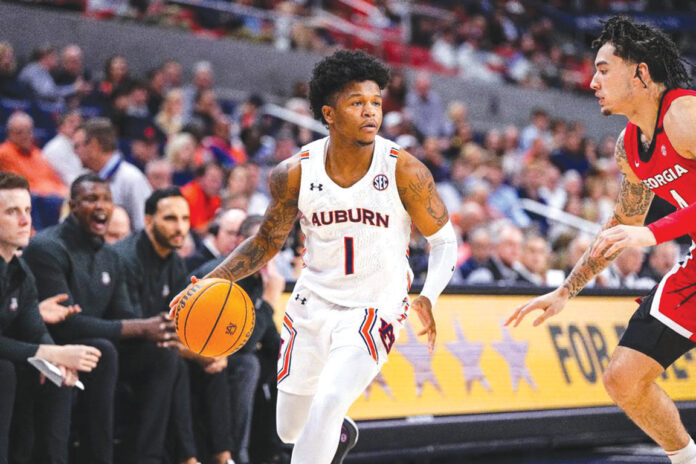 BY DANIEL LOCKE
FOR THE OBSERVER
AUBURN —
Since arriving on The Plains last year, junior guard Wendell Green Jr. has wasted no time becoming a fan favorite on and off the court. From draining three-pointers from the logo to providing a clutch defensive presence, Green does a little bit of everything.
Basketball is something that runs deep for Green.
"I've been playing basketball mostly my whole life, as long as I can remember," he said. "With other sports too, but, you know, it came to a point where [I needed to] pick a sport. My dad was a coach; I was around it the most. Probably around (age) 10 or 11, I knew I wanted to take it seriously and was pretty good growing up."
Green began his college career at Eastern Kentucky but joined the Tigers last year for his sophomore season.
"At the end of the day, it's all basketball," Green said on the transition. "It wasn't too big of a challenge except learning the system and playing for a new coach. It was different at first; it took me a little while throughout the summer to learn how he (Bruce Pearl) wanted me to play. I guess the transition has been pretty smooth so far, especially last year playing with great players like that, but there was still a lot of learning curves. I think I'm still learning as we keep playing."
Green made the transition from coming off the bench last year to being the starting point guard this year. The increased role is not something that Green takes lightly.
"Just trying to do whatever it takes to win," Green said. "That's the main goal: winning and trying to get a high seed in the [NCAA] tournament and SEC tournament. I know I got to score, I got to pass it out, so just doing whatever it takes to win for that certain game."
Pearl has developed a reputation as one of the best coaches in college basketball, and Green said getting to play for such a high-caliber coach means a lot to him.
"It's great — you know he's a high-energy coach," Green said. "He lets me play with freedom and he trusts me. We're going to go out there and try to make a winning play or make a play for the team. He trusts me after all our history the past year and a half, two years. So it's just fun, it's free out there."
The SEC has turned into one of the toughest divisions in college basketball over the past few seasons. Each game presents a challenge, and there is not a lot of time to rest or dwell on a bad performance. Green talked about how he stays locked in throughout the grind of the season.
"Just taking it one game at a time," he said. "If you lose, don't worry about that loss too much. Don't beat yourself up on that loss too much. Just try and get to the next game because you can't let one loss lead to two or three, or one good win lead to you being cocky and then you lose the next game. So you just got to take it game by game and take every opponent as serious as the next."
Like just about every athlete, Green looks up to some of the best in his sport.
"My team has always been the Detroit Pistons," Green said. "Growing up in Detroit, it's one of my main teams. I watched a lot of Isaiah Thomas from the Pistons, just a lot of tapes. … Lebron James is probably my favorite player of all time."
Green is a big part of this Auburn team both on and off the court. Time will tell how he continues to impact the games he plays in, as well as the community that he has so quickly become a part of.