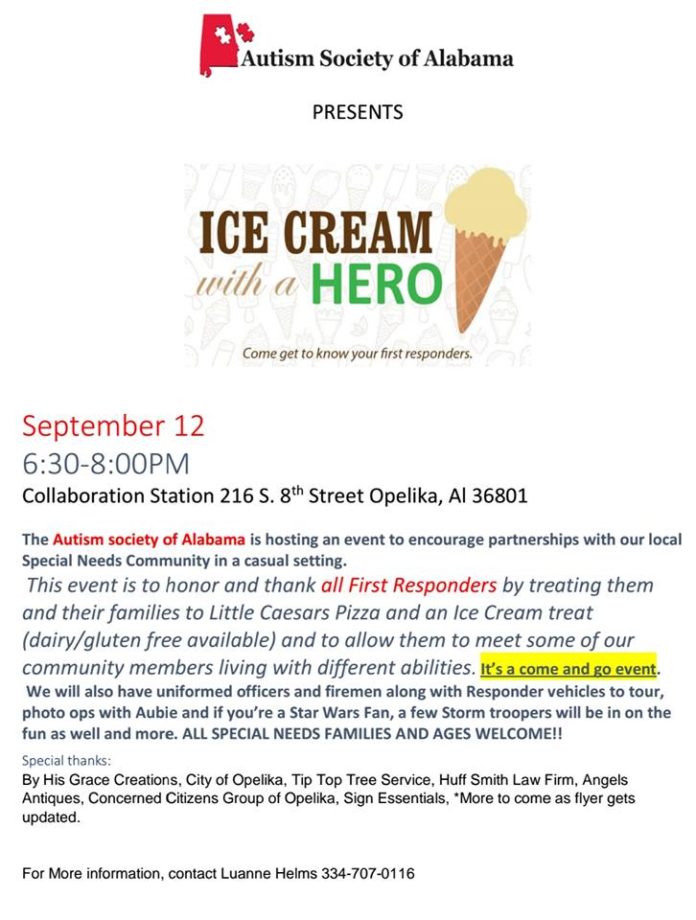 By Morgan Bryce
Staff Reporter
Strengthening the bond of Opelika's special needs and first-responder communities will be the focal point of the Ice Cream with a Hero event Sept. 12.
The free social, hosted by the Opelika Observer and Collaboration Station, is open to all special needs and first responder families in Opelika.
Event coordinator Luanne Helms, a certified trainer for Autism Risk and Safety Management and mother of a child with non-verbal autism, said Ice Cream with A Hero will be important to building trust and increasing safety awareness for Opelika's special needs community.
"Events like Ice Cream with A Hero will help increase safety by creating an event that encourages positive interactions between first responders and those living with developmental disabilities. This helps desensitize those with special needs to emergency vehicles and responders in a controlled, safe and non-stressful situation," Helms said.
During the event, Helms said children will have a chance to explore fire trucks and police cruisers, as well as take photos with members of Opelika's fire and police departments.
"The police cruisers and the fire trucks are going to do their lights and sirens … and it may be too much for some of the kids. But, if an emergency happens at someone's home, and a fire truck has to come, if a child has seen it already then maybe they'll be a little more calm and know that these people are coming to help them," Helms said.
In addition to first responders, there will be free pizza and ice cream, inflatables and special visitors like Star Wars Stormtroopers and Aubie.
The come-and-go event will last from 6-8 p.m. For more information, call Helms at (334) 707-0116. Collaboration Station is located at 216 S. Eighth St. in downtown Opelika.