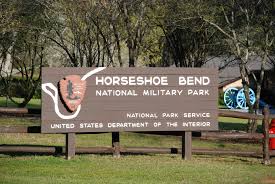 Special to the
Opelika Observer
Horseshoe Bend National Military Park's Visitor Center will temporarily close for renovation beginning Feb. 17 for nearly five weeks. The park grounds, including the boat ramp, tour road, nature trail and restroom facilities, will remain open during normal operating hours, and rangers will be on duty.
Park brochures including a map of the park will also be made available outside the front door of the visitor center.
"The park regrets having to close the visitor center temporarily, but it is necessary for the safety of our visitors and staff. Please continue to enjoy the park grounds, boat launch, tour road, and picnic area while we improve our facilities," said Park Superintendent Barbara Tagger.
The Visitor Center is expected to reopen on March 23 at 9 a.m., but staff urges visitors to check the park's website at www.nps.gov/hobe/conditions.htm before planning their visit.
For more information, call 256-234-7111. The staff at Horseshoe Bend National Military Park appreciates the public's patience and understanding, like and follow the park's Facebook page or visit www.nps.gov/hobe.
The park is located 12 miles north of Dadeville on Alabama Highway 49.