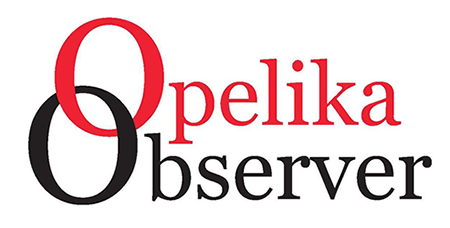 By Wil Crews
Opelika Observer
Last Thursday, Opelika Ward 2 City Council member Tiffany Gibson-Pitts led an online community meeting to discuss COVID-19 and the expectations for the 2020-21 school year.
Pitts, who announced her campaign for Opelika mayor in late June, was joined by the Chief of Staff at East Alabama Medical Center, Dr. Michael Roberts, the Emergency Services Coordinator for the Alabama Council on Human Relations, Tabitha Perry, and Opelika City Schools Superintendent Dr. Mark Neighbors.
The meeting was "bittersweet" for Pitts, as it was her last meeting as a representative of Ward 2 on the city council.
First and foremost, the meeting began with Pitts stressing the importance of wearing masks and social distancing as cases of COVID-19 are increasing across the country.
Dr. Roberts was then the first to speak extensively. Roberts explained the reasoning behind health measures such as masks and the particulars of how COVID-19 spreads –– namely through droplets dispersed when coughing or sneezing. Roberts also stated that if someone contracts the virus, there is no guarantee that they cannot receive it again.
Next, Perry discussed the status of the emergency services that have been deployed in response to coronavirus. Perry explained that ACHR was able to secure rent and utility assistance and used the left-over disaster funding received for the tornados that cut Lee county last March to aid those in need. According to Perry, those funds are dwindling; but she directed the community to make an appointment on the ACHR website, achr.com, where the various services can be applied for. ACHR can only accept a certain amount of appointments each week and new appointments can be made the last week of each of month.
Perry went on to say that funding specifically for COVID-19 has not come yet, but will be available soon for those whose income was affected by the virus. Perry emphasized that those who qualify for assistance, must have been directly affected monetarily by COVID-19. Updates on funding and services can be found on ACHR's website or Facebook.
Dr. Neighbors spoke at length and addressed the community's concerns about coronavirus's effect on the impending school year. Neighbors reflected on the focused effort the education system made to assist with students' mental health and to maintain virtual learning at the end of this past school year. "But we realized that students' lost some things and we don't want them losing more," Neighbors said. To combat that,
Neighbors added that he has two main goals going forward. He stressed the importance of one, face-to-face instruction and two, safe instruction. Again, Neighbors stressed the importance of face masks, hand washing and social distancing. This comes on the heels of the recent announcement that all students who attend Opelika schools will be required to wear face masks for the upcoming 2020-21 school year. According to Neighbors, schools will not punish students for not donning masks and will provide cloth coverings as long as supplies last.
Neighbors stated his goal of having $1 million worth of Chromebooks dispersed to the Opelika community by July 22. He also explained the technological options for virtual learning as Opelikians can register for either full-time in-person or distanced instruction for the upcoming school year. Neighbors realizes the challenge of requiring students to wear masks and social distance when in a classroom, in particular for elementary learning. "I think that's going to be very similar to washing a cat, that's going to be a tough job," Neighbors said. While the chances of young students contracting the virus is low, Neighbors shared concerns for keeping staff safe as well –– another importance reason behind the masks requirement.
The school system will employ sanitizing sprays and hand sanitizer from the minute student's step off the bus until they leave for home. Furthermore, Neighbors said that in the event that health and safety standards are being jeopardized, everything but core academics will be limited first. Things such as PE, lunch, elective courses and extracurriculars are being altered to promote a safe learning experience.
Neighbors briefly touched on fall athletics, in particular football season, and said he is waiting on more information from the state before making any official decisions. Lastly,
Neighbors emphasized the desire to avoid turning school into a daycare and implored parents to respond to the surveys sent out regarding in-person or virtual preferences for learning this year. "Our next step is finding out that balance," Neighbors said. "Getting back to our goal of the safest, best instructional environment, is what we're trying to do."
Pitts concluded the meeting by commending Roberts, Perry and Neighbors for their efforts and thanking the Opelika community for their patience and cooperation during these uncertain times.