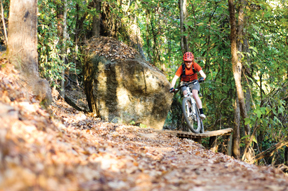 Special to the Opelika Observer, Philip Darden
The Central Alabama Mountain Pedalers, or CAMP, has been instrumental in getting more mountain biking trails built at Chewacla State Park, where novices and more advanced bikers alike can get out and enjoy the thrill of the ride.
By Daniel Chesser
Staff Writer
Check the tires' air pressure and lube up the chains because the weather is warming up and Chewacla State Park will soon open new mountain biking trails.
The Central Alabama Mountain Pedalers, or CAMP, is a local mountain biking organization that recently secured a $100,000 loan in repaid Urban Development Action Grants from the City of Auburn to build additional trails in the park.
"It was originally a state grant through the Recreational Trail Program (RTP grant), and we received that grant in 2012," said Philip Darden, president of CAMP. "The city's involvement in the project is simply an interim financing of this grant because we have to spend the money before being reimbursed by the state.
"Those funds are now helping us to make additions to Chewacla State Park including five to six miles of professionally designed and built trails."
CAMP contracted a professional trail designer and builder, Preston York, who was involved in the design of the Cold Water Mountain Trail in Anniston to design these new trails in Chewacla.
"The design process is happening right now, and then we have to bid out the construction process, which will start in about a month," Darden said. "Best case scenario, the new trails will be completed before the fall, and the worst case is that it will be done before the end of 2014."
The design process is set to be complete in the next week or two, according to Darden.
"When these trails are completed, Chewacla will feature right at 25 miles of mountain biking accessible trails," Darden said. "These new trails are going to be built in an area of the park that we have not yet built trails on and has the most elevation, so there will be a lot more gravity-oriented trails rather than the current cross-country trails."
The trails will all be designed and built with the intermediate rider in mind, with some offshoots for the more experienced rider, complete with jumps and various features that should challenge even the most advanced mountain biker.
"These trails are going to be fun for a wide range of riders," Darden said. "We would like to expand on the events we have currently, such as mountain bike races and trail runs, and start to do endurance-style races or some downhill races."
Every Saturday morning at 10 a.m. CAMP has a kid's ride called Base Camp that is geared toward getting kids involved in cycling and outdoor activity with an age range of 2–12 years old.
"It is really beginner friendly, and we have a fleet of bicycles in case a kid does not have a bike – he or she can still learn to ride," Darden said. "It is a weekly event that we do for free, and all you have to do is pay your way into the park, which is $3 for adults (on the weekend and $2 during the week) and for ages 6–11 it is $1 (ages 5 and under are free)."
Chewacla is open from 8 a.m. to 7 p.m.
When the trails are complete, CAMP plans on having a grand opening ceremony and a big celebration of all the work and volunteering that went into making this possible, according to Darden.
"When this project is complete we (CAMP) will have accomplished every goal we set out to accomplish at Chewacla," Darden said.
For more information visit camp-sorba.org or facebook.com/camp.sorba.
Xterra Tiger – April 12
9 a.m. Off-Road Triathlon
Trek Demo Day – April 16
1–6 p.m.
Our Friends and James Bros. Bikes and Trek will be bringing out the Trek demo fleet to Chewacla State Park. Come test out the road or Mountain Bike of your Dreams! Demos are free, but normal park entrance fees apply.
Alabama GOAL Fest – May 24-26
Specific Opelika events are –
May 24: 9 a.m. CrossFit competition at CrossFit Opelika; 11 a.m. Criterium and outdoor expo at the Courthouse Square