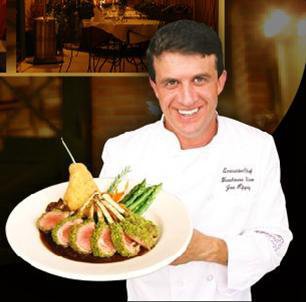 By Morgan Bryce
Staff Reporter
Cooking has been a lifelong love affair for Warehouse Bistro's Executive Chef Joe Hippely.
"The first time I remember loving cooking happened when I was seven, cooking on my grandfather's grill. He was telling me everything, how to apply the rub and seasonings, and I just became a sponge, wanting to learn everything I could about cooking," Hippely said.
Hippely, a Damascus, Ohio native, said he grew up in a family of cooks, and gained experience in the culinary world through working in both his father's pizzeria and the upscale Moonraker Restaurant in the nearby town of Boardman.
After high school, Hippely and his family relocated to Clearwater, Fla., and he soon found himself working for the renowned French chef Danielle Fuchs, who previously made a name for himself as the executive chef at New York's Tavern On the Green.
"He was a great chef. He taught me the stocks and bisques and soups and sauces, which are all fundamental things you learn while becoming a chef," Hippely said. "He was the biggest influence on my cooking career."
After working with Fuchs for 14 years, Hippely took a chef's position with Natalia's in Macon, Ga., for several years before relocating to Opelika in 2000.
Hippely said he joined Warehouse Bistro as its executive chef in April 2000, and worked with owner Laura McCullough to help the restaurant reach into its untapped potential. "We redid the menu, expanded our wine selection, and revamped everything to try and help it grow," Hippely said.
The Bistro's rebranding did not go unnoticed, as the restaurant soon received a five-star rating from the North American Restaurant Association and became a perennial winner of Wine Spectator Magazine's Restaurant Awards. According to Hippely, the Bistro's menu is broad and draws heavily from both the American and Western European cuisines. Entrees include grouper, soft-shell crabs, veal, lamb and duck, and desserts like creme brulee, tortes and the customer-favorite, bread pudding.
Located in a former warehouse, Hippely said the restaurant possesses a romantic ambience and atmosphere, as well as quality service, food and a staff whom he considers family.
"I can't count on all my fingers and toes the number of people who have proposed there. Then, you'll talk to people around town who remember going there on first dates, for prom, or a grandmother's birthday," Hippely said. "We like to think of it as a place where people can have special occasions that can be remembered forever … that's what we're shooting for."
Hippely, whose career has spanned more than three decades, said he relishes the opportunity to travel and sample fare from other restaurants and cuisines to expand his culinary horizons.
"I love going out to eat and trying new things. So from those experiences, I take what I've had and use it to put a twist on what I make," Hippely said. "Being a chef, you have to do that. Wherever you go, you're going to eat and experience something, and you're going to be like, 'hey, I have to do something with that.'"
In August, a small electrical fire broke out in the restaurant, causing major smoke damage and a temporary closure of the business. Hippely said he will soon have a timeline for the restaurant's return. Be sure to check the Observer in coming weeks for an update on the Bistro's re-opening.