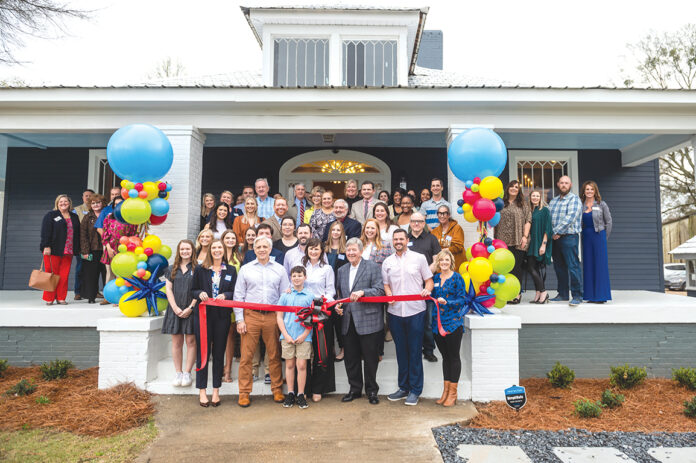 Here Molly Girl celebrated its move into the Historic Disrict of downtown Opelika with the Auburn and Opelika chambers of commerce March 2.
CONTRIBUTED BY
HERE MOLLY GIRL
OPELIKA —
Local marketing firm Here Molly Girl recently celebrated its move into a newly renovated office space in the historic Geneva Street district of Opelika.
Here Molly Girl owner Katy Harper Doss converted a home built in 1920 into an office space for the full-service marketing firm. While navigating the renovation process, Here Molly Girl worked alongside Auburn-based Gamble Winter Construction to create the perfect space. Doss said she chose the 3,000-square-foot historic home as the office space because of its history.
"I wanted something with character that we could really turn into a creative space," she said. "I didn't want 'traditional' office cubicles; I wanted Here Molly Girl and our team members to have a beautiful, fun workplace with enough space to grow, and I knew this location could provide all of those things."
Doss said she made the decision to move from a virtual-only business model with a rented conference room on Opelika Road to this renovated historic home in Opelika because of the growth Here Molly Girl has experienced over the past two years. The location provides five individual office spaces, a full kitchen and a conference room to accommodate company-wide meetings and meetings with clients.
"Here Molly Girl has been a virtual company for the past seven years, but as we grew, we realized we needed a collaborative space where our Auburn-Opelika team members could work together in conjunction with our out-of-town employees," Doss said. "Renovating this property has been a joy, and we are excited about serving our clients from this beautiful new space. Not only have we invested in this business, but we have further invested in this community we love."
Here Molly Girl hosted a ribbon cutting with the Opelika Chamber of Commerce and Auburn Chamber of Commerce on March 2.
ABOUT HERE MOLLY GIRL
Founded in 2016, Here Molly Girl is a full-service marketing and design firm based in Lee County. The company's mission is to create value for clients through thoughtful, creative, strategic marketing that prioritizes the unique end goal of each organization with which they work. Here Molly Girl currently serves clients statewide across Alabama. For more information about Here Molly Girl, visit its website at www.heremollygirl.com.