CONTRIBUTED BY ACES /
WRITTEN BY DUSTIN DUNCAN
It's the season for spooky ghosts, pumpkins and a few delicious treats. Children and adults alike are looking forward to costumes and candy, but fruits and vegetables can be part of the holiday fun too.
Parents may look for ways to limit the amount of sugary foods, like candy for their little ones, during the spooky season. But, it's also a great time to introduce new healthy foods to children through kitchen crafts and themed snacks, according to Alabama Extension specialist and registered dietitian Katie Funderburk.
"Letting kids play with food or participate in cooking or preparation can actually help picky eaters try new fruits and vegetables," she said.
Step into the Live Well Kitchen for a few fun and healthy Halloween-themed snack options, but be forewarned — some of these recipes are frighteningly adorable.
BANANA GHOSTS AND TANGERINE PUMPKINS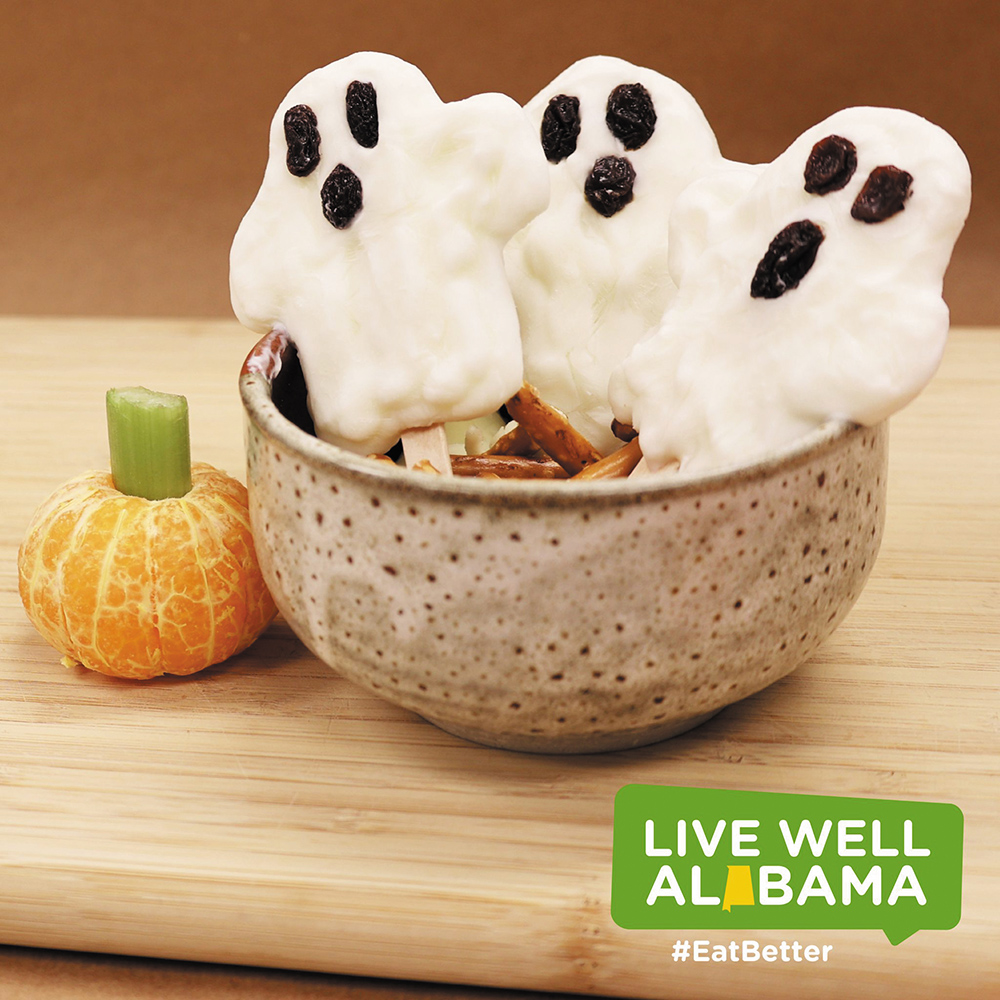 Ingredients
Bananas
Tangerines
Raisins
Celery stalks
There's nothing like going simple, but effective when making spooky treats. Start with a simple treat easy for smaller children to help create. Banana ghosts and tangerine pumpkins are a Halloween favorite.
To make the banana ghosts:
Peel a banana and cut it in half.
Use raisins for the eyes and mouth. Nut butter or toothpicks can be used to hold the eyes in place if needed.
To make the tangerine pumpkins:
Peel a tangerine.
Cut a celery stalk into thirds.
Place the stem in the top of the tangerine.
The result is a beautiful little pumpkin that is full of nutrients kids need, like potassium, fiber and vitamin C.
GHOST POPSICLES
Ingredients
Greek yogurt
Popsicle sticks
Raisins
Greek yogurt, raisins and popsicle sticks are the only ingredients for these eerie frozen visitors.
To make the ghost popsicles:
First, get out a cookie sheet and lay a few popsicle sticks out.
Take a sandwich bag and cut out a small hole in the corner.
Put the yogurt in the sandwich bag and pipe onto the stick in the shape of a ghost.
Use the raisins as eyes and the mouth.
Put them into the freezer for about 30 minutes. Then, enjoy.
PRETZEL BROOMS
Ingredients
Pretzel sticks
Who doesn't like a delicious snack with a bit of magic that may clean up after itself? Well … it probably won't do any cleaning, but it definitely doesn't take long to make.
To make the pretzel brooms:
Peel a mozzarella cheese stick (or any flavor of cheese stick) and cut it into thirds.
Cut the bottom of each cheese stick piece into strips diagonally to make it look like a broom.
Take a pretzel stick and place it inside the top of the cheese to make tiny brooms.
Now, you're ready for a snack, sweeping the counter or possibly a ride around the neighborhood.
FRUIT/PRETZEL SPIDERS
Ingredients
Plum
Pretzel sticks
Dark grapes
These creepy little crawlers will add a touch of nutrition and flavor to any Halloween snack this year.
To make the fruit/
pretzel spider:
Use the plum as the base of the spider. Poke a few holes in the side of the fruit with a toothpick.
Round up several grapes and poke a hole with a toothpick.
Stick a pretzel stick into one of the holes in the plum.
Slide the grapes over the pretzel stick until it is completely covered.
At the end of the leg, poke another hole into final grape.
Place another pretzel stick inside the final grape.
Begin the process of creating another leg.
Repeat that process to make eight legs for your spider.
VEGETABLE MONSTER
Ingredients
Lettuce leaves
Live Well Alabama's Creamy Cucumber Dill Dip
Black olives
Celery stalks
Baby carrots
Cauliflower
Bell peppers
Cucumbers
Mushrooms
Grape tomatoes
Broccoli
Be careful when creating this vegetable monster because it may come alive. In all seriousness, this creation does have plenty of ingredients that were living at some point. It's best to follow these directions and use the visual aid to help construct the monster.
To make the vegetable monster:
Grab a small bowl and use lettuce leaves to form the monster's hair.
Fill the small bowl with Live Well Alabama's Creamy Cucumber Dill Dip.
Take two black olives and place them on top of the dip as eyes.
Use celery stalks as the shoulders, baby carrots as the arms and cauliflower florets as hands.
Place several cucumber slices overlapping each other in a row to look like a spine and use bell pepper slices as the ribs.
Use sliced mushroom as the hips.
Place stalks for the upper legs, cauliflower as a knees, bell peppers as the lower legs, grape tomatoes as the feet and broccoli florets as the toes.
As you put it all together, watch the monster come alive. Feel free to mix up the veggies as desired.
MORE INFORMATION
For more recipes or tips for nutrition, visit LiveWellAlabama.com or on Facebook, Twitter, Instagram and Pinterest.