By Wil Crews
sportscrews@
opelikaobserver.com
AUBURN —
Auburn University head football coach Bryan Harsin spoke to the media Thursday, Aug. 4, ahead of the team's first session of fall practice.
The second-year skipper enters 2022 with low expectations from the public and high levels of internal pressure. Beginning his second training camp on The Plains, Harsin talked about his team as they begin preparation for the opening game against Mercer on Sept. 3 at Jordan-Hare Stadium.
"It's training camp for a reason," Harsin said. "Everything that we're doing over the course of the next month is all to get prepared for the season. We're putting everything in. We're talking about the rules. We're talking about the situations. We're going through just about everything that will come up, at least we hope we're hitting most of those things, and that's what we're going to be focused on."
Harsin said that the early days of fall camp will be focused on instilling the team's DNA.
"I think the first two to three days is kind of your DNA that you're getting in," he said. "You want to make sure that you're very clear on the expectations, all right, what we need to get done and the questions get answered."
From there, Harsin will look to integrate the January arrivals into the team.
"Once we're all together, it's on at that point," he said. "So it gives us a chance to do that."
In terms of the roster as a whole, Harsin spoke on the unproven wide receiver group and quarterback room, the competition of the offensive line and the linebackers.
A team that features many questions at significant positions, Harsin said he will look to both lines to lead the way for the team.
"As our own o-line and d-line prepare through the fall camp — through this training camp — I mean, that's really going to be how this team goes, is upfront with those two groups," he said. "I think we've got some good d-linemen. I think we improved in those areas, so that will help our o-line improve as well."
With the linebackers, Harsin said having a healthy Owen Pappoe –– who is on the preseason watch list for the Butkus Award, which is given annually to the nation's top linebacker –– will make a difference.
"No question he makes an impact," Harsin said. "He's a difference-maker. He does understand what we're doing out there. I think he brings guys with him."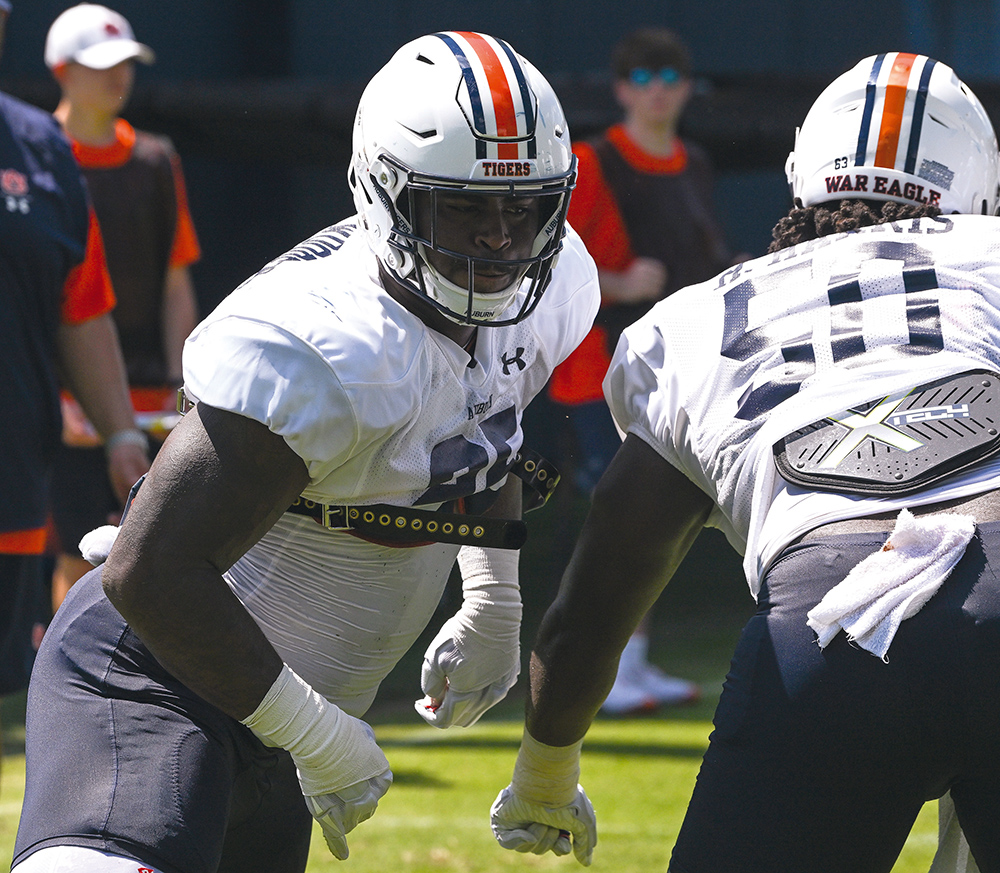 Although Harsin mentioned other linebackers like Cam Riley and North Carolina transfer Eugene Asante, who steps up beside Pappoe in the middle of the defense is still a looming question. In the secondary, however, sophomore safety Donovan Kaufman was singled out as a potential difference-maker for a group that lost its No. 1 defensive back and safety from 2021 to the NFL.
"Get to this level and everybody's good, now what separates you?" Harsin said. "What you know. How you prepare. The things you do going into each and every week of practice. [Kaufman is] starting to take that pro approach as a player and he needs to do that, and I think more guys are following in that lead, and I think that'll help us."
Regarding the position group which lost the most production from 2021 –– wide receivers –– Harsin said he is simply looking for consistency from his guys.
"The wide receiver room, we're going to ask those guys to do more," Harsin said. "That's why we have the group that we have now. That's why we brought in certain players. We've got to be consistent."
The addition of former NFL receiver and coach Ike Hilliard can hopefully help guys like Shedrick Jackson and Tar'Varish Dawson stand out for the Tigers.
"Coach Hilliard brings that experience of what we want to do offensively to that room and how we want to do it, how it should look, how guys that are hard-nosed at the wide receiver position play," Harsin said.
Harsin spoke briefly on freshman quarterback Holden Geriner, encouraging the young player, but failed to shine any light on who has the edge for the starting job in his mind. Texas A&M transfer Zach Calzada appears to be in pole position, but T.J. Finley received game time last year, and Oregon transfer Robby Ashford and Geriner will have their opportunity to shine.
The plethora of questions facing the Tigers will only become answerable with time. For now, Harsin and company will rely on competition and togetherness to prove the Tigers are most dangerous when everyone is doubting them.
"We've got a lot of work to do, a lot of things to prove," Harsin said. "Most spots are open for competition; our guys know that, and they're going to go out there and compete, but they're also going to help each other out. They're going to bring value to whatever their role is. They're going to bring value to their teammates and their coaches, and then we'll go out there and make the decision of who the starters are going to be, but everybody on this team is going to help us win."