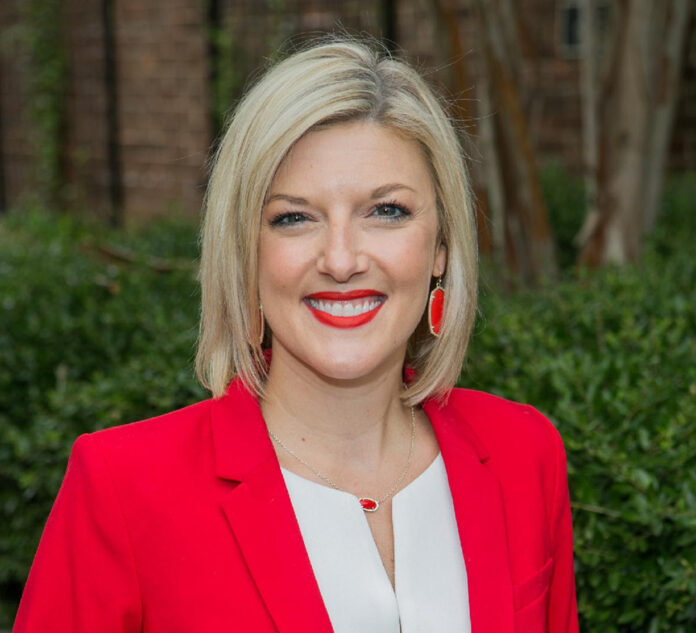 Let me introduce myself. I'm Ali Rauch. I've lived in Opelika for 11 years with my husband Todd, and my fur-baby, Forrest, and I am so honored to be your new Opelika Chamber of Commerce President & CEO. I'm officially two months into the position, and I must tell you, I could NOT be more excited. I'm so ready to work with each one of you to help your businesses thrive, to share my knowledge & insight, but also to be a champion, cheerleader & resource for you!
Let me tell you a bit more about my background. I have my degree in Communications, with a specialty in Public Relations, but Marketing is my passion. I've been working in PR/marketing for small businesses over the last 12+ years that range from manufacturing to technology, education to franchising & agriculture. Most notably, I worked for almost 8 years as the Director of Marketing at Chicken Salad Chick, a local favorite that started as a "mom & pop" and grew to be one of the fastest growing and most successful restaurant franchises in the country. We had three franchises open when I began and have just surpassed 160 locations! I became an expert at managing growth, getting established within a "local community," and of course, digital & traditional marketing.
I share all that to say, I've got a wide range of experiences that have helped me understand our business climate in Opelika, and I'm ready to help you. Whether it's brainstorming new events or initiatives with you or finding the perfect partnership for us to work together to drive business, I want you to know that I'm here, and only a phone call away. I genuinely mean that. People who know me, know that I come to the Opelika Chamber with a few key things: Energy, Enthusiasm & Expertise.
What I want to know from you is this… HOW CAN WE HELP YOU? What can we do at the Chamber to help you learn, grow and thrive?
With your feedback, the Opelika Chamber of Commerce can continue to adapt to your needs, so we can fulfill our mission to promote & foster economic and business success, maximize members investment, while enhancing the community. Please share your thoughts with me so I can help drive Opelika to be the best community, climate for business success and home for each one of us! A quick survey can be completed at (surveymonkey.com/r/Opelika2020.)
I also want to especially thank all of you who are Opelika Chamber of Commerce members. We appreciate your support and engagement in our services and look forward to making your membership even more valuable in the coming years. For those who have not yet joined, I hope you consider it. We want to be the premier resource for small businesses in our community, and we would be honored to serve you. If you have any questions at all, please don't hesitate to call. I'd love to welcome you to our family & support network!
Ilook forward to hearing from all of you!
Sincerely,