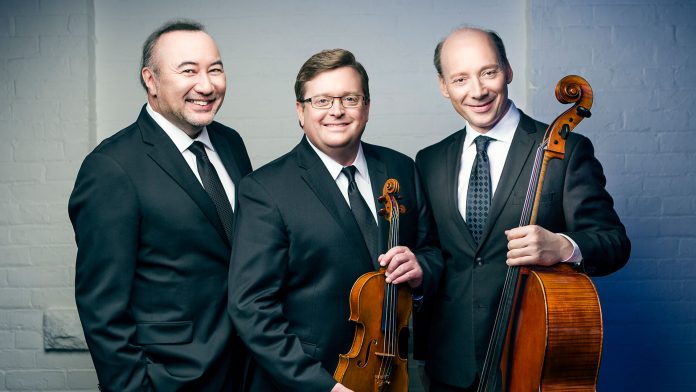 Special to the
Opelika Observer
On Dec. 3, the Jay and Susie Gogue Performing Arts Center at Auburn University will welcome the world-renowned Montrose Trio to the Woltosz Theatre, ushering in the first of three Chamber Arts series performances the center has programmed for its historic 2019-20 inaugural season.
The presentation of a Chamber Arts series is one way the Gogue Center is working in partnership with the Auburn Chamber Music Society, who have had a long-standing mission to bring highly acclaimed chamber musicians to the Auburn area.
"The Auburn Chamber Music Society has been providing high-quality chamber works by world-class musicians for more than half a century," said Dr. Craig E. Bertolet, co-president of the Auburn Chamber Music Society. "We are excited for this new partnership with the Gogue Center and its support of our mission to bring the best of human creative work and performance to Auburn and the East Alabama region through the Chamber Arts series."
Receiving widespread acclaim ever since their premiere tour in 2015, the Montrose Trio has been praised by the "Washington Post" for their "absolutely top-notch music making," declaring the group "poised to become one of the top piano trios in the world."
The Montrose Trio consists of pianist Jon Kimura Parker, violinist Martin Beaver and cellist Clive Greensmith. All three musicians boast lengthy resumes of awards and accolades and have performed on the world's most prestigious stages, from Carnegie Hall to the Berliner Philharmonie and the Sydney Opera House.
"The Gogue Center strives for diversity in our programming," said Executive Director Christopher Heacox. "We're looking to offer the widest possible range of cultural experiences at our venue, and exceptional classical performances are part of what we believe our audiences will enjoy."
The Chamber Arts series continues in March, with a performance by the virtuoso duo of cellist Matt Haimovitz and pianist Simone Dinnerstein on March 3 and a celebration of the greatest works of J.S. Bach by the Dover Quartet and Bridget Kibbey on March 24.
"These performances are an opportunity for concertgoers to appreciate masterful renditions of works by classical icons like Bach and Beethoven all the way to a great 20th-century composer like Philip Glass," Heacox said. "And the intimate size and cutting-edge acoustics of the Woltosz Theatre offer an ideal space to hear chamber music when it's played at this level of technical skill and emotional nuance."
Chamber Arts series subscriptions begin at $75 and can be purchased at four price levels; single tickets begin at $30, with a reduced $20 rate available exclusively to Auburn University students. All Chamber Arts series performances begin at 7:30 p.m. To purchase tickets, visit goguecentertickets.auburn.edu. For more information, visit goguecenter.auburn.edu.