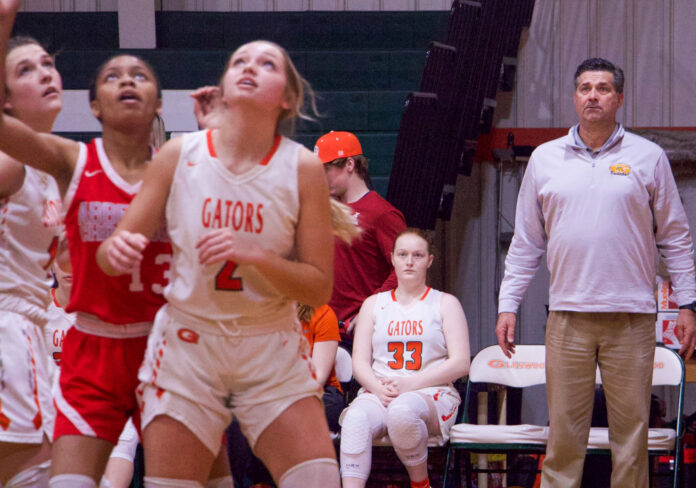 By Noah Griffith
For The Observer
SMITHS STATION —
The Glenwood High School girls basketball team is the two-time reigning state champion and enters the AISA 3A Region Tournament as the No. 1 seed once again in 2023.
This year's team looks a bit different. The Gators only have one senior, and arguably their most talented player is in eighth grade. Nonetheless, Glenwood controls its own destiny entering its final game of the regular season, which was on Tuesday versus Springwood.
"I feel like we haven't reached our plateau yet," said head coach Dusty Perdue after Glenwood's win over Abbeville last week. "I think we can play better. I think we will be our own enemy if we don't finish."
At 21-7, Glenwood is riding high into its season finale on a seven-game winning streak, including an overtime win over rival Lee-Scott Academy after senior Emma Head knocked down a buzzer-beating 3-pointer to tie things at the end of regulation.
Glenwood's win over its rival completed a season sweep of the Warriors, but more importantly, it gave the Gators a momentum boost going down the stretch.
"Yeah, huge (for our confidence)," Perdue said. "Because I'm going to tell you, we can play [Lee-Scott] again on Friday for the Region Championship, and somewhere down the line, if we do what we're supposed to, we could probably play them again in the state tournament."
Under Head's leadership, junior forward T.K. Davis and eighth grade guard Halle Palmore have led the production for the Gators. According to Perdue, Davis averages a double-double with 12 points and 11 rebounds a game. That opens the way for their young stud to run the floor.
And she never stops, according to Perdue.
"There was one week this year, when I pulled [Palmore] up to varsity, she played nine games in one week because she was playing for the middle school, JV and varsity teams," Perdue said with a chuckle. "She moved here from Colorado last year and was on our JV and the middle school team. This year, I just said, 'She's too good not to use her on varsity.' Halfway through the year, we decided to put her at point guard, and it's made all the difference in the world. We call her 'The Energizer Bunny.' She's all around the floor."
The team has had several wins that built the players' confidence this year after a 2-3 start to the season. For the young team to find an identity, Perdue said he had to mix and match to find the best lineup combination he could. Once he found junior guard Olivia Slocumb's role at shooting guard and promoted Palmore to varsity, Glenwood went to Lakeside and stole a win, came from behind to beat Mosley (a public school in Florida) and swept a pair of contests with Calvary Christian.
Those wins were the foundation for what has been a hot team in January. The Gators are 10-1 in the opening month of 2023, suffering only a 59-32 loss to Southland Academy out of Americus, Georgia, which Perdue said is the only team by which he felt outmatched all year.
Perdue said over the course of the season, the team has made large strides in getting in shape physically, learning to keep its composure mentally and controlling the board by using its size inside. He pointed to sophomore center Bobbi Taylor Breazeale as a difference-maker in the team's growth.
It might not have been obvious from the start, but the Glenwood girls might just be primed for another state championship run.
"Clark Prep, Fort Dale, us and Lee-Scott — I think those could be the final four teams, and whoever's got things going for them that night will be the winner," Perdue said. "I think we're all pretty even with our athletes and with the size of our teams."
As the No. 1 seed, Glenwood will take on No. 4 Macon East on Thursday, while Lee-Scott will face Springwood to start the Region 2 Tournament at Springwood in Lanett, Alabama.