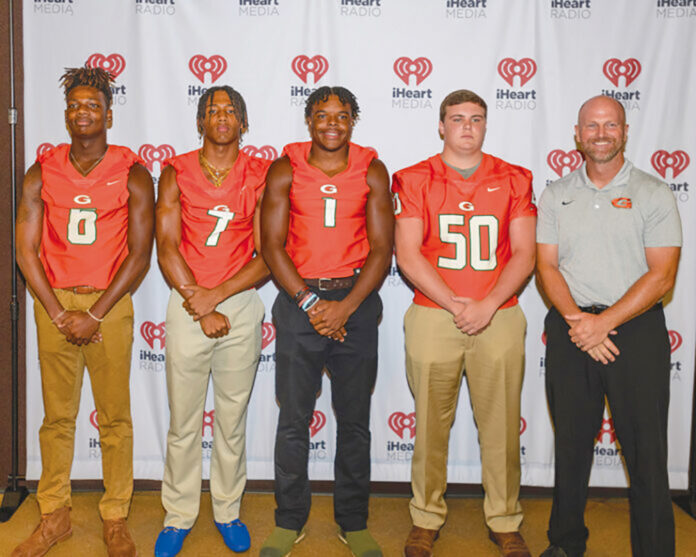 By Wil Crews
sportscrews@
opelikaobserver.com
SMITHS STATION —
Local football standout and five-star cornerback, Aaron-Joshua (A.J.) Harris, has decided where he is going to play at the next level. He must like winning.
The 25th best overall prospect in the class of 2023 according to 247Sports, Harris announced his commitment to the defending NCAA national champion Georgia Bulldogs last Thursday.
"100000% locked in & committed," Harris said in his June 16 announcement via Twitter. "I'm home."
Harris was recruited by Fran Brown and Dell McGee from Georgia, and had his official visit on June 3. He turned down offers from the likes of Alabama, Auburn, Ohio State, Clemson, Jackson State, Notre Dame, Oklahoma and other top programs to commit to the 'Dawgs.
The coveted prep athlete has been a standout at Alabama Independent School Association (AISA) member Glenwood the past three years, and this offseason announced he will be playing out his senior year for the Alabama High School Athletic Association (AHSAA) member, the 7A Central Phenix City Red Devils.
Harris played all three sides of the ball for Glenwood. In 2021, the 6-foot-1-inch, 180-pound prospect accounted for 414 yards of offense (134 rushing, 276 receiving) with five rushing touchdowns and one receiving score, according to 247Sports. Defensively, Harris added 24 tackles, one forced fumble, one fumble recovery and three special teams touchdowns, according to 247Sports.
After making it to the AISA Class AAA state championship in 2020, and the semifinals in 2021, Harris cited the need to play top-tier high school competition before going to college. He can accomplish that goal this season at Central, as the Red Devils are a powerhouse program in the highest division of high school football in the state of Alabama. Harris will try to help the Red Devils to improve upon their runner-up finish in the state playoffs last season.