BY MADELINE ACOSTA
FOR THE OBSERVER
AUBURN —
The food industry is known as a complex network of businesses and restaurants on both a corporate and local level. As one of the most diverse industries in the world, restaurants hold jobs for millions of people. Some would say there is a kind of culture that individuals are a part of when working in restaurants and other food businesses.
The ins and outs of restaurant culture is something that Brett Ables knows a lot about.
At 17, Ables started working at Jimmy John's in downtown Auburn while attending class at Southern Union State Community College. Later, he worked at Hamilton's on Magnolia for a few years and fell in love with the restaurant industry. For the next 15 years, Ables stayed in the food industry while gaining more experience and learning more of the behind-the-scenes work involved.
But then the food industry took a big hit during the COVID-19 pandemic, and some restaurants and other businesses resorted to closing their doors as it was too difficult to remain open.
"COVID affected a lot of industries, but it affected the hospitality space two times harder than any other industry," Ables said. "So many of the workers, you know, they were already on thin ice just from the long hours and the low access to benefits. But with COVID, everything escalated, and all the more people were having to work with less and less staff."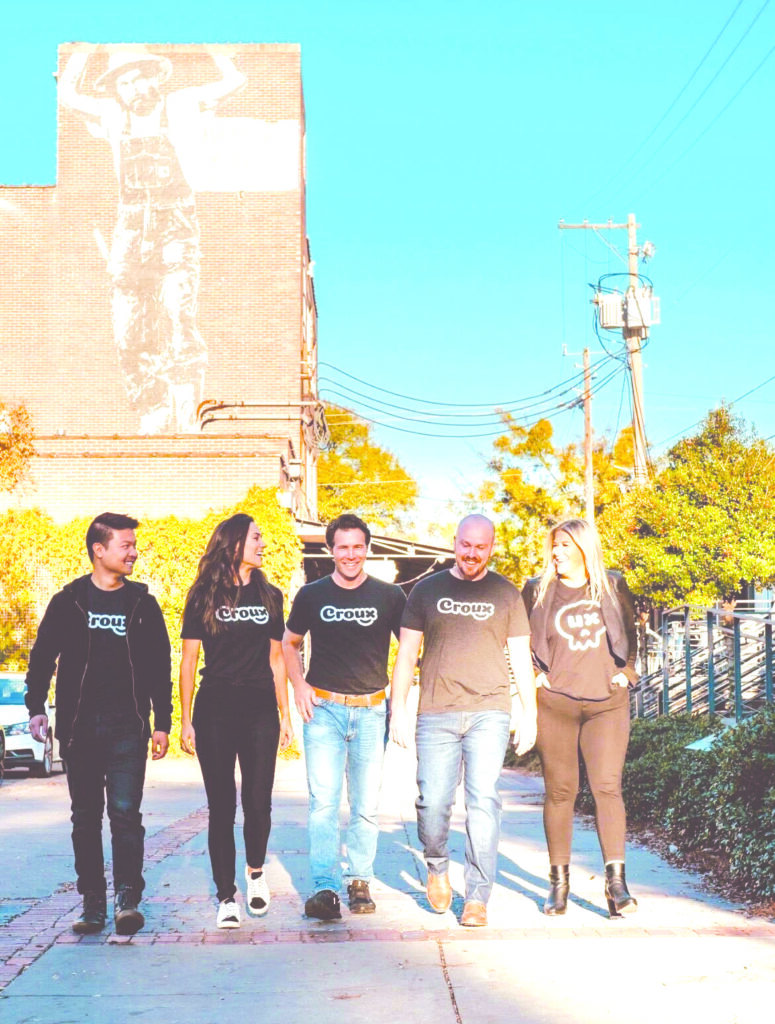 The concept of an app first started through conversations about the industry and its issues. In October 2020, Ables — along with Lindsey Noto, Jennifer Ryan, Kenny Kung and Stewart Price — attended TechStars Food Tech event in Birmingham. All the attendees were tasked with creating a solution for an "industry issue, based on technology."
"Seeing the landscape of everything that was going on, we certainly wanted to make [the workers'] lives better," Ables said. "But at the same time, we also wanted to make life better for all for the restaurant owners."
Eventually, Croux (pronounced "crew") was born, and staffing was the biggest issue that Croux wanted to tackle. While there are other issues within the industry, the partners wanted to focus on staffing since it benefits both the business and the worker, or "talent," as Croux calls them.
Through Croux, restaurant workers and owners can create profiles to easily connect with each other regarding shifts. With much regard to flexibility, Croux can match talent with shift postings made from restaurants in surrounding areas.
"We're used to having food delivered to our door instantly," Ables said. "We're used to being able to watch any TV show or movie that's out there. We live in a world where everything is at our fingertips, but flexible work has kind of been on the back burner, especially for people who work in the hospitality space."
Croux gives the talent access to flexible work, as well as higher wages with instant payment offered after a completed shift. Croux also offers health care for the individual. Once the talent has worked five shifts, they can access cheaper rates through health care policies that are provided.
"We feel like that just creates a better lifestyle for workers in the hospitality industry," Ables said. "And simultaneously, it helps these businesses staff their operation because they're able to access a talent pool."
The workers are able to pick and choose which shift works with their own busy schedules, whether they're a student or parent. This kind of "gig work," similar to Uber and DoorDash, is something that Ables says is greatly advantageous for everyone involved.
Along with connecting businesses to talent, another important aspect of Croux is safety, with multiple safety measures put in place to confirm legitimacy on both sides. Within the app, there is a "dual-sided ranking system" where both parties can rate each other at the end of a shift. Through this process, Croux is able to determine how good of a fit each party is for the app.
Ables said he is looking forward to expanding the app to more markets in the Southeast, and eventually nationwide.
"The great thing about Croux is that, regardless of what your job skills are, your age, your past experience, etc., there is likely a job that fits you," Ables said. "And it's a great opportunity to go test your skills and learn new skills without the confines of a full-time job."