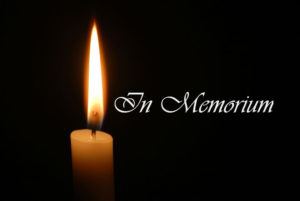 Funeral services for George "Pooker" Ellington Robertson were held on Wednesday, September 25, 2019 at 2:00 p.m. at the sanctuary in the First United Methodist Church of Opelika. Graveside service will follow at Oak Bowery Cemetery. A visitation followed the graveside service at the Robertson Family cabin in Oak Bowery.
George "Pooker" Ellington Robertson, Jr., 76 years old of Gold Hill, AL, passed away at his home on Sunday, September 22, 2019. George was born March 17, 1943 to George Ellington Robertson and Josephine Summers Robertson. At some point in George's childhood, he was given the name "Pooker" although he was never able to tell anyone why.
Pooker was a lifelong resident of Gold Hill, Alabama. He attended Chambers County Schools. Pooker regularly got in trouble with his mother for leaving perfectly good pairs of shoes on the bus in favor of going to school barefoot. He graduated from Lafayette High School in 1961, where he served as class president. Pooker took this responsibility seriously and hosted reunions for his class annually up until a few years ago. He went on to graduate from Auburn University in Animal Husbandry.
Pooker was a country boy who grew into a country gentleman and a successful farmer. He was a rural mail carrier for the US Postal Service (Lafayette route) for over 20 years. He ran a cattle farm and grew vegetables and roses. His roses were well known to many in the community who were ill or needed arrangements to brighten their homes. As a member of the Opelika First United Methodist Church, Pooker regularly provided flowers from his garden for the sanctuary. He always had a rose on his suit lapel.Pooker was active in the Alabama Cattleman's Association, Alabama Soil and Water Conservation Committee, and on the board for the Farmer's Service Agency. He received numerous awards for his work as a farmer, including being a finalist in the Chambers County Farm/ City Award and the 2003 Governor's Conservationist of the Year Award by the Alabama Wildlife Federation. Pooker loved Alabama politics and enjoyed getting to know many political leaders within the state over the years. Everyone admired Pooker. He served on the Alabama Bureau of Pardons and Paroles under Governor Fob James.
Most importantly, Pooker will be remembered as a beloved uncle to his nieces and nephews and great-nieces and great-nephews. He was a selfless family man and a good father even though he did not have children of his own. He loved being involved in helping his nephews on the farm. He regularly drove his great-nieces and nephews to school and was engaged in their growing lives. He was always present to talk and dispense wisdom to his non-farming nieces and nephews as well. He was proud of the generations that followed him. Aside from his family, Pooker took great pleasure in mentoring those interested in farming and living the country life. He offered respite for many generations of Auburn University football players to come to his farm to hunt, fish or just relax. He kept watch over his community and was a loyal steward to his land.
Pooker is survived by his brother Joe Rawles Robertson (Betty) of Gold Hill, nieces and nephews Daniel Sayre Robertson, Jr. (Sherie) of Auburn, Rebecca Robertson (Peter Skrdla) of Devon, Pennsylvania, Anna Robertson Bennett (Gabe) of Sautee Nacoochee, Georgia, Joe "Jody" Rawles Robertson, Jr. (Jennifer) of Lafayette, George Isaac Robertson (Bradley) of Gold Hill. 13 great nieces and nephews. Pooker was predeceased by his brother, Daniel Sayre Robertson (Teryl) of Auburn. Pooker enjoyed being a paternal figure in the lives of Race Cannon and Peter Barrios and remained close to them from childhood into adulthood.
In lieu of flowers the family requests donations be made to First United Methodist Church of Opelika (702 Avenue A, Opelika, Alabama 36801)
Frederick- Dean Funeral Home directed.