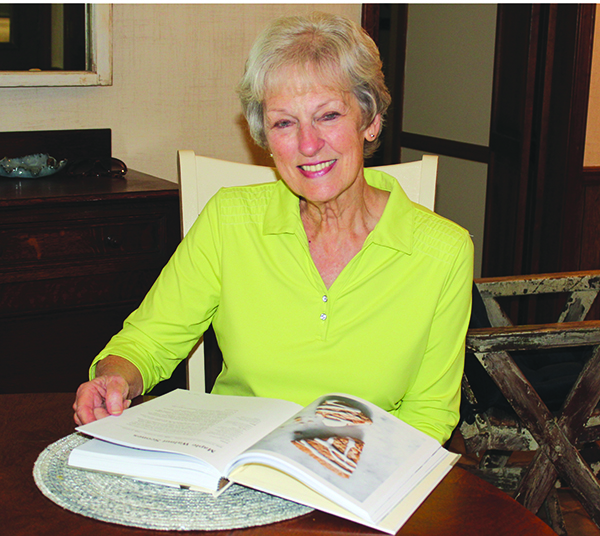 With a love for music from childhood, Gayle and Dr. Tom Smith both have enjoyed tremendous careers, sharing their talents at schools in Opelika and Auburn, Auburn University, Chattahoochee Valley Community College and Providence Baptist Church. At Auburn University, Tom started the AU Singers, who celebrated their 50th anniversary this year, where over 300 former Singers came to sing together and present one more show. Looking back over their wonderful years in music, Gayle also talks about cooking for their family and sharing favorite recipes.
Gayle grew up in a musical family in Birmingham, where she enjoyed singing in choirs at school and at church through high school and taking piano lessons. Tom, who grew up mainly in Decatur, was interested in music at an early age with church and school music programs. While his teachers thought he would be an engineer or accountant since he was good in math, his heart was in music.
Tom and Gayle met while they were attending Samford University, where they majored in music and were both members of the A Cappella Choir. Tom received a degree in church music and taught at Fairfield schools for five years before deciding to get his master's degree in theory and composition from the University of Iowa, then a Doctorate of Musical Arts in Choral Conducting and Literature from the University of Colorado at Boulder.
After Tom received his doctorate in 1972, the Smiths came to Auburn University, where he accepted the position as director of choral activities. While at Colorado, part of his doctorate assistantship was to direct a show choir. After coming to Auburn, he saw how a show choir could expand the offerings of the music department and founded the Auburn University Singers.
The AU Singers' spring and fall shows became popular with performances sold out. The group went on trips to Europe to present their music. The first trip was with the Friendship Ambassadors organization in 1973, going to Romania. Other trips included Russia, Poland, Hungary, Czech Republic, England, France, Germany, Switzerland, Austria and Guatemala.
When the Smiths' two children were little, Gayle only went once without them, but as they grew the family travelled together. Their daughter Marisha (a name they found on a trip to Poland) and her husband, Roby Robinson, live in Knoxville, Tennessee, and have two children: Ella, who is 17, and Luke, who is 16. Both Marisha and Roby were Auburn Singers.
The Smiths' son Eron is teaching the choirs at Auburn High School, and his wife, Mary Miller Smith, is also a musician and leads the Summer Showoffs camps each year. Mary is also the director of the East Alabama Children's Choir, which Gayle founded in 2008.
Both Eron and Mary were Auburn Singers. They now have four children: Zoe, 11; Juliette, 9; River, 7; and Oaklen, 5. Eron and Mary are active in the music ministry at Parkway Baptist Church in Auburn, where Eron is the music minister.
In 1976, Gayle received her master's degree in vocal performance from Auburn before continuing her teaching career at Opelika Junior High and Opelika High School for nine years. She then came to Auburn Junior High and taught for 15 years.
Tom became head of the AU Music Department in 2000. He and Gayle both retired in 2006. Then, in the fall of 2006, Gayle, who didn't stay retired long, began teaching the choir at Chattahoochee Valley Community College and worked there 9 years.
While Gayle and Tom were working in schools, they were also in the music ministry at Providence Baptist Church. At this point, Tom has served as Minister of Music for 48 years. Gayle is the interim organist and enjoys directing the drama productions.
Currently, Tom is working on the Festival of Christmas music with combined choirs that will be presented during the Christmas season. Special seasonal programs are held every Sunday night during December.
Being a busy working mother over the years, Gayle has a love of cooking. She was influenced by her mother, who was a wonderful cook who was intent that her family would eat well. Gayle has many of her Mom's recipes; her favorite is Mama's Fluffy Rolls.
Gayle enjoys sharing and gathering recipes from friends. One of her favorite recipes is Holly's Chili that Tom calls "sweet chili." While the recipe calls for a small amount of sugar, Gayle said the chili doesn't taste too sweet and the sugar blends the spices really well. She keeps chili in the freezer to pull out on a rainy or cold night when she needs it, and serves it with sour cream, shredded cheddar cheese and Fritos.
One of Gayle's most popular recipes during the holidays is peanut butter fudge. She makes the fudge from the recipe on the back of a jar of marshmallow crème, but substitutes peanut butter chips for the chocolate chips. It is popular at their church.
"Our church has some of the best cooks ever," Gayle said. "When they give you the recipe, you always remember the person who made it. That makes it meaningful for me because some of those people are no longer with us."
Gayle treasures a handwritten recipe from Frances Hillyer at Providence, who was famous for baking a huge container of dressing for dinners at the church.
"She had made it so often that she could make it by sight and taste. Everyone looked for Mrs. Frances's dressing. She always went home with an empty pan."
When each of their children got married, Gayle gave them a small cookbook of their favorite recipes.
"Music has been such a good life for us," Gayle said. "Music gives wonderful experiences to those who hear and those who participate in choirs, whether at school, church or community. It has always been a source of joy for us. Being able to have a life in music has been very rich and rewarding."
Gayle's Cheeseball
1 lb. cheddar cheese, grated
1 cup chopped pecans
1 cup mayonnaise
Dash of salt
Dash of pepper
2 dashes tobacco sauce
2 green onions or scallions, finely chopped
Additional pecans for covering cheeseball
Mix all ingredients together and form into ball and roll in additional chopped pecans. Form an indention in top and fill with strawberry preserves. Serve with your favorite crackers.
Holly's Chili
1 lb. ground beef
¼ cup ketchup
2 – 3 Tbsp. chili powder
1 can tomato soup
1 can diced tomatoes
1 can light kidney beans
2 Tbsp. sugar, optional or adjust to taste
Toppings: sour cream, shredded cheddar cheese and Fritos.
Brown ground beef in skillet. Add remaining chili ingredients and heat for 20-30 minutes, stirring occasionally. Serve with toppings.
Apple Muffins
Sift together:
1½ cup sifted all-purpose flour
1¾ tsp. baking powder
½ tsp. salt
½ tsp. nutmeg
½ cup sugar
Cut in 1/3 cup butter with pastry blender.
Add 1 egg and ¼ cup milk.
Mix in 1 grated Granny Smith apple
Topping for rolling in muffins:
Melted butter
1/3 cup sugar mixed with 1 tsp. cinnamon
Place batter in greased muffin pans. Bake at 350 degrees for 20 minutes or until test done. Remove muffins and roll in melted butter, then dip into the sugar and cinnamon mixture.
Cracker Snack Mix
1 box cheese crackers
1 box white cheddar crackers
1 pkg. oyster crackers
1 pkg. pretzels
Mix together:
¾ cup vegetable oil
¼ tsp. dill week
¼ tsp. lemon pepper
¼ tsp. garlic powder
¼ cup Ranch seasoning
Pour seasoning mixture over crackers in a large bowl.
Put cracker mix into a 2 gallon Ziploc bag. Turn the bag every 15 minutes several times. Bake at 180 degrees for 2 hours.
Grandma's Oatmeal Cake
Lauren Allen
1 cup old-fashioned rolled oats
½ cup butter
1 ½ cups boiling water
2 large eggs
1 cup light brown sugar
1 cup granulated sugar
1 1/3 cups all-purpose flour
1 tsp. ground cinnamon
1 tsp. baking soda
½ tsp. ground nutmeg
½ tsp. salt
For the topping:
6 Tbsp. butter, room temperature
1 cup shredded sweetened coconut
½ cup evaporated milk
½ cup light brown sugar
l cup nuts
1 tsp. vanilla extract
Preheat oven to 350 degrees. Grease a 9×13" pan with non-stick cooking spray.
Add the oatmeal and butter to a bowl and pour boiling water on top. Set aside.
In a mixing bowl combine the eggs, brown sugar and white sugar and mix well.
In a separate bowl sift together the flour, cinnamon, baking soda, nutmeg and salt.
Add to the bowl with eggs and sugars and stir to combine.
Add the oatmeal mixture and stir to combine.
Bake for about 35 minutes or until a toothpick inserted in the center of the cake comes out clean.
While the cake is baking, make the topping by combining all the ingredients in a bowl.
Remove the cake from the oven and turn the oven to high broil.
Spread the topping evenly over the warm cake and place under the broiler for 2-4 minutes or until the coconut is golden brown.
Notes
This cake tastes great made 1-2 days in advance. It's perfect for bringing to potlucks and parties.
Pork Tenderloin with Cherry Sauce
Sauce:
1 cup or more cherry preserves
1 Tbsp. lemon juice
1 Tbsp. ketchup
2 Tbsp. wine vinegar
¼ tsp. dry mustard
¼ tsp. cinnamon
¼ tsp. cloves
Pork tenderloin
Olive oil
Black pepper to taste
Heat sauce ingredients. Rinse pork and slice off any fat. Coat with olive oil and sprinkle with black pepper. Brown the tenderloin in olive oil then place in baking dish.
Pour half of cherry sauce over meat and bake 45 minutes at 350 degrees uncovered. Serve the remaining sauce.
Cheddar Cheese Grits Casserole
Christy Stanfield
4 cups milk
¼ cup butter
1 cup uncooked quick-cooking grits
1 large egg, lightly beaten
1 tsp. salt
½ tsp. pepper
2 cups (8 oz.) shredded sharp Cheddar cheese
¼ cup grated Parmesan cheese
Garnish: parsley sprigs
Bring milk just to a boil in a large saucepan over medium-high heat; gradually whisk in butter and grits. Reduce heat, and simmer, whisking constantly, 5 to 7 minutes or until grits are done. Remove from heat.
Stir in egg and next 3 ingredients. Pour into a lightly greased 11- x 7-inch baking dish. Sprinkle evenly with grated Parmesan cheese.
Bake, covered, at 350 degrees for 35 to 40 minutes or until mixture is set. Serve immediately. Garnish, if desired.
Baked Spaghetti Casserole
This is a great recipe for a crowd as it makes two 9 x 13 pans. May want to cut this recipe in half or freeze in smaller foil pans. I also added just a little freshly grated Parmesan cheese while they were baking.
1 lb. vermicelli noodles cooked drained.
16 oz. sour cream
Mix above together and lay in bottom of pans.
Mix the following:
2 large jars spaghetti sauce
16 oz. small cottage cheese
1 lb. and ½ cup for top of mozzarella cheese
2 lbs. ground beef cooked and well drained
Pour on top of noodles. Cook uncovered between 30 to 40 minutes. Can place foil over casserole the last 10 minutes to prevent becoming too brown.
Mama's Fluffy Rolls
2 pkgs. yeast
1 cup warm water
1 tsp. sugar
1 cup Crisco
½ cup sugar
1 tsp. salt
2 eggs
6 cups flour, divided
1 cup boiling water
Dissolve yeast in warm water and add 1 tsp. sugar. Let stand 15 minutes. If it does not expand, throw it out. (Mama's words exactly!)
Cream shortening and sugar, add eggs and mix well. Add salt and 2 cups sifted flour. Mix in then add cup of boiling water and 2 more cups of flour. (Never add boiling water to eggs. (Mama's words exactly!)
Now, add yeast mixture and "rest of the flour." (I only add enough to make the dough really soft and not dry. I have never used all six cups!) Dough will be soft. If it is too stiff rolls will be heavy.
Place dough in greased bowl and cover tightly with foil and place in warm place to rise for 2 hours. Do not knead.
Roll the dough out and make Parker house rolls or cinnamon rolls or whatever rolls you like.
Bake at 400 degrees for 15 minutes.
Sharon Reid's Shrimp
Melt butter in bottom of dish.
Arrange lemon slices all over.
Cover with shrimp.
Sprinkle Italian seasoning.
Bake at 350 degrees 14 minutes or until shrimp are cooked.
Chocolate Cream Pie
1 cup sugar
1/3 cup flour
¼ tsp. salt
2 cup milk
3 slightly beaten egg yolks (save whites for meringue)
2 Tbsp. margarine
1 tsp. vanilla
8 or 9 inch pie shell
1 recipe meringue, recipe follows Preheat oven at 350 degrees.
In saucepan, combine sugar, flour and salt; gradually stir in milk. Cook and stir over medium heat until mixture boils and thickens. Cook 2 minutes longer over a lower heat. Remove from heat.
Stir a small amount of hot mixture into yolks; return to hot mixture; cook 2 minutes, stirring constantly. Remove from heat. Add margarine and vanilla; cool to room temperature. (To prevent a crust from forming, put clear plastic wrap or waxed paper directly on top.) Allow it to cool a little and then pour into a baked pie shell.
Meringue:
3 egg whites
¼ tsp. cream of tartar
½ tsp. vanilla
6 Tbsp. sugar
Beat 3 egg whites with cream of tartar and vanilla until soft peaks form. Gradually add sugar, beating until stiff peaks form and all sugar is dissolved. Spread on top of pie, sealing to pastry.
Bake in moderate oven about 12 to 15 minutes or until lightly golden brown.
Variation: I use 2 whole eggs instead of 3 yolks and top with Cool Whip.
Poppy Seed Chicken
3-4 boneless chicken breasts, cooked, chopped and shredded
2 cans cream of chicken soup
8 oz. sour cream
2 Tbsp. poppy seeds
Mix all of the above together well and put in a greased casserole dish.
Topping:
1 tube Ritz crackers, crushed and mixed with 1 stick melted margarine
Bake 30 minutes at 350 degrees.
Broccoli and Chicken Casserole
Variation: add chopped, cooked broccoli to chicken mixture.
Christmas Spiced Tea
27 oz. Tang
¾ cup instant tea
3 cups sugar
1 tsp. ground cloves
1 tsp. ground allspice
1 tsp. ground cinnamon
½ pkg. plain lemonade mix
Combine all ingredients. We served this at our Taste of Christmas Tea at church.
Quiche Lorraine
9 inch pie shell
1 cup grated Swiss cheese
½ cup chopped ham
1/3 cup chopped onion, sauteed
4 eggs, beaten
1 ½ cup light cream or milk
¾ tsp. salt
¼ tsp. sugar
Place grated cheese in bottom of pie shell. Sprinkle onion and ham over cheese. Mix eggs, cream and seasonings together and add. Place pie shell on a baking sheet with a rim. Bake at 425 degrees for 15 minutes and then lower temperature to 300 degrees for another 30 minutes.
To freeze ahead:
Bake for 15 minutes less and freeze. Thaw to room temperature then cook at 350 degrees for 30 minutes.
Nanies's Pumpkin Bread
2½ cups all-purpose flour
2 tsp. baking soda
3 cups sugar
1 tsp. salt
2 tsp. cinnamon
1 tsp. nutmeg
½ tsp. cloves
½ tsp. allspice
15 oz. can pure pumpkin
4 eggs
1 cup oil
Preheat oven to 350 degrees and coat pans with nonstick spray with flour. Sift dry ingredients together. Add wet ingredients to dry ingredients. Mix well and scraping the bottom and "corners" to be sure it is mixed really well. Can add raisins and pecans or walnuts. Only fill the pans about half full. Bake at 350 for 25 to 30 minutes or until doneness with a toothpick placed in the center. Can also use the batter for making muffins.
Hint: Small loaves will manage better if placed on a sheet pan with an edge so you can put them all in the oven at the same time and remove them easily.
Black Cherry Jell-O
1 large cherry Jell-O (6 oz. or two 3 oz.), can use sugar-free
1 jar Bing cherries, sliced
1 large can crushed pineapple
1 canned Coke or 6 oz. water
½ cup chopped pecans
Drain pineapple and cherries into saucepan; add coke. Bring to a boil.
Add Jell-O and stir until dissolved. Chill until just slightly congealed, just cooled but not set. Add pineapple, cherries and pecans.