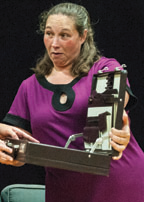 Annie Crenshaw rehearses a scene from "Funny Money," a comedy that will open May 9 at the Jan Dempsey Community Arts Center in Auburn.
Photo by Robert Noles
By Alison James
Associate Editor
For British humor close to home, the Auburn Area Community Theatre will soon present "Funny Money," a play by Ray Cooney.
"It's a comfortable style for me – I've decided I really enjoy the big, stupid farce," said Director Andrea Holliday. "Sometimes it's fun to just have a big silly play going on."
According to the synopsis, "Henry A. Perkins, a mild-mannered C.P.A, accidentally picks up the wrong briefcase – one full of money! He rushes home to book one-way tickets to Barcelona and tells his confused wife to leave everything behind …
"But Henry and his wife can't keep a secret! Soon everyone wants a share – from the dinner guests to the taxi driver, and they will say anything to confound the police, each other and 'Mr. Big,' who is on his way to get his briefcase back.
"Henry's inept attempts to extricate himself from this impossible situation lead to increasingly hysterical situations."
The play will hit the Jan Dempsey Community Arts Center in Auburn May 9, 10, 15, 16 and 17 at 7 p.m. and May 11 and 18 at 2 p.m.
"It's a great Friday night date night," said stage manager Karen Black. "It's a good British farce. It's been a joy to do.
"Everybody's putting in 100 percent to their characters."
Holliday said the show features more mature humor – "sexual innuendo but no sex, and there's not a cuss word in it."
The eight-member cast of actors and actresses from the Auburn-Opelika area will present the show with tickets prices set at $10 for adults, $8 for students and seniors and $6 for groups of six or more.
Tickets may be purchased prior at Jan Dempsey – box office opens 30 minutes prior to showtime, and cash or check will be accepted.
The AACT is also looking for volunteers to help with set building this weekend. For more information call 334-559-0807.
To find out more information about the AACT's past and future productions, visit www.vagabonsonline.com.