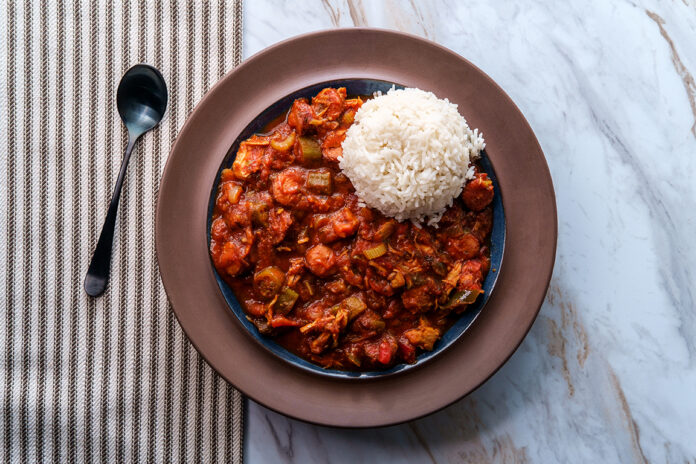 CONTRIBUTED BY ACES
BY DUSTIN DUNCAN
AUBURN —
Here's a take on a popular Southern dish. Live Well Alabama's Alabama Catfish Gumbo features Alabama-grown vegetables and Alabama-raised catfish. This recipe feels like home and will also keep the family warm during the cold winter.
"The United States Department of Agriculture recommends eating up to 8 ounces of fish or seafood per week," said Sofia Sanchez, Alabama Cooperative Extension System Specialist and Registered Dietitian. "This recipe provides 16 to 24 ounces of fish total."
INGREDIENTS
1 tablespoon vegetable oil
1/2 cup onion, diced
1/2 cup green bell pepper, diced
1/2 cup celery, diced
Two cans low sodium chicken broth, 14.5 ounces each
3 teaspoons seafood seasoning
Two cans diced low sodium tomatoes, 14.5 ounces each
One can tomato paste, 3 ounces
1 12-ounce bag frozen okra
Four catfish fillets
2 cups cooked brown rice
PRO TIPS
Catfish doesn't have to be fried to be delicious! Enjoy it simmered to get the protein, vitamins and minerals without the added fat from frying. For safety, cook the fish to 145 F. Use a cooking thermometer to double check the temperature.
DIRECTIONS
In large pot, heat the oil and the cook onion, bell pepper and celery until tender.
Add the chicken broth, seafood seasoning, diced tomatoes, tomato paste and okra. Bring to a boil.
Add the catfish, and simmer for 20 minutes, stirring occasionally until fish is cooked through.
Serve over rice.
Want to learn more? Step-by-step instructions for Alabama Catfish Gumbo recipe and an instructional video are available at LiveWellAlabama.com.
"Cooking at home on a regular basis is a key ingredient to overall health, and it doesn't have to be difficult or break the bank," said Katie Funderburk, Alabama Extension's SNAP-Ed Coordinator. "Our recipes are inexpensive, easy to prepare and don't require fancy kitchen equipment."
Eating healthy doesn't have to be difficult or expensive. Live Well Alabama provides numerous recipes that are simple and budget friendly.
For more information about Live Well Alabama and to find more Live Well Alabama recipes, visit www.LiveWellAlabama.com.
Also, check out more Live Well Alabama tips and recipes on Facebook, Twitter, Instagram and Pinterest.
ABOUT LIVE WELL ALABAMA
Live Well Alabama is a Supplemental Nutrition Assistance Program-Education (SNAP-Ed) initiative developed by the Alabama Cooperative Extension System at Auburn University. This initiative reaches residents across the state with research-based education.
ABOUT ALABAMA COOPERATIVE EXTENSION SYSTEM
Alabama Extension is the primary outreach organization for the land grant mission of Alabama A&M and Auburn Universities. Its educational programs grow from these two land grant university campuses to serve the people of Alabama. Science-based educational programs are delivered that enable people to improve their quality of life and economic well-being.