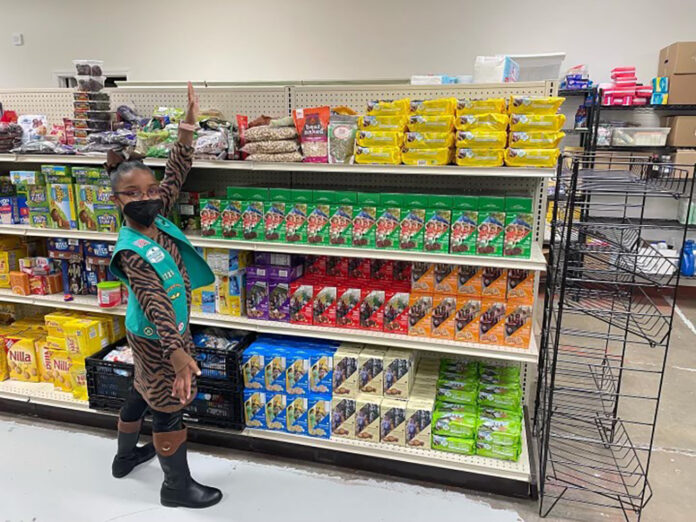 BY HANNAH LESTER
HLESTER@
OPELIKAOBSERVER.COM
One local girl scout wants to make a difference in her community.
Fourth-grader Peyton Allison began selling girl scout cookies with her troop, Troop # 7725 in January when everyone else did.
But she had a goal in mind to benefit those in need Allison selling boxes that would be delivered to the Community Market, a part of the Food Bank of East Alabama.
"The Community Market, launched in January of 2003, functions as an extension of the Food Bank of East Alabama to provide direct food relief to low-income residents of Lee County," said the organization's website. "It offers client-choice food selection in a grocery store atmosphere at a convenient location on Pepperell Parkway in Opelika."
"My goal overall is to sell 5,000 cookie boxes but my goal for the community market is to sell 1,000 cookie boxes," Allison said.
Allison has sold 875 so far and has until March 6 to reach her goal for the Community Market.
"I wanted to help the community in some kind of way and not just ask people to support me, I want to help other people too," Allison said.
So she and her mother contacted the Food Bank of East Alabama to let them know her plan.
"People who don't have enough money to be able to buy girl scout cookies, people who don't have enough money to do a lot of things, can still feel welcomed," she said.
The plan began with Allison going door-to-door selling to her neighbors.
"Me and my mom took [flyers] around our neighborhood and we asked people if they wanted to buy girl scout cookies," she said.
Allison has been in girl scouts since she was in the first grade — she's in fourth now.
"[My favorite part] is helping the community and getting to participate in fun activities," she said.
The troop participates in other community service opportunities as well, Allison said, such as donating supplies to the Lee County Humane Society.
Allison said she would encourage other girls to step out of their comfort zone, not be afraid and give Girl Scouts a try.
Anyone who wants to help out and donate cookies to the Community Market can do so by visiting https://bit.ly/gscookiespa and click 'start direct ship order.' Allison's flyer said to select a case, add to cart and ship the cookies to:
Community Market of East Alabama
355 Industry Drive
Auburn, Alabama, 36832.
"I chose this fundraiser because the Community Market means a lot to my family," she said. "I want everyone to be able to experience all the yummy cookies this season."
Anyone in need of services from the Food Bank of East Alabama or the Community Market can visit: www.foodbankofeastalabama.com.