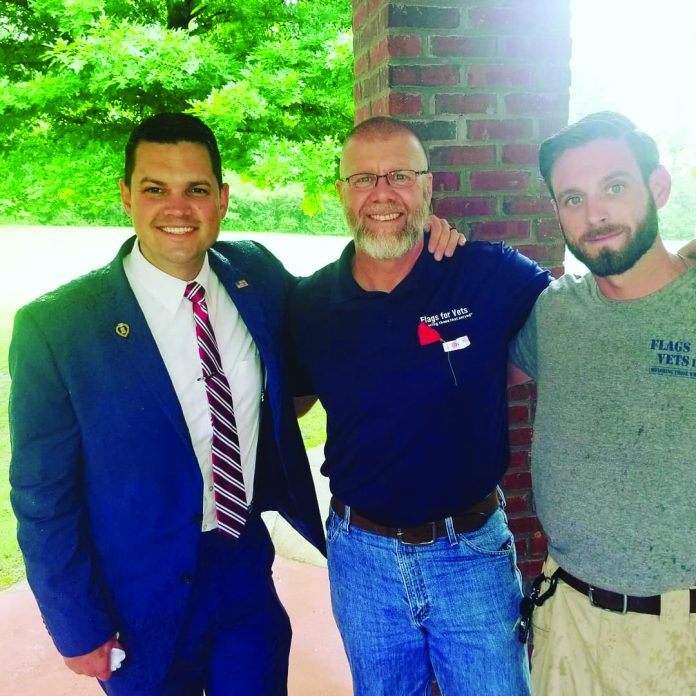 Special to the
Opelika Observer
Opelika veteran and Flags for Vets founder Jamie Popwell honored Veterans at Monarch Estates on Memorial Day with a flag raising and dedication ceremony. A strong crowd of residents, family, friends & patriots were in attendance to hear from Popwell, 2013 Miss America winner Mallory Hagan, and the team at Monarch Estates. The Auburn Boy Scouts from Troop 50 presented the colors to start the ceremony.
Flags for Vets volunteers, Todd Rauch and Kyle Golden were also present at the ceremony. Rauch, an Iraq War wounded veteran (2003) and candidate for State Representative in District 38, and Golden, an Iraq War Wounded Veteran (2005), are both Opelika residents who dedicate a portion of their time working with Flags for Vets.
Congressman Mike Rodgers Constituent Services Representative Lee Vanoy was also in attendance on behalf of the Congressman. Rogers has long been a strong supporter of the Armed Forces and serves on the Armed Services Committee in Washington, D.C.
About Flags for Vets:
Flags for Vets is a non-profit organization committed to honoring those who've served by thanking them with the gift of a flagpole at their home. Each flagpole is provided to the Veteran at no cost to them, includes a concrete base, stainless steel flagpole and flag, plus a solar light so the flag may remain up and lit at all times.
To date, Flags for Vets has honored more than 220 veterans with flagpoles and flags in 16 states, including 9 Medal of Honor recipients. Selection and vetting criteria is simple – provide a DD-214. There is no age limit, service limitations, or need to have served in a conflict.
The continuation of Flags for Vets is dependent upon the generous contributions of patriots who support this cause. To learn more or to contribute, visit www.flagsforvets.us/.