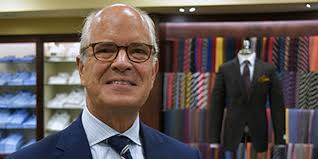 This is one small Alabama retailer's story, but it is a story repeated throughout the state. Small businesses, which are crucial to all of Alabama's communities, have upped their online and social presence, some have even completely repurposed their business models. Small, local retailers can't survive and employ their staffs on 20 percent of their previous business for much longer. Please share this story and those of the small businesses in your community, so their voices are heard.
By George R. Wilder
Owner and CEO, The Locker Room, Montgomery and Auburn
Many years ago, I was fortunate to be in a board meeting with Jimmy Blanchard, then chairman and CEO of Synovus Bank. Jimmy is the definition of a humble, servant leader. Answering a question during that meeting, Jimmy said: "We just want to figure out what makes sense and do that."
With this COVID-19 pandemic, figuring out what makes sense is challenging to say the least. As a service driven specialty retailer, selling better men's clothing, sportswear and shoes for the past 42 years, we suddenly find ourselves shut down. But we are not giving up. We are creating online business; we are contacting our clients weekly to take care of any needs they may have. With the slow down in business, our tailors are making masks for an adopted COVID-19 unit at Baptist Hospital. We have requests from Jackson Hospital as well and from individual nurses and emergency room doctor clients. All that to say, small business is important to our community.
The safety of our folks and our clients is foremost. We are not a high-traffic business. We are in the relationship business. We know our customers and their families. So, that Walmart, for example, which is a high-traffic, high-volume store can be open and sell clothes, and we can't, does not exactly make sense. Would you rather be in a small specialty store, with folks you know, and two or three customers at a time or a big chain store with folks you don't know all around you? With most businesses closed, we now have the same number of consumers shopping in fewer stores, which does not lead to social distancing.
What our leaders are thinking but not saying out loud, is that the fallout from the economic shutdown could turn out to be worse than the virus. Our business was down 50% in March. In April and May, we are conservatively projecting 80% decreases. Yes, 80%, and just six weeks ago, we were on track for our best spring season ever. The only way specialty retail will survive is with the help we hope to get from our government and returning to business in a way that is safe yet allows us to create sales.
I am not faulting the big box stores. Without the business they are doing, there would be virtually no sales tax created in our communities, which we must have. This letter is about "figuring out what makes sense and doing that."
Shop local and support small business. They are the backbone of our community, our county, our state and our country.
The Locker Room has been an Alabama Retail Association member since 1993. Its owner and chief executive officer, George Wilder, served as the association's chairman from 2014 to 2015. He remains an ex officio member of the association's board of directors and serves as a trustee for Alabama Retail Comp, the self-insured workers' compensation fund affiliated with the association.