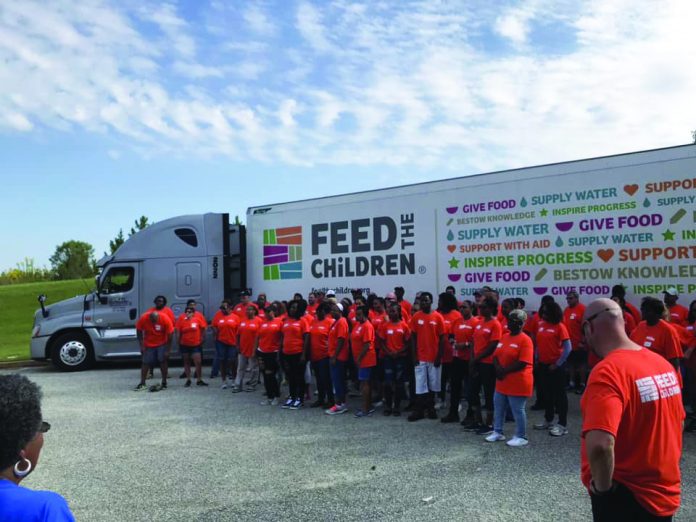 Special to the
Opelika Observer
Members of Feed the Children, Nature Made and the Boys and Girls Club of Greater Lee County partnered to feed and assist 800 area families in need.
Families gathered at the Frankie B. King Center in Auburn Oct. 6. Each family was pre-identified based on need by the Boys and Girls Club of Greater Lee County.
Participating families received a 25-pound box of shelf-stable food such as canned vegetables, macaroni and cheese and peanut butter, as well as a 15-pound box of essentials including items such as shampoo, razors and toothpaste, and Nature Made vitamins. The provided food and essentials will help families in need of basic materials most people take for granted.
During the event, Nature Made had registered dietitians on-site to meet with parents and provide important food and nutrition education. In addition, families enjoyed a community partner fair where they had the opportunity to receive additional information about health, education and employment resources and support in their area. Through these collaborative efforts, the organizations provide a holistic health and wellness experience by providing long-term support to some of the country's most vulnerable citizens.
"At Nature Made, we believe in the importance of starting healthy habits early in life, and we're proud to help families and children in our local communities," said Andrea Theodore, Nature Made's chief marketing officer. "Feed the Children is the perfect partner for us and our initiatives as we provide vital access to nutrition education and help bridge nutrient gaps in families most in need."
"We recognize hunger can't be fought alone, but by working together, we can provide food and essentials to millions of children and families who live in poverty," said Travis Arnold, president and chief executive officer of Feed the Children. "Hope for a better future is made possible thanks to our partners at Nature Made."
The event is part of a three-year partnership between Nature Made, a leading national vitamin and supplement brand, and Feed the Children. The organizations are joining forces to fight hunger and make a significant difference in the lives of American families.