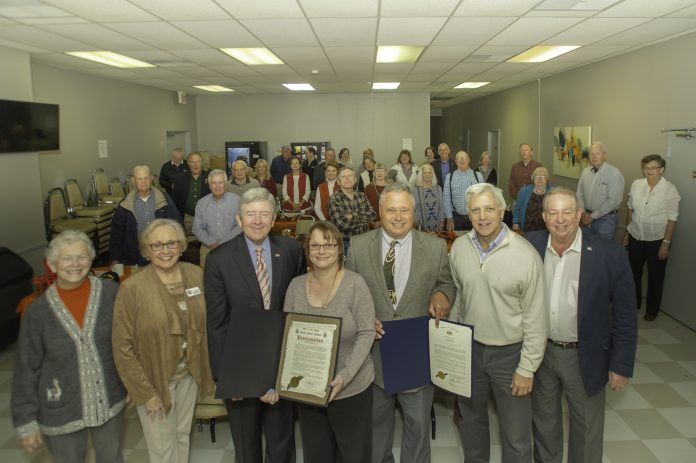 By Opelika
Observer Staff
During 2018, the Opelika Observer extended its news coverage in Lee County to provide readers with information and stories beyond the Opelika city limits. However, the Observer has and always will be an Opelika-first newspaper, dedicated to finding the best that this city has to offer.
We would like to express our gratitude to the loyal advertisers, followers and readers of the Observer who support our mission of providing local news for local people. We hope you enjoy the recap of the biggest stories from 2018.
Jan. 10 – Downtown Opelika's Red Clay Brewing Company announced the launch of their own canned craft beer line. The beer is available for purchase across Alabama and portions of Georgia and Florida.
Jan. 18 – The Milken Institute Best-Performing Cities Index named the Auburn-Opelika Metropolitan Area No. 10 in the "Best Performing Cities Annual Index." Opelika Mayor Gary Fuller attributed this accomplishment to the city's ability to "attract major industries, as well as take care of our medium to small businesses, because of our education and workforce development, unparalleled school systems, our affordable cost of living and the exceptional quality of life we offer businesses and citizens alike."
Jan. 31 – Opelika Medal of Honor recipient and retired Command Sgt. Maj. Bennie Adkins was one of 14 other Medal of Honor recipients to be recognized during the coin toss preceding Sunday's Super Bowl LII matchup between the New England Patriots and Philadelphia Eagles.
Feb. 14 – The Observer published its first-ever "E-Edition," a free resource for Observer readers to flip through the pages of a digital copy of that week's newspaper. It is shared weekly on www.opelikaobserver.com and the newspaper's Facebook page.
Feb. 14 – Opelika native and actor Jock McKissic announced that he would star in "Paterno," an HBO film on the controversy surrounding Pennsylvania State University and the legendary figure in charge of its football program, Joe Paterno.
Feb. 20-21 – Opelika High School's Caleb Ross announced Feb. 20 that he was returning to his alma mater Prattville to be their next head coach. A day later, the Observer broke the news that longtime defensive coordinator Erik Speakman was named as the next head coach of the Bulldog program.
March 7 – Opelika Middle School student Ashton Tyler spoke of his role in Marvel's "Black Panther," a blockbuster release that has generated more than $1 billion in box offices worldwide.
March 14 – Downtown Opelika's Irish Bred Pub announced a grand re-opening/rebranding under restaurant founder Joe Garofalo and manager Chris McBride.
April 2 – The City of Opelika unveiled a rebranded city logo that was affixed to all city property and business.
April 18 – Through funding provided by the "Alabama Health Food Financing Act," Governor Ivey presented Opelika's Wright's Market and six other Alabama businesses/nonprofits with $300,000 in grants to meet the nutritional needs of communities statewide that have limited access to grocery stores. That money money helped launch a pilot version of an online SNAP (Supplemental Nutrition Assistance Program) and expand the route and services offered through the store's Wright2U delivery service, which already delivers throughout the Opelika-Auburn area.
April 25 – Two representatives from the Opelika Police Department and Lee County Sheriff's Office won a national shooting marksmanship competition that featured 44 teams from across the country.
May 2 – The City of Smiths Station adopted its first-ever ad valorem tax to tackle infrastructure problems within the city.
May 15 – Plans for the construction of a new Beauregard High School were announced by Principal Richard Brown.
May 15 – Local author and retired Auburn University professor Dr. James Hansen discussed plans for his book on the life of Neil Armstrong to be turned into a major motion picture. Directed by Academy Award winner Damien Chazelle and starring Ryan Gosling as Armstrong, the film has received praise from film critics across the globe since its Oct. 12 release.
May 24 – Mike Pugh is named as the new athletic director of Opelika High School.
May 30 – The Observer brought home five APA awards for best news headline, best local sports column, best sports photo, best news photo and best photo essay.
June 6 – East Alabama Medical Center announced the construction of a new cancer center. The "E.L. Spencer, Jr. and Ruth Priester Spencer Cancer Center" will feature two linear accelerators, 28 regular infusion therapy chairs, 18 exam rooms, a pharmacy, a boutique, four conference rooms, a resource library and a chapel.
June 19 – After 92 years of being in existence, members of Pepperrell United Methodist Church announced that the church would be holding its final service the following Sunday.
June 20 – Representatives from the Lee County Special Olympics announced that a large contingent of its athletes and coaches would travel to the National Special Olympics Games in Seattle July 1-6.
June 20 – Chris and Angela George of O Town Ice Cream announced the closure of their downtown location and relocation to Second Avenue. The new shop is slated to open soon.
June 20 – Opelika businessman Richard Patton discussed two major developments coming to Opelika – an entertainment hub along First Avenue and new subdivision called "Southside Opelika." Two businesses within the entertainment hub, 10,000 Hz Records and Mama Mocha's Coffee Emporium, are open. Others are nearing completion.
June 27 – Former Roundhouse owner Kyle Sandler was arrested on Lee County warrants in Bryan, Texas. He later pled guilty to two fraud charges and is currently awaiting a hearing while under house arrest in Jasper, Alabama.
June 27 – Opelika High School names Zac Blatt as its head baseball coach following the departure of Nick Richardson to his alma mater Tuscaloosa County.
July 5 – Through the discovery of a program flyer and photographs, Smiths Station city officials were able to confirm that country superstar Conway Twitty lived there for a time.
July 18 – Beloved Opelika dining establishment Mrs. Story's Dairy Bar is passed down to a fifth-generation family member in Blake Boothe.
July 25 – Google representatives confirmed an August visit to Opelika's Lewis Cooper Jr. Memorial Library as a part of the "Grow with Google" tour, which educated participants on all the resources available through the platform.
Aug. 8 – Charlie Edwards of "The Firing Pin LLC" announced his plans to expand and relocate his business to First Avenue. The new store is nearly finished and will be named "Firing Pin Shooting Sports."
Aug. 22 – Opelika's Trinity Christian School celebrated its 40th anniversary.
Aug. 23 – Representatives from Alabama's Most Haunted confirmed the filming of an episode at Spring Villa Mansion, which is known locally for its supernatural happenings.
Aug. 29 – During an Opelika City Council meeting, Opelika natives Ginger and J. Stern announced the gifting of a park to the city. Located at 409 1st Ave., the park features a fenced-in dog area, miniature library and walking trail.
Sept. 5 – The City of Smiths Station announced the construction of a new Love's Travel Stops and Country Stores at the corner of Lee Road 248 and U.S. Highway 280/431. The development is expected to generate more than $3 million in taxable sales and create 40 full-time jobs.
Sept. 12 – Opelika residents Rocky and Shealy Langley proposed "The Creekline Project," an effort to construct bike paths and trails to increase the city's overall connectivity and appearance.
Sept. 19 – Former Olympic swimmer Tyler Mcgill was named the City of Opelika's head swimming coach.
Oct. 3 – Opelika High School's Bradi Jones is named a member of the USA Swimming Scholastic All-American team.
Oct. 17 – The City of Opelika announced the sale of OPS ONE and their telecommunication assets to Point Broadband of West Point, Georgia, for $14.1 million.
Oct. 24 – More than a year after closing for damages caused by an electrical fire, Opelika fine-dining establishment Warehouse Bistro reopened under new executive chef/owner Paul Diaz.
Oct. 31 – Construction of a new Aldi's in Tiger Town is underway, and expected to open next year.
Oct. 31 – Acre's Executive Chef David Bancroft announced that his Texas-style barbecue house "Bow and Arrow" would open Nov. 5.
Oct. 31 – The Observer held a celebration of its 10th anniversary. During the celebration, Michelle Key announced that she was assuming the role of publisher and that Morgan Bryce would become editor.
Nov. 16 – The childhood and humorous experiences of Opelika native and comedian Dusty Slay will be the subject of a new ABC comedy currently under development.
Nov. 20 – Beulah High School's football coach Cody Flournoy reflected on a season that saw the Bobcats finish with their best record (8-3 overall) in 23 years and make their first playoff appearance in a decade. Flournoy was recently named the 3A Coach of the Year.
Nov. 29 – After a long, successful tenure at Lee-Scott Academy, Robert Maddox announced that he would be retiring from the school.
Nov. 29 – Opelika's cherished "Victorian Front Porch Christmas Tour" celebrated its 25th year of existence
Dec. 5 – The Observer launched its first-ever advice column titled "Listen Linda"
Dec. 12 – Cities of Auburn, Opelika move forward with plans for joint skate park.
Dec. 19 – Medical Arts Pharmacy celebrated 50 years of serving the community
Dec. 26 – Resting Pulse Brewing Company expects to open its doors in March 2019. The business will be located in a new entertainment district created by Opelika businessman Richard Patton.