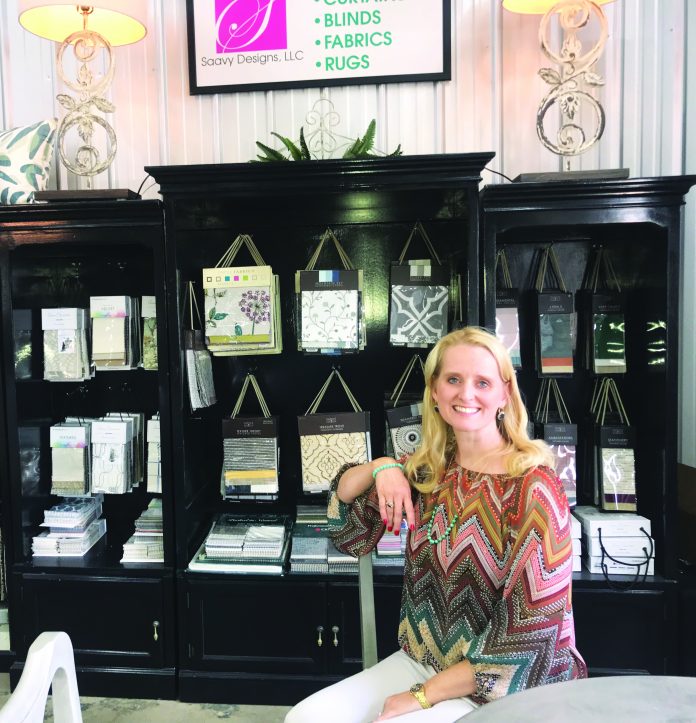 By Natalie Salvatore
For the Opelika
Observer
Opening this week in Opelika, Expressions Design Gallery plans to offer an extraordinary experience for its customers as it ties four unique crafts into one new business.

Sharon Saavedra's corner of the shop, Saavy Designs, is an interior design boutique. She offers thousands of fabrics for home décor projects, provides different selections of paint colors, helps decorate homes and even designs window treatments, such as curtains and blinds.

Her husband, a military veteran, brews coffee for the store's café, the next part of the gallery. This Boonie Hat beverage, which is roasted on-site, has a very smooth and rich flavor.

"It's the only air-roasted coffee in town," Saavedra said.

Along with the exclusive coffee, the café also serves impressive food, such as paninis, breakfast in a bowl, pastries, baked goods and pizza.

The café's drive-thru will be available starting at 6 a.m. to allow students at Opelika High School and Southern Union State Community College to grab a bite to eat before morning classes. Saavedra said people are excited about such a place in this part of town.

The next area of the business carries the famous Annie Sloan Chalk Paint. Led by Jim Bryson, the Market Street Paint Shop provides timeless, beautiful paint colors inspired after old European vintage hues. He is also carrying a product called Salt Wash that creates a beachy, weathered look on surfaces to add texture.

"It looks like it's been sprayed with the ocean," Bryson said.

Before this, Bryson explained how he ran two previous stores for about four and a half years at New Leaf Galleries. His previous experiences allow him to bring his expertise and clientele to Opelika. In his shop, he offers services such as custom mixing and painting, workshops and private parties.

The gallery's owner filled the last area of the shop with her collection of antiques that are now for sale after years of selecting pieces that caught her eye.

Saavedra said she believes the gallery will offer the community a neat and different shopping experience. Expressions Design Gallery is a place where people will know your name.

"People can have a latte and come and look at a marble statue, or browse fabrics, or pick out some chalk paint or look at antique lighters," Saavedra said.

Located at 1801 Market St., the shop's hours will be from 9 a.m. to 6 p.m. For more information, call 334-350-5001 or visit expressionsdesigngallery.com.