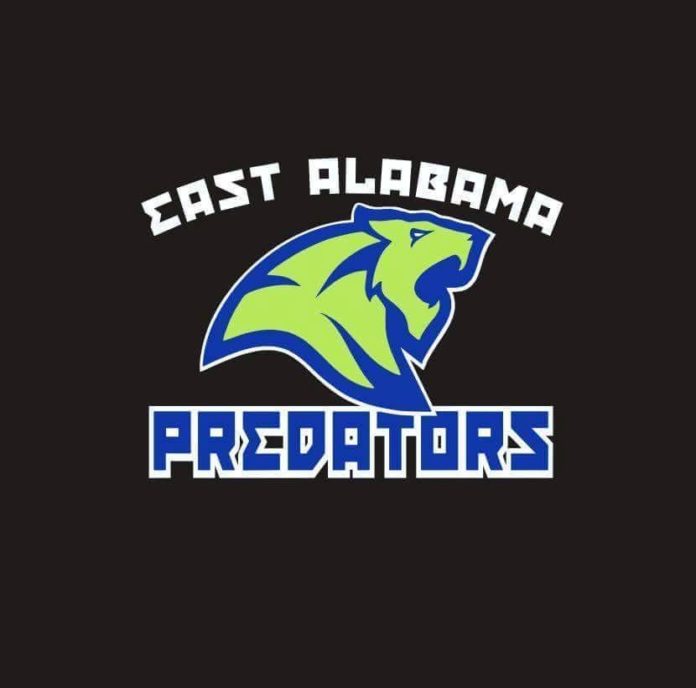 By Morgan Bryce
Associate Editor
Coming off a season plagued by inconsistency and poor quarterback play, East Alabama Predators Coach Michael Martin said he is expecting big things for his squad in 2018.
"Our goal as a team for this season is to win the division and the conference … make a decent little playoff run for ourselves," Martin said.
The Predators finished 3-5 last season and tied for second in the Gridiron Developmental Football League's Xtreme South division.
"All season, we had no decent play from the quarterback position. The running game was there, the offensive line was good and the defensive secondary was our strength, but with bad quarterback play … we couldn't get our offense going, which led to a rocky start last season," Martin said.
The Predators welcome two new players vying for starting time at quarterback: former Lanett star Andre Johnson Sr. and Willie Brown from Auburn High School.
Despite the offense's expected turnaround from last season, Martin said he is most excited to see the play of his defensive line, which is deep and talented."A lot of these guys are 6-foot and 290-300 (pounds), and they can move. Behind them (the starters), we got a lot of quality guys too that can make a difference," Martin said.
Division rival Georgia Crush will host the Predators April 28 to kick off the GDFL season. The schedule has yet to be finalized, but Martin said it will either be May 5 or June 2.
The Predators play all their home games at Notasulga High School's Knapp-Sanderson Stadium, which is located at 500 E. Main Street in Notasulga. Visit www.gdfl.org for schedules and more information.
Following is a current Predators spring training roster:
#0 DeVonta Jackson
#1 Jaquavious
Darden
#2 Marquel Franklin
#3 Cedric Moore
#4 Tay Buggs
#5 Keon Brown
#6 Willie Brown
#7 Andre Johnson
#9 Dwight Harper
#10 Van Jackson
#11 Quay Tolbert
#12 Marc Delince
#13 Cordarious
Joiner
#14 Jacob Daniels
#16 Dontavis
Holloway
#17 Yae Williams
#18 Jak Dinero
#19 Isaiah Ellis
#20 Isaiah Thomas
#24 Terrel Jones
#25 Mon'trez Dardy
#26 William Mahone
#28 Jarquavious
Crawford
#30 Isaiah Bingham
#33 Marc Dowdell
#35 Montrelle
Johnson
#36 Tommie Benson
III
#44 Christian Tyler
#47 Derrell Favors
#55 Torri Harris
#60 Tavoris
Culpepper
#72 Cody
Highnote
#73 Calvin Clark
#88 Jamar Darden
#89 Rykell Watts
#90 Cedric
Weathington
#93 Travis Spurlock
#95 Malcolm Jelks
#96 Greg Peters Jr.