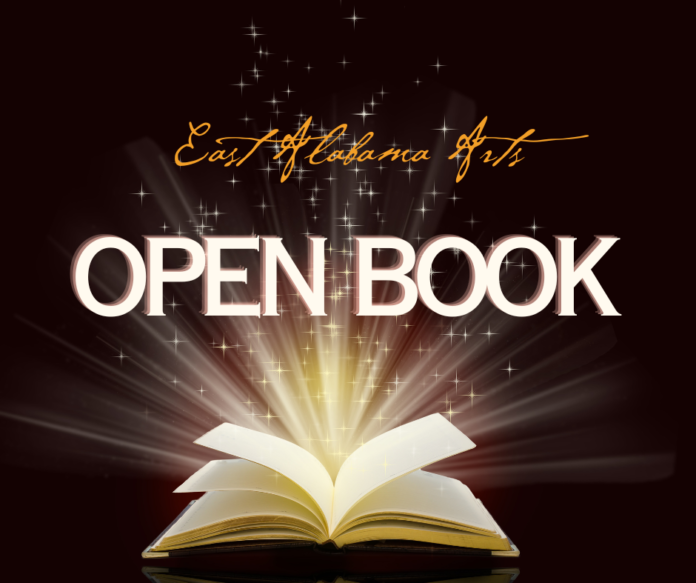 CONTRIBUTED BY EAST ALABAMA ARTS ASSOCIATION
EAST ALABAMA —
East Alabama Arts is pleased to announce a new programming initiative, OPEN BOOK, a grassroots play exploration group led by Melaine Bennett and Steve Bice.
OPEN BOOK is a group of local community theater artists and enthusiasts who have come together in shared interest to read plays and spend time discussing them. From their first meetings in January of 2023, they have explored plays from ancient to contemporary and plays in progress, discovering how they relate to current everyday experiences and cheering on the creation of new works for the stage, staged readings, performances by visiting artists and hosting new play workshops.
A recent OPEN BOOK project included the reading of "Water Spirits" by Alicia Kester, a story set in post-Katrina New Orleans in which a woman returns home following heartbreak and discovers that spirits are speaking to her to influence her soul's journey and destiny. OPEN BOOK cast the reading and led the conversation with the participants that was critical in developing the upcoming staged reading just announced by Auburn Area Community Theatre (AACT) at the Jule Collins Smith Museum of Fine Art (Auburn University) in June 2023.
Up next are two exciting productions scheduled for this June.
1. "A Storm Came Up": Southside Center for the Arts, Thursday, June 1
It's the summer of 1963 in a small Alabama town and three young boys find themselves caught up in a complex crossfire between George Wallace, the KKK, the desegregation of the local school system and memories of a murder they witnessed five years earlier. Narrated by the town's gravedigger, who knows all the skeletons in the closets of this small town, the play examines the relationships of the boys and their families against the volatile backdrop of the Jim Crow South.
A conversation led by Melaine Bennett and Steve Bice with playwright Kristy Meanor and author Doug Segrest will explore how this new work was created, followed by a staged reading of the play performed by the cast of OPEN BOOK. "A Storm Came Up" made its debut at Wetumpka Depot in 2023 and is currently an AACT (American Association of Community Theatre) Fest 2023 finalist, being performed at nationals in June 2023.
2. "Just a Giant Cinderella": Southside Center for the Arts, Thursday, June 22
Described as "a dark comedy about dying (almost) to fit in," Martina Schabron's play explores the challenges of mental illness with an abundance of humor. Fresh from performances in Toronto and the Denver Fringe Festival, Schabron is bringing "Just A Giant Cinderella," to Opelika.