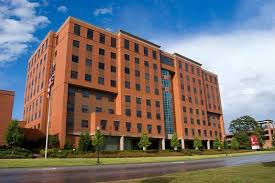 Special to the
Opelika Observer
Cancer patients undergoing treatment frequently require assistance getting to and from facilities, often creating a financial and logistical burden. The American Cancer Society has awarded a transportation grant to Opelika's East Alabama Medical Center in Opelika, one of 10 transportation grants totaling more than $65,000 to address the transportation needs of cancer patients.
An estimated 28,950 Alabama residents will learn they have cancer this year, and getting to their scheduled treatment may be one of their greatest roadblocks. These grants are available in select communities across the American Cancer Society's South Region through an application process and focus on addressing unmet transportation needs of cancer patients, particularly vulnerable populations experiencing an unequal burden of cancer. The society's South Region includes Alabama, Arizona, Arkansas, Louisiana, Mississippi, New Mexico, Oklahoma and Texas.
"As we lead the fight for a world without cancer, it is our responsibilty to find new ways to collaborate, innovate and drive support for these patients," said American Cancer Society Executive Vice President Jeff Fehlis. "We're proud to collaborate with community health partners to serve individuals in areas with higher burdens of cancer and limited or no access to transportation, because even the best treatment can't work if a patient can't get there."
"On behalf of our team at East Alabama Medical Center and the Spencer Cancer Center, we are very grateful to the American Cancer Society for awarding us this grant," said Spencer Cancer Center Oncology social worker Chelsea Kroll. "Our service area includes at least six surrounding counties and some of the communities are somewhat rural. This grant will definitely help remove some of the barriers that patients can face when seeking to access cancer care."
The American Cancer Society is seeking investors to help fund additional transportation grants. Individuals interested in donating to support the American Cancer Society transportation program may contact Senior Director of Mission Delivery Melissa Carlton at 404-327-6508.
For additional information about the American Cancer Society, call 1-800-227-2345 or visit cancer.org.
About the
American Cancer Society
The American Cancer Society is a global grassroots force of nearly two million volunteers dedicated to saving lives, celebrating lives and leading the fight for a world without cancer. From breakthrough research, to free lodging near treatment, a 24-7, 365 days a year live helpline, free rides to treatment, and convening powerful activists to create awareness and impact, the society is the only organization attacking cancer from every angle.