Courtesy of the East
Alabama Medical Center
Editor's Note: All information correct as of Monday, Aug. 24
POSITIVITY RATE INCREASES
Of the more than 2,000 phone calls received at 528-SICK last week, 566 people were tested and 101 were positive for COVID-19. That equates to a positivity rate of 17.8%, which is just short of the 18.5% rate (353 out of 1905) seen during the three weeks prior to the mask mandate. This past Friday provided a glance at one of the higher percentage days. EAMC tested 139 people that day, and 41 tests were positive, for a positivity rate of 29.5%.
"We hope this is just a temporary uptick as our grade schools and colleges return for the new school year," stated John Atkinson, EAMC spokesman. "The mask mandate was really making a difference with calls and testing, as well as hospitalizations. In the past, increased calls and testing have led to increased hospitalizations a couple of weeks later. Our fingers are crossed that we break that trend this time."
AU MEDICAL CLINIC UPDATE
Throughout most of the summer, the Auburn University Medical Clinic had a positivity rate between 5% and 10%. Last week, it jumped to 24.1% as 217 of the 901 people tested had a positive result for COVID-19. Of that total, 200 were Auburn students. "This did not surprise us; we were expecting this" said Dr. Fred Kam. "Likewise, we were expecting most of the students who tested positive to have mild symptoms and not require hospitalization, and that so far is exactly what has happened."
Kam explained the next steps involved. "Our challenge right now is for each person to educate themselves on what they need to know, what they should be doing and then holding themselves and those around them accountable for wearing masks, physically social distancing and frequently sanitizing their hands. Our strategy is simple: test, isolate, trace, quarantine and educate."
REMINDER ON CALL CENTER HOURS AND TESTING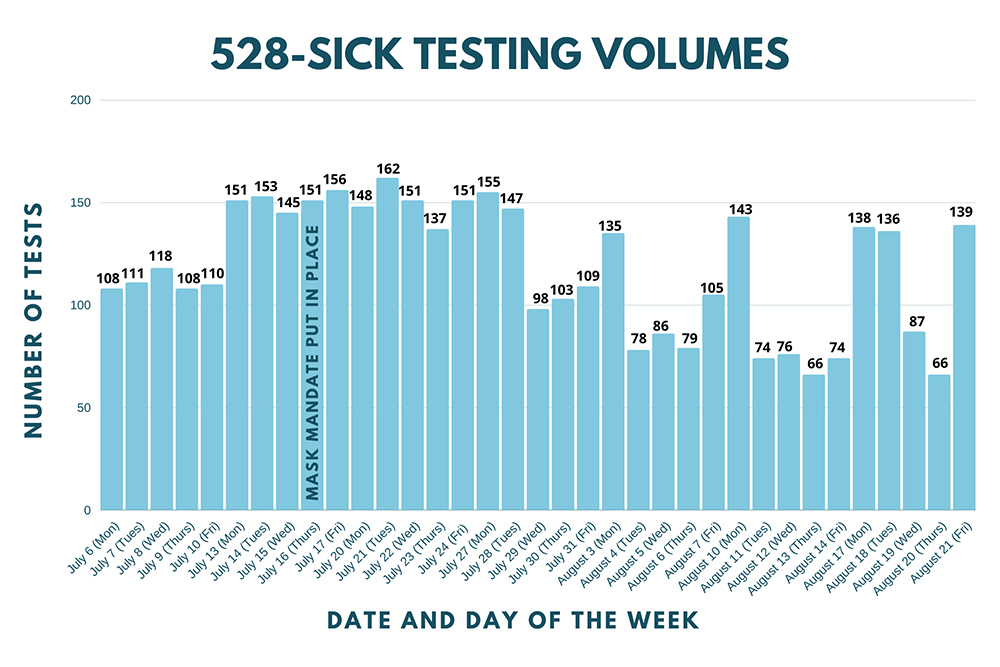 EAMC's 528-SICK call center is currently open Monday through Friday from 8 a.m. to 4:30 p.m. If the clinicians in the call center determine that you meet the criteria for a COVID-19 test, you will be given directions to the test site and a specific time slot for your test. The test site does not accept patients without an appointment.