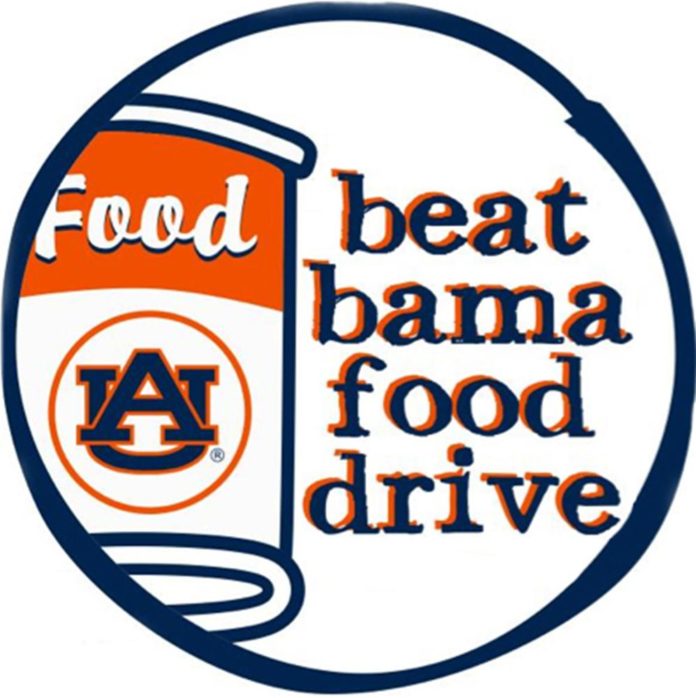 By Morgan Bryce
Staff Reporter
The East Alabama Food Bank's 23rd annual 'Beat Bama Food Drive' kicked off Oct. 1, with a goal of reducing the number of Lee County's estimated 27,000 hunger-insecure citizens.
With collections lasting until Nov. 16, EAFB's Executive Director Martha Henk said the drive not only brings Auburn and Alabama fans together for a great cause, but helps her organization gather supplies for the coming holiday season.
"We are part of a national network, Feeding America, so we do get support from them … but it's the local community that provides the inventory that we need, specifically for holiday time. What comes from the local community helps us to be abundant and very helpful," Henk said.
Last year, Auburn was the drive champion, collecting 245,272 pounds compared to Alabama's 150,322 pounds.
Items raised from the drive will be used to help the Food Bank's senior programs, local soup kitchens, emergency food panties, missions and rehabilitation centers.
"The true winner in this is not the food bank, nor the schools, the real winners are the people that are fed by the programs supplied by this food drive," Henk said.
The winner of this year's food drive will be revealed during the Iron Bowl in Auburn Nov. 25.
For more information about the drive and where to donate, visit www.foodbankofeastalabama.com.