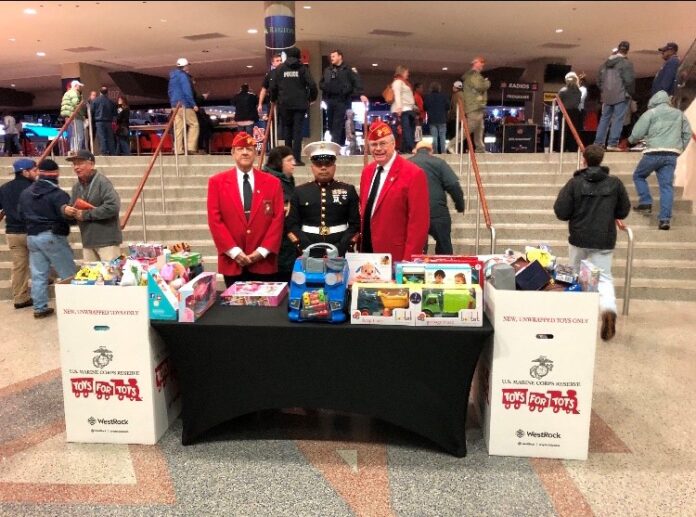 Story By Hannah Lester
Photos Contributed By The Auburn Athletics Department And AORTA
Dolls, toy trucks, baseballs and bikes. Children everywhere are making lists for Santa this year. Some children, however, wouldn't find anything under the tree if it weren't for local toy drives.
"During this holiday season, please remember those who may be less fortunate," said Clarence J.C. Stewart, IV, assistant chief for the Auburn Police Division. "All donations are extremely important."
The Auburn Toy Drive is in full swing, celebrating its 46th year of providing toys to local children.
"The purpose of the program was to assist families less fortunate than others," Stewart said. "For those families who just needed a helping hand from someone who cared. The program provides for families in need. At Christmas time the program provides toys to children to put smiles on their faces."
Stewart said that the Auburn program was started by Lt. John Dunn and his wife Estella Dunn.
"Still to day his wife, Mrs. Estella Dunn continues the program assisted by Debra Hoyett, Capt. Lorenza Dorsey (retired 2020) and other members of the city of Auburn's Public Safety Department," Stewart said. "Over the years, the program has grown and the growth continues thanks to caring people who donate to this program, and through these donations we can continue to keep this wonderful program going."
Donations are accepted through Dec. 5 at the Auburn Fire Division Station or Auburn Police Division. There are also remote locations at 1231 Gatewood Drive and 2020 S. College St.
"Volunteers will sort the gifts into age-appropriate categories and delivery is scheduled for the week before Christmas," Stewart said. "… As always, be mindful that no monetary donations may be accepted; however, any purchased gift is appreciated."
AORTA Toy Drive
The Auburn Opelika Running and Track Association hosts a run each year and toy drive to benefit children in Auburn.
The run was held virtually this year, rather than in person, but the association still brought in a good haul of toys for children.

The event, a 1 mile, 5K or 10K, was held on Nov. 29, and runners could run anywhere they chose. They could even run the race before the 29th.
Runners then brought toys on the afternoon of Nov. 29 for local children in need.
"We collect all those toys and then we bring them to the Auburn Toy Drive at the police department," said Mike Brown, the race director. "… It really supplies a lot of toys to the Auburn Toy Drive. I mean we usually have an eight-foot-wide or six-foot-wide by 20-foot trailer completely full of toys that I bring up there. So I [hated] to not do it this year, and so we tried to do something virtual where we could still get toys for the disadvantaged kids in this area."
Brown said that they were reluctant to go virtual since last year there were over 200 racers, but at least the virtual event still gave people an opportunity to donate.
Auburn Basketball:
Auburn University partners with Toys for Tots each year to collect donations at an Auburn Men's Basketball game.
"We have so many families in need right in our backyard," said Dan Heck, assistant athletics director for marketing and fan engagement with the Auburn Athletics Department. "We realize that everyone has unique financial circumstances, but especially during this pandemic, we want to give members of the Auburn Family who are more financially blessed than others the opportunity to give back during a time of year that is so special for young people. We want to make a difference."
Unfortunately, the coronavirus pandemic will affect basketball games this season too.
"We still do not know what the capacity will be in Auburn Arena this season," Heck said. "We know it will be limited compared to previous seasons, we just do not have a capacity percentage number yet. To that end, we also are working with state and local health officials on best practices of fan interaction/social distancing. If Toys for Tots continues at Auburn Basketball games, it would need to be safe and COVID-19 friendly."
An Auburn Student Veteran, Marine Ricardo Garcia, is a coordinator for Toys for Tots and asked the athletics department to become a drop-off location two years ago, Heck said.
Over 2,000 toys have been donated at each game in past years. A date has not been set for a Toys for Tots drop-off game for 2020 yet.
Lee County and Opelika:
The Fraternal Order of Police Lodge #21, The Lee County Sheriff's Office and the Opelika Police Department host a toy drive each year as well.
Toys are collected right up until Christmas so as to benefit families who may not have heard of the program sooner, said Marlene Powell, Lee County civil clerk.
The age range for toy collection is 2–9 and there are drop boxes at the sheriff's office, the Opelika Fire Department and some local businesses like dollar general, Powell said. 

Families needed to register their children by November, but there may be children who can still receive gifts, despite not having registered in November. 
Powell said that if the toy drive has extra toys, other families may be included who reach out.