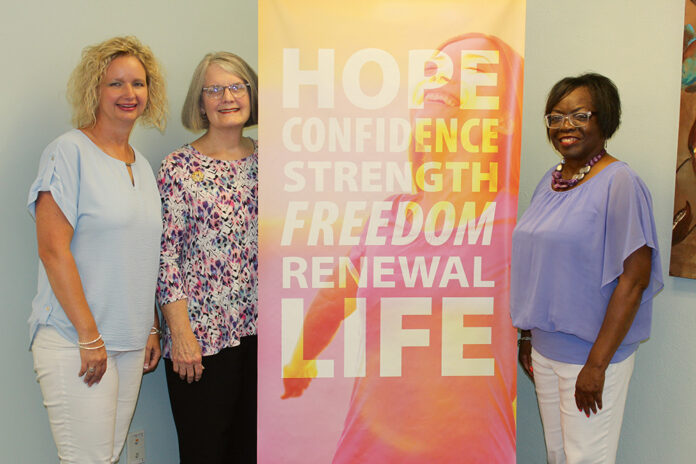 By Ann Cipperly
A woman's life can have overwhelming changes with the loss of her spouse, a job and other difficulties, leaving her feeling hopeless. The Christian Women's Job Corps (CWJC) brings hope, encouragement and support to women, offering life and work skills with one-on-one mentoring with no cost to them. While classes are presented in the fall and spring, assistance is available to women year-round.
A non-profit, faith-based agency, the CWJC was started in the 1990s by the Women's Missionary Union of the Baptist Church and now has over 200 sites around the country to offer help for rebuilding women's lives. The Lee County CWJC began in 2006 when Janice Saidla, a member of the Auburn United Methodist Church, saw a need for something more to help women long term.
Janice heard about CWJC from a friend and joined with Lynn Bell and Ferne Garrett as founders in Lee County with Feliecia Litsey as the first director. In the beginning, classes were held at Auburn United Methodist. As the program grew, the church provided space at a building on East Thach in Auburn.
Neeley Caldwell has served as executive director for nine years. After Neeley and her husband moved to Auburn, she was looking for a job in ministry. Neeley had felt a call into ministry in her senior year in high school. The position at CWJC was a perfect fit for her.
A wide variety of classes help women achieve their goals and dreams for a better life. Along with computer and job skills, the program provides classes on health, budgeting, communication, time management and more, including Bible Study. Each woman is matched with a mentor to offer support.
CJWC also offers assists anytime with resumes, preparing for interviews and how to dress.
"Two things set the CJWC apart from other job readiness programs," Neeley said. "One is that we are faith based, so Jesus is the center of this ministry and what we do. We begin our day with a devotion, and the mentors pray for the women. We have Bible study every week that participants are required to attend.
"The other thing that sets us apart is that we provide mentors for the women. We try to match our ladies with someone who will be their personal cheerleader that encourages them, prays with them and walks with them through this program."
Neeley said she feels mentoring is a gift.
"We call our mentors 'guides', as they are guiding the ladies on their journey," she said. "They are valuable resources."
Before COVID, the mentors met with the women on Wednesdays for lunch. Volunteers would sign up to provide lunch each week for the ladies and their mentors. (See recipes for dishes served at lunches.)
Over the years, the program has adapted and changed to meet the needs of the women attending the classes. The program is open to all women. Neeley has an interview with each one to know their needs for matching them with classes and mentors.
"Our ladies come through this door thinking they are going to get job skills, but they will tell you that they walk out with more confidence and self-esteem," Neeley said. "On the surface we provide job and life skills for them, but what happens on the inside is the most important thing.
"Some of the women who come in here feel defeated and depressed. Life has worn them out. They need encouragement. One lady said she has never seen so much encouragement in one place. We want them to have success and be their best that God has created them to be."
One lady in the program said after working on her resume on the computer, "When I held it in my hand, I knew I was going somewhere."
"That is what we do here," Neeley said. "We transform lives. Sometimes it doesn't happen as quickly as we like. Sometimes it is a longer process, but we grow in the process with steps moving in a positive direction."
After retiring as a counselor at Auburn schools, Patricia Frazier became a mentor at CWJC in 2021 and also serves on the board.
"I enjoy being a mentor," she said. "While I was empowering the participant as her mentor, I felt like I was empowering myself too. We drew from each other. It was a beautiful fellowship. I feel like I gave her confidence."
Patricia has also provided resources for other mentors. With the Korean ladies, they had speakers from the Auburn Library and Auburn Parks and Recreation to explain services. They also had someone from Auburn City Schools talk about how to enroll their children in school and what to expect.
"Since I have retired, I have time on my hands, and I want to give back," Patricia said.
While she enjoys volunteering at CWJC, Patricia is an ordained minister and has her own ministry called Queen Ministry that is affiliated with Mt. Vernon Missionary Baptist Church.
Cathy Zevac, who is chairman of the board, became involved in CWJC eight years ago when she moved to Auburn from Mobile. She had retired from being a teacher and was volunteering at the hospital when her trainer told her about CWJC needing teachers. Cathy went to a meeting that day and began volunteering teaching communications.
From her first class, Cathy said she has been inspired by the ladies who attend. While they are in difficult situations without support, they figure out how to find childcare and get transportation.
"I saw so much bravery in that," she said. "These ladies have figured out how to make that happen. It was inspirational to me how these women were willing to work to get here and make something better in their lives.
"When you see growth and change in the lives of those attending, you realize the change is not only in a woman's life, but it is also change in the family's life. That is a powerful thing to be a part of that.
"In the opportunity we have to minster to these ladies, we continue to grow ourselves in the process. We know as Christians that God is not done with us yet. To see that you can make a difference is a beautiful thing."
In the past few years, a large number of Korean ladies have attended who have different needs in their lives. They are new to our country, and they do not speak English.
"They want very much to part of this community and they want to be the mom that understands the American school system for their children," Cathy said. "We have found that they have trusted us with that, and we are thankful for that opportunity."
COVID changed things for everyone, and the organization have seen a lot of change with jobs. It has worked hard in the last year to reach out to people who were already working to offer computer classes to improve skills. It offers classes at night for those who need help. People come all the time needing help with a resume or a job interview.
This year CWJC offered a leadership conference with attendees from all kinds of jobs.
"We are finding ways to help women in all kinds of ways, to touch them and their families and help everybody grow," Cathy said. "It is exciting to be a part of that. It is a wonderful opportunity to serve with wonderful people. We have people on the board who have a heart for serving and the love of God. They want to see this ministry strive and grow. In spite of COVID, God is not done with us yet."
While fall classes start after Labor Day, women can contact them now.
"The door is always open to come for whatever a need," Neeley said. "They can contact us anytime."
Neeley has helped women find better jobs. If they cannot go to classes, she will work with them one on one.
"We have been known for our classes, but because of COVID we have had to change some things," Neeley said. "We are helping Korean ladies learn English. We are also working to help business to have employees become better employees. We are trying to help women become part of the workforce and also help those there to become better employees. We have adapted and changed since starting in 2006."
After classes are completed, they hold a graduation service to celebrate. The ladies wear robes and talk about life before and after CWJC. Their mentors talk about them reaching their goals and dreams.
"It can be a powerful thing to celebrate achievements," Neeley said. "We make our celebrations a big deal."
CWJC is supported by churches, businesses and individuals who believe in the program. Donations can be made through the website at www.CWJCL.com. For further information call 334-821-0591.
Recipes are from volunteers who have prepared lunches for CWJC participants and mentors over the years.
Asparagus Rolls
Jane Huntley
Slice bread
Canned asparagus
8 oz. cream cheese, room temperature
3 oz. blue cheese
1 egg
Melted margarine
Trim crust from slices of bread, then flatten with rolling pin. Drain canned asparagus on paper towel.
Mix cream cheese and blue cheese together; add egg to mixture and mix well. Brush melted butter on bread, then spread cheese mixture on bread, Place asparagus spear on bread and roll up. Hold together with a toothpick.
Bake rolls at 300 degrees until brown, about 40 minutes. Serve warm.
Chunky Avocado Salsa
Audrey Marshall
3 large ripe avocados or 4 small-to-medium avocados, diced
1 pint cherry tomatoes, quartered
1 cup chopped red onion
½ cup finely chopped fresh cilantro
1 to 2 medium jalapeños, seeded and minced (if sensitive to spice, use less or omit)
¼ cup lime juice (from 1 to 2 limes)
1 tsp. kosher salt or ½ tsp. fine sea salt, to taste
½ tsp. ground coriander, optional
In a large serving bowl, combine all the ingredients as listed. Gently toss to combine (don't over-mix, or the avocados will turn everything green!). Taste, and add more salt if it doesn't taste quite spectacular enough.
Serve promptly, as the avocado will brown over time. To store leftovers, try to minimize the amount of oxygen by using a container that's just the right size, or press plastic wrap directly against the avocado. It will keep in the refrigerator this way for 1 to 2 days.
Lemon Ice Box Pie
Nancy Bernard
1 box vanilla wafers for making crust
2-3 Tbsp. butter
1 can Eagle Brand sweetened condensed milk
1-2 Tbsp. grated lemon peel
½ cup fresh lemon juice
1 half pint (8 oz.) of heavy whipping cream, whipped
Use about 35 or so vanilla wafers to make a crust by crushing them in food processor until finely crumbled. You can also put them in a Ziploc bag and pound with rolling pen. Melt 2-3 Tbsp. butter and mix well with vanilla wafer crumbs. Press crumb mix in a pie plate. Press down into the bottom of the plate. Do not press crust up the sides. Line whole vanilla wafers around edge of pan.
Whisk together condensed milk, lemon peel and lemon juice. Stir until all the juice is mixed in well. Whip the cream and fold into the condensed milk/lemon mixture until well blended and smooth.
Pour into pie crust. Chill well, preferably overnight.
Wild Rice-Chicken Salad
Sally Sheehan
2 cups chopped, cooked chicken
6 oz. pkg. long-grain and wild rice mix
7 oz. jar marinated artichoke quarters
4 green onions, thinly sliced
½ cup chopped green bell pepper
12 ripe olives, sliced
1 celery rib, sliced
1/3 cup mayonnaise
¾ tsp. curry powder
Leaf lettuce
Cook rice according to package. Drain artichokes, reserving 3 Tbsp. liquid. Stir together rice, chopped chicken, artichokes, green onions, bell pepper, olives, and celery.
Stir together reserved artichoke liquid, mayonnaise and curry powder. Toss with rice mixture. Cover and chill 5 hours.
Serve on lettuce lined plates. Top with chopped pimento, chopped tomato, or other favorite garnish. Makes 4 servings. (Chicken can be substituted with 1 ½ lbs. cooked, chopped shrimp.)
Pimento Cheese
Pat Wingfield
8 oz. sharp cheddar, grated
8 oz. Monterey Pepper Jack, grated
7 oz. jar chopped pimentos, drained and squeezed dry, then chopped very fine.
5-8 tsp. mayonnaise (I add 5 Tbsp., then 1 tsp. at the time until creamy.)
1/8 to 1/4 tsp. cayenne pepper to taste
1/4 to 1/2 tsp. salt to taste
Combine ingredients and mix well. Serve at room temperature. Can refrigerate in airtight container up to 1 week.
Mandarin Orange Salad
Nancy Bernard
1 (3 oz.) pkg. orange gelatin
1 (3 oz.) pkg. lemon gelatin
1 cup boiling water
2 (8 oz.) cans crushed pineapple
3 (11 oz.) cans mandarin oranges
1 small pkg. mini marshmallows
1 cup sour cream
1 cup mayonnaise
Grated cheddar cheese
In 9×13 inch glass casserole dish, dissolve the gelatin in boiling water. When well dissolved, add pineapple and oranges, plus juices to gelatin. Place uncovered in refrigerator until slightly cooled but not congealed.
Once cool, add mini marshmallows on top and refrigerate until congealed. When ready to serve, combine sour cream and mayonnaise. Spread over marshmallows. Top with desired amount of grated cheddar cheese. Store in refrigerator.
Easy Cheese Rolls
Pat Wingfield
2 sticks (1/2 lb.) unsalted butter, melted
1 cup sour cream
2 cups self-rising flour
2 cups sharp cheddar cheese, grated
Melt butter; add sour cream and mix well. Add to flour and mix well. Stir in cheese; then spoon into mini muffin pans, filling to top. Bake at 350 degrees for 25 minutes or longer until brown and inside is cooked well. Makes 24 rolls.
Roasted New Potato Salad
Sally Sheehan
2 Tbsp. olive oil
2 lbs. small red potatoes, diced
½ medium size sweet onion, chopped
2 tsp minced garlic
1 tsp coarse salt
1 tsp freshly ground pepper
8 to 10 cooked crisp bacon slices, crumbled
1 bunch green onions, chopped
¾ cup prepared ranch dressing
Salt and pepper to taste
Preheat oven to 425 degrees. Combine potatoes, sweet onion and garlic in 15 x 10 inch jellyroll pan. Sprinkle with coarse salt and ground pepper. Toss with olive oil and spread in a single layer. Bake for 30 to 35 minutes or until potatoes are tender, stirring occasionally. (If crispier potatoes are desired, bake about ten minutes longer, stirring once.) Cool potatoes in pan.
When cooled, transfer potato mixture to a large bowl. Toss together potatoes, bacon, green onions and dressing. Add salt and pepper to taste. Serve immediately, or cover and chill until ready to serve.
Jackie's Cake Mix Cookies
Lynn Bell
1 box cake mix (except chocolate or white)
½ cup oil
2 eggs
1 tsp. vanilla extract
Combine ingredients. mix and drop by spoonful on cookie sheet.
Bake 15 minutes at 350 degrees.
Optional – add thumb print and fill with jelly or raisins
Poppy Seed Chicken Casserole
Toddy Savage
1 broiler/fryer, stewed and deboned
1 can cream of mushroom soup
1 cup sour cream
Dash cayenne pepper
Topping:
1 stick margarine melted
1 cup crackers (Ritz), crushed
1 tsp. poppy seed
Mix chicken, undiluted mushroom soup, sour cream and cayenne pepper together. Place in a greased baking dish.
Combine topping ingredients and sprinkle over top. Bake at 350 degrees for 35 to 40 minutes. Serves 4 to 6.
Pecan Pie Muffins
Cathy Zevac
1 cup packed light brown sugar
½ cup all-purpose flour
1 ½ cups chopped pecans
2/3 cup butter, softened or melted
2 eggs, beaten
Preheat oven to 350 degrees. Grease mini muffin cups generously. (Grease them well or they will stick.) In medium bowl, stir together brown sugar, flour and pecans.
In a separate bowl, beat the butter and eggs together. Stir in dry ingredients just until combined.
Spoon batter into muffin cups about 2/3 full. Bake for 12 to 15 minutes. Run a knife around the edge of each muffin and pop it out.
Easy Shepherd Pie
Jean Lenard
1 lb. hamburger
1 jar beef gravy
1 pkg. Lipton soup beef or beefy onion
1 can corn, drained
1 can peas with carrots, drained
1 large container of Bob's mashed potatoes
2 cups grated mild cheddar cheese
Brown hamburger and drain fat. Mix hamburger, gravy, dry soup and drained vegetables. Place mixture in a 9 x 9 or 2 qt. casserole dish.
Cook mashed potatoes in microwave as directions on container states. Top the meat mixture with potatoes, smoothing to seal edges. Top potatoes with cheese. Bake for 15 to 20 minutes at 350 degrees. Serves about 6 to 8. For 9 x 13 pan, I would double the recipe.
Milly's Chicken
4-6 thin, deboned chicken breasts
Swiss cheese (regular or thin)
1-2 cans cream of chicken soup
Butter
Pepperidge Farm Herb-seasoned Dressing
White wine, water or chicken broth
Layer enough chicken to cover bottom of casserole dish.
Cover chicken with slices of Swiss cheese.
Mix 1 to 2 cans cream of chicken soup with a dash of white wine, water or chicken broth
Pour soup over Swiss cheese and spread to all four edges of casserole to seal.
Sprinkle dry Pepperidge Farm Herb-Seasoned Dressing over soup and dot with butter. Bake at 350 degrees for 30 to 45 minutes until bubbly and chicken is fully cooked. Serve with rice.
Pull Bread
Lynn Bell
1¾ cups light brown sugar, divided
4 tsp. cinnamon, divided
2 to 3 ten count cans refrigerator biscuits, cut in quarters and rolled into balls
1½ sticks butter or margarine
2 Tbsp. water
Combine ¾ cup brown sugar and 2 tsp. cinnamon. Roll biscuits in mixture. Arrange in Bundt pan.
In a saucepan, mix 1 cup brown sugar, butter, 2 tsp. cinnamon and water. Bring to boil. Pour over biscuits in Bundt pan.
Bake at 325 degrees for 45 minutes.
Snicker Salad
Jan Marple
8 oz. container Cool Whip (thawed)
2 medium Granny Smith Apples (chopped)
2 regular size Snickers Bars (chopped)
Mix and put in bowl.
Sprinkle on top 2 chopped Snickers Bars for decoration.
Refrigerate until ready to serve.
Best if eaten the same day it is made.
Cherry Congealed Salad
Sally Sheehan
1 can dark, sweet, pitted cherries
1 small can crushed pineapple
1 small pkg. cherry Jell-O
1 cup sour cream
1/2 cup chopped pecans
Drain and reserve juices from the cherries and crushed pineapple. Add enough water to the reserved juices to make 1 1/2 cups. Heat one cup of the juice mixture to boiling, add Jell-O and stir to dissolve. Add remaining 1/2 cup of juices and chill until beginning to set.
Fold in sour cream, cherries, pineapple and nuts. Pour into an 8 x 8 pan and chill until firm.