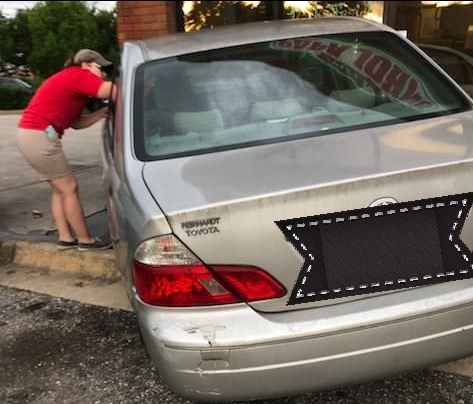 By Michelle Key
Editor
Around 7 p.m. Monday night,  an undisclosed customer at the Opelika Papa John's was left with damage to her car when she crashed into the storefront while attempting to park.  Opelika Police and Fire Departments responded to the scene.  The driver was not severely injured in the collision, although damage to her car and the store are likely to be expensive.
David Beard, Store Manager, was not at the store when the accident occurred, but was informed of the accident and arrived on scene to assist his employees.  Beard told the Observer that the impact to the restaurant's service will be minimal and that they are open for business.
Assistant Manager Emily Key, was in the store in the office when the collision occurred and quickly exited the building to check on the driver.  "I was in the office when I heard a loud crash and felt the building shake.  I ran out of the office and saw the car in our waiting area, " Key said. Another employee called 911 while Key assisted the driver and assessed the damage.
The driver of the car indicated that when she attempted to turn into the parking space in front of restaurant,  she accidentally hit the gas pedal instead of the brake,  jumping the curb and crashing into the building .  She struck her head during the crash and was bleeding from the wound but was not transported to the hospital by ambulance, according to Key.
After completing the police report, the customer paid for her pizza and departed the restaurant. Her vehicle was towed out of the parking lot.
The Opelika Papa John's restaurant is located at 2107 Pepperell Parkway.