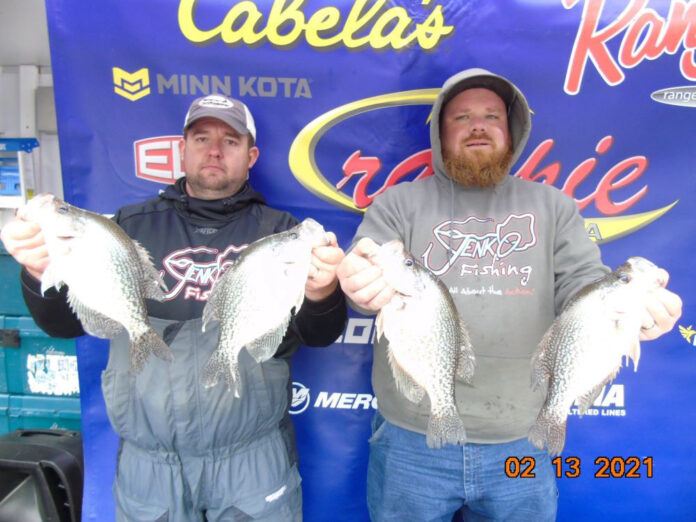 Contributed by Bass Pro Shops/Cabela's Crappie USA
Last week, Crappie anglers from several states traveled to Lake Harding in Opelika to participate in a Bass Pro Shops/Cabela's Crappie USA (CUSA) Region 2 event. Local and traveling anglers are competing in the $50,000 points race and an opportunity to compete at the Regional Championships and the 2021 Crappie USA Classic on Lake Hartwell in Anderson, South Carolina.
Competing anglers were met with rain and cool temperatures as the tournament day started. A morning low in the high 40s and breezy winds kept the day feeling cool.
"The weather was challenging in every way," said Tournament Director Darrell Van Vactor. "We had rain all day Saturday with winds blowing 10-15 from the NE. The water conditions changed from clear to muddy in many areas, giving anglers an added challenge. The anglers definitely faced Mother Nature at her worst all day for the Lake Harding event."
A total of 27 boats fished the event – 10 in the Pro Division and 17 in the Amateur Division. Halawakee Creek was the hot area on tournament day.
Pro Division Results
First Place
The top spot at Lake Harding Matthew Williams and Nick Dowda from Batesburg-Leesville South Carolina. They teamed up to bring 10.54 pounds to the scales and claim the $3,000 top prize. They added $200 for the Crappie Magnet Bonus, $300 for the Drift Master Bonus, $100 for the Jenko Bonus and $190 for the second big fish.
"We started our day with rain and cool temperatures that lasted for most of the morning," Williams said. "We focused on the mid-lake area targeting fish that were suspended 10-12 feet deep in 30 to 40 feet of water. We were one-pole fishing using the Jenko Fishing Trick Stick Light."
The team used a combination of Slab Slayer Jigs Willow Tail and Crappie Magnet products. They indicated gray-colored combinations performed best.
"We started out fishing towards the back of Halawakee Creek," Dowda said. "We were catching a lot of small fish. Around 12 o'clock we moved out towards the mouth in 30 to 40 feet of water and caught all our weigh-in fish after lunch.
"The fish were suspended all the way from five feet down to 30 feet. We used a mixture of jigs over the day. Anything gray worked and we caught some on straight minnows. We used LiveScope and caught around 30 fish total for the day."
Second Place
The runner up spot went to Forrest and Jacob Walker from Byron, Georgia. They caught a 9.96-pound bag of crappie to claim the second-place cash award of $1,500.
They also found their fish in Halawakee Creek. They fished with one pole in hand, using hair jigs in natural colors. The crappie were found suspended at 8 feet deep in 30 to 50 feet of water.
"The best bite was early morning," Jacob said. "We caught about 20 to 25 fish on the day."
Third Place
Morristown, Tennessee, angler Scott Bunch teamed up with Neal Alvis from Rogersville, Tennessee, to earn the third-place award of $500. The Crappie Magnet team's tournament day bag weighed 8.95 pounds.
Bunch and Alvis also fished Halawakee Creek, finding the fish suspended at about 20-30 feet deep in 30 to 50 feet of water. They fished Crappie Magnets on a heavy jighead. An assortment of colors did the trick to catch a total of 20-30 crappie on the day.
Other Awards
In other awards, the Talon Bonus of $250 went to Robert Harris and Richard Greer Jr., who finished in fifth place in the Pro Division.
Amateur Division Results
First Place Amateur Division
Richard Malcom from Madison, Georgia, and Joey Dickens from Waynesboro, Georgia, brought 10.31 pounds to the scales to claim the top spot in the Amateur Division. They earned a check for $3,000 for first place and added $435 for catching the Big Fish of the tournament. Their big Lake Harding slab weighed in at 2.01 pounds.
Malcom and Dickens also fished Halawakee Creek. They were one-poling in 30-foot-plus water and catching their fish suspended at about 12 feet deep. The team used black and gray Jiffy Jigs in clear water. The result was around 25 to 30 fish on tournament day.
Second Place Amateur Division
Mike Nipper from Perry, Georgia, and Ethan Nipper from Gray, Georgia, showed up at the scales with a bag weighing 7.46 pounds to claim the runner-up spot and earn the second-place award of $1,500.
The team fished Halawakee Creek in much shallower water than other competitors. They were also one poling, but in four feet of water. They used live bait to catch around 20 Lake Harding crappie on tournament day.
Third Place Amateur Division
Brian Stacey from Bostic, North Carolina, and Jeff Lowdermilk from Morgantown, North Carolina, teamed up to bring 6.68 pounds to the scales to earn third place and a check for $500.
Stacey and Lowdermilk fished Halawakee Creek in 30 feet of water. They also used the single-pole technique to catch their crappie. They were rigged with Cajun Cricket colored jigs to catch 10 fish on the day.
Other Awards
In other awards, the $125 Ranger Cup Bonus in the Amateur Division went to Bob Denen from Youngstown, Ohio.
Darrell Van Vactor, CUSA Operations Manager, sent special thanks to Anthony and his staff at Auburn-Opelika Tourism Bureau (www.aotourism.com) for hosting the event and the Comfort Inn for allowing our TV crew to use their beautiful den area for filming.
The 2021 CUSA Classic Championship will be held Oct. 14-16 at Lake Hartwell, South Carolina, at Anderson, South Carolina. The 2021 Crappie USA Classic presented by Bass Pro Shops/Cabela's features a guaranteed payout of $165,000 in cash and prizes.
National Sponsors
National Sponsors of Crappie USA are: Bass Pro Shops Cabela's, Ranger Boats, Mercury Marine, Mustad Hooks, Minn Kota, Humminbird, Talon, Lake Master Maps, Gamma, B'n'M Poles, Driftmaster Rod Holders, Ego Nets, Brushpile Crappie, Charlie Brewer Slider, Crappie Now Magazine, Jenko Fishing, Big Bite Baits, Crappie Magnet, EFX Graphics, Fin n' Frames, Crown Trophy, JR Madd Breading, Freaky Franks Tackle, EZ Drift, Allegro Marinades, Pro Controll, Bubba Blade, Flambeau and Smooth Moves Seats.
For more information on the Classic and other CUSA events visit the website at  www.crappieusa.com and Crappie USA Tournament Trail Facebook Page (www.facebook.com/crappieusa/). The CUSA office is available by phone at 502-384-5924.