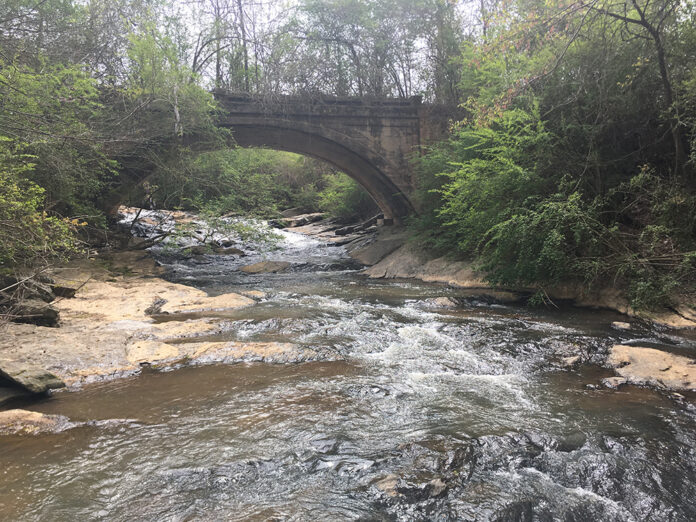 CONTRIBUTED BY
CREEKLINE TRAILS OF OPELIKA
Creekline Trails of Opelika begins the much-anticipated start of trail building with a Kick-Off and Cleanup event on Feb. 19, from 1 to 5 pm. The new trailhead, located near the corner of Waverly Parkway and Highway 280, will be the first official trail for the Creekline organization.
The new trail is a collaboration with the Opelika Industrial Development Authority (OIDA) and Creekline in order to begin the build a community trail along Pepperell Branch.
"We are proud to announce the start of building a new trail this month," said Mike Akins, Creekline acting coordinator. "This project begins after much planning, meeting, coordinating and preparing. We owe a great deal to the vision of Shealy and Rocky Langley, the many supporters and friends of Creekline, and the hard work of the Creekline Trails Advisory Committee. We are so fortunate to have the strong support of several local organizations especially the City which has given us an incredible opportunity to work with the OIDA to begin this exciting project."
Creekline invites you, your family or your volunteer group to experience our trail firsthand by participating in the Kick-off and Cleanup event. All skills and ages are welcome as we clear out litter and debris in preparation for a more formal trail.
Bags, vests and grabbers, will be available, thanks to Keep Opelika Beautiful, but it is suggested that one brings their own gloves (long sleeves, pants and good shoes or boots are also recommended).
Those interested in volunteering, should contact Creekline at creeklineopelika@gmail.com or sign up online at: www.bit.ly/creeklinevol
Volunteers should park at the future location of the trailhead located at the junction of Waverly Parkway and Hwy 280.
Creekline Trails of Opelika is continuously working to provide outdoor recreation, alternative transportation and watershed protection for the residents of Opelika.