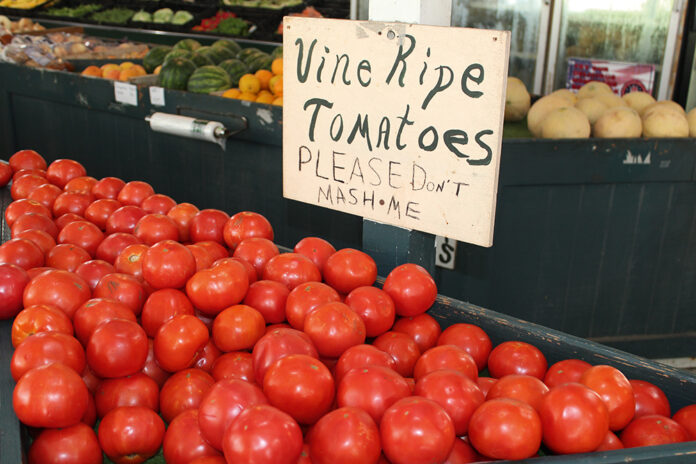 By Ann Cipperly
Fresh vegetables are among the joys of summertime, especially tomatoes. Juicy, sliced tomatoes are the best accompaniment to fresh cooked vegetables, and they are scrumptious in savory pies and other dishes, as well as making the best sandwiches. If you didn't grow up in the South, you may think a sandwich with Duke mayonnaise and sliced tomatoes is missing something. It is best just by itself without any meat.
Both of my parents grew up on farms and learned how to garden at an early age. They nearly always had a garden and used those skills in their own garden as their vegetables were the best, especially the Heirloom tomatoes.
Mom canned tomatoes to have year round and made the best pear preserves with big chunks of the fruit. After Mom passed away, I saved her last jar of pear preserves for as long as I could because I knew there would never be another jar that good. I regret not being in the kitchen with her every time she was making the preserves so I could see exactly what she did. Unfortunately, we get busy and always think we have time.
If you don't have a bounty of tomatoes in a garden, you can get plenty at markets. You can use them in a variety of dishes, including salads, pasta, casseroles, salsas and savory pies. I have made numerous tomato pies over the years, but one of the best I tasted was at Chef Rob McDaniel's restaurant, Helen, in Birmingham. You may remember that he was the executive chef at SpringHouse at Lake Martin for several years.
When Rob first attended Auburn University, he had planned to become a chiropractor like his grandfather and other members of his family.
"My grandfather told me not to become a chiropractor because it was long hours, so I went into the restaurant business instead," he said. "I laugh about that when I remember my grandfather."
While attending Auburn University, he worked in a restaurant and discovered that he loved it. As he worked at different restaurants, Rob decided to attend culinary school. He graduated from Auburn University in hotel and restaurant management in 2002.
While attending the New England Culinary Institute, he began working with local farmers and said he remembered how his grandmothers had cooked and their influence on southern cooking.
The chef's restaurant Helen is named after his grandmother, who was a talented cook. The chef remembers his grandmother had a grill inside her house next to a large fireplace. "I can close my eyes," he said. "And see the table set with wooden bowls and my Nanny in the kitchen. When I walked in the door, the smell of steaks cooking on the grill was the most wonderful thing."
Both of his grandmothers cooked every dish from scratch. His Grandmother Mac would prepare biscuits and salmon croquettes for breakfast. "Those are the kind of things I think about," he said. "In culinary school, you used what was fresh and local. I took that part from school and my grandmothers.
"I grew up in a family that did not eat out a lot. We always had a garden. My father made breakfast every morning, and my mother had dinner on the table. We sat down as a family to eat every night. There has always been this deep southern vein that I associate with food in the south."
After graduating from culinary school, he worked for Chris Hastings at the Hot and Hot Fish Club in Birmingham for three years. In 2007, he left the restaurant and went to work for Jim 'N Nick's Barbecue in Birmingham. After two years, he was ready to move on and became the executive chef at SpringHouse.
While Chef Rob enjoyed being at SpringHouse, he and his wife Emily had a dream to one day open their own restaurant. In February 2019, the McDaniels came up with a game plan for their restaurant and moved to Birmingham a few months later.
The chef remembers that when the country closed down, it was "nerve racking" for them.
"We didn't know how long our funds would last, but we leaned on our faith that God was going to take care of us, and everything was going to be alright."
In early June 2020, the McDaniels opened Helen restaurant in downtown Birmingham.
"We opened at the craziest of times, a lot of people would say, but God asked us to have faith before the pandemic started," he said. "I never questioned if that was the right thing to do or not. During the pandemic, I was able to hire a talented staff as where they were working closed."
The Helen restaurant is housed in a 1920s shotgun style building and furnished with antiques and curated southern art. Custom church-style pews were made for seating.
The restaurant is open for lunch and dinner. Guests have the option of dining in the downstairs or upstairs dining rooms. We dined at lunch in the casual downstairs with an open kitchen.
The menu is seasonal and changes depending on what is fresh from nearby farmers. I had heard so much about the tomato pie that I had to try it for an appetizer. It was scrumptious with ripe tomato slices topped with a layer of pimento cheese in a rich, buttery crust.
Other dishes we enjoyed and recommend include iceberg and bacon salad with toasted pecans tossed with a tasty buttermilk basil dressing, a top-notch crispy catfish sandwich with lettuce and tartar dressing on a potato bun and a delicate Sunburst trout paired with a lemon butter sauce garnished with an olive relish.
We also savored angel biscuits that were the best we have tried. They were served with whipped unsalted butter and cane syrup, then drizzled with syrup and a sprinkling of flake sea salt to give it a little crunch and saltiness. The chef shared where I could get the recipe, but I can't publish it since it is copyrighted. If you would like to have it, let me know.
For dessert, we shared a salted caramel budino with homemade pecan sandies. The silky, creamy pudding topped with the caramel was sublime. Desserts are prepared by the executive pastry chef Kristen Hall.
If you are a fan of steaks, a Bear Creek Farm Coulotte is available on the lunch and dinner menu. "Coulotte" is French for a tender top sirloin steak that is a triangle cut of meat with fat on the top. It is smoked for about an hour while remaining rare. The steak is cooled and finished on the grill. The dinner menu also includes a bone-in ribeye, New York strip, lamb, duck, chicken and seafood.
Chef Rob is a five-time James Beard Foundation Best Chef: South semifinalist and was honored as Auburn University's 2012 Outstanding Hotel and Restaurant Management Program Alumnus.
I didn't ask Chef Rob for the tomato pie recipe, but he recently shared it with Garden and Gun magazine, and they posted it on Facebook. It is good and so are the yummy tomato pie recipes in the recipe section from wonderful local cooks.
For a light supper, try the Pasta with Fresh Tomatoes, Garlic and Herbs. You can add grilled chicken or shrimp. Serve with a green salad and crusty bread.
Look over the recipes and try a few his week, including one or two of the tomato pie recipes, while tomatoes are in peak season.
Miniature Tomato Sandwiches
Ginelle Weissinger
Great for showers and appetizers for summer parties
¼ cup mayonnaise
3 oz. cream cheese, softened
2 tsp. chopped fresh basil
¼ tsp. salt, divided
¼ tsp. pepper, divided
1 baguette
4 plum tomatoes, sliced
Stir together, mayonnaise, cream cheese, basil, 1/8 tsp. salt and pepper. Cover
and chill 8 hours, if desired.
Cut baguette into 16 slices. Spread cheese mixture on slices. Top with tomato
slices and sprinkle with remaining salt and pepper.

Tomato Pie with Two Cheeses
Diane Wages
5 tomatoes, peeled and sliced (Roma work best)
10 fresh basil leaves, chopped
1/2 cup chopped green onion or red onion
9-inch pre-baked deep dish pie shell
1 cup grated mozzarella
1 cup grated cheddar
3/4 cup mayonnaise (or half mayo, half Greek yogurt)
2 Tbsp. freshly grated Parmesan cheese
Salt and pepper
Preheat oven to 350 degrees.
Place tomatoes in a colander in the sink in 1 layer. Sprinkle with salt and
allow to drain for 10 minutes. Use a paper towel to pat-dry tomatoes and
make sure most of the excess juice is out. (You don't want juicy tomatoes or
your pie will turn out soggy).
Layer tomato slices, basil and onion in pie shell. Season with salt and pepper.
Combine the grated cheeses and mayonnaise together. Spread mixture on top
of tomatoes and sprinkle Parmesan cheese on top. Bake for 30 minutes or
until lightly browned.
Serve warm cut into slices.

Tomato Pie with Bacon and Cheddar
Frances Palmer
1 frozen 9-inch deep-dish pie shell
2 medium tomatoes
1 medium onion, sliced and sautéed
Salt and pepper
6 slices bacon, cooked crisp and crumbled
½ cup mayonnaise
½ cup sour cream
1 cup grated sharp cheddar cheese
Bake piecrust 6 to 7 minutes, according to package directions, until crust
begins to brown. Place sliced tomatoes into crust and top with onions.
Sprinkle salt and pepper to taste over top.
Top with crumbled bacon. In a bowl combine mayonnaise, sour cream and
cheese; spread mixture over bacon to cover completely. Bake at 400 for about
25 minutes.

Tallapoosa County Tomato Pie
Lucy Little
1 unbaked pie crust
10 fresh basil leaves, chopped
1 clove garlic, chopped
1/2 cup green onion, chopped
4 tomatoes, sliced
1/4 cup mayonnaise 
1/2 tsp. black pepper, freshly ground
1 tsp. salt
1 cup sharp cheddar, grated
1 cup mozzarella, grated
Bake pie crust for no longer than 10 minutes at 375 degrees.
Slice tomatoes on a paper towel, and sprinkle with salt to draw out the liquid.
Let sit for 10-15 minutes and pat dry.
Combine basil, green onions and garlic in bowl. In separate bowl combine
cheeses, mayonnaise and black pepper.
Layer 1/2 of tomatoes on bottom of crust. Sprinkle half of the basil-onion
mixture over top. Layer remaining tomatoes and sprinkle remaining basil-
onion mixture on top.
Spread cheese mixture on top of pie.
Bake pie at 300 degrees for 30 minutes, uncovered, until cheese is lightly
browned.
Let rest for 10 minutes. Serve warm.

Roasted Cherry Tomatoes with Honey
Debbie Purves
1 lb. cherry tomatoes
2 – 6 (to your taste) fresh garlic cloves
Sea salt and fresh ground black pepper
3 Tbsp. olive oil
1 Tbsp. honey
Crostini (or toasted rustic bread)
Heat oven to 375 degrees.
Lightly grease foil-lined roasting pan. Cut tomatoes in half and place them cut
side up in the roasting pan with no space between them. Crush garlic and mix
with salt, honey, olive oil and pepper. Spoon over tomatoes. Roast for about 30
minutes until golden and bubbling. Let cool for about 10 minutes and spoon
on crostini and sprinkle with sea salt on top.

Janine's Spaghetti with Fresh Tomatoes, Garlic and Herbs
2 lb. very ripe tomatoes
1 small onion, finely minced
1 clove garlic, minced
2 Tbsp. fresh parsley, finely minced
1/2 tsp. dried basil (or use finely chopped fresh to taste)
1/4 cup olive oil
Wine vinegar
Salt and pepper to taste
1 lb. spaghetti
Freshly grated Parmesan cheese
Peel and dice tomatoes; add onions, garlic, parsley, basil and olive oil. Season
to taste with vinegar and salt and pepper. Set aside.
Boil spaghetti until al dente; drain. Toss hot spaghetti with tomato mixture.
Serve with Parmesan cheese. Serves 4 to 6.
Tomato mixture can be prepared ahead and refrigerated, but bring to room
temperature before mixing with pasta.

Sarah's Fresh Tomato Salsa
Beth Brewer
cups chopped peeled fresh tomatoes
1/4 cup finely chopped onion
1 jalapeno pepper, seeded and finely chopped
1 Tbsp. olive or vegetable oil
1 Tbsp. vinegar
1 tsp. ground cumin
1 tsp. salt
1 tsp. garlic salt
Mix all the ingredients together.
Serve with chips.
Store in the refrigerator.

Tomato, Avocado and Feta Salad


2 large tomatoes, sliced into thin wedges
½ red onion, thinly sliced
2 avocadoes, peeled, seeded and sliced into wedges
½ cup crumbled feta cheese
¼ cup. extra virgin olive oil
¼ cup red wine vinegar
Sea salt and freshly ground pepper
In a bowl combine tomatoes, onion, avocado and feta. Drizzle with oil and
vinegar. Gently toss. Add sea salt and freshly ground pepper to taste.

Panzanella Salad
Carol Duncan
Only make this in the summer when the freshest tomatoes are available.
8 oz. day old baguette, cubed
Water
4 small fresh tomatoes
1 small red onion, small dice
1 cup fresh basil, snipped with scissors
2 Tbsp. red wine vinegar
¼ cup good quality extra virgin olive oil
Sea salt and freshly cracked black pepper to taste
Place bread in a medium mixing bowl and cover with water. Soak bread 3 to 5
minutes.
In small batches, remove bread in handfuls from the water and wring it out
without mashing or tearing bread.
Combine tomatoes with onions and basil in a second bowl and dress with
vinegar, oil, salt and pepper.
Add bread to tomato salad and combine. Adjust seasonings and serve. Serves
4.

Tomato, Goat Cheese and Onion Tart
Jo Anne Woodall
9 inch piecrust
3 Tbsp. olive oil
1 large onion, thinly sliced
Salt and pepper
6 oz (1 1/3 cups) goat cheese crumbles, mild soft variety
1 lb. plum tomatoes, thinly sliced crosswise
Fresh basil leaves for garnish
Preheat oven 375 degrees. Bake piecrust in a 9 inch tart pan or pie plate; cool.
Heat 2 tablespoons oil in heavy skillet; sauté onion; season with salt and black
pepper.
Preheat broiler. Spread onion in baked shell, then add 1 cup goat cheese.
Arrange tomatoes in concentric circle over cheese; sprinkle with remaining
cheese. Salt and pepper to taste; drizzle with remaining olive oil. Cover edges
of crust with foil so it does not overbrown.
Place tart on baking sheet; broil about 7 inches from heat until cheese starts
to brown slightly. Garnish with fresh basil leaves. Serves 6-8 as a first course
or 4 as a main course.

Caprese Salad with Balsamic Reduction
Janine Simmons
6 summer tomatoes using a mix of Heirloom and regular
Fresh mozzarella cheese
Balsamic reduction (recipe follows)
Extra virgin olive oil
Fresh basil leaves, chopped
Slice tomatoes and layer with mozzarella. Drizzle with balsamic reduction and
olive oil and sprinkle basil leaves over top.
Balsamic Reduction:
In a saucepan, pour 1/2 cup balsamic vinegar over high heat. Stir until it
thickens. Remove from heat and cool (will get thicker when it cools.

Tomato Casserole
Diane Wages
Casserole is delicious with string beans, field peas, pork, ham or fish.
6 to 8 medium-sized fresh tomatoes or can use 1 1/2 can tomatoes
1/2 tsp. salt
Dash of pepper
Dash of oregano
1 tsp. sugar
2 cups Pepperidge Farm bread stuffing
2 onions, cut in thin rings
3 cups grated sharp cheddar cheese
Mix tomatoes and juice with 1/2 tsp. salt, dash of pepper, dash of oregano and
1 tsp. sugar. Place alternate layers of tomato mixture, bread stuffing, onion
and cheese in casserole and top with bread crumbs.
Bake at 350 degrees until well done. Can be prepared ahead.

Fresh Tomato Salad
Cissy Yarbrough
Thick sliced fresh tomatoes
Dressing:
¼ cup oil
2 Tbsp. wine vinegar
2 tsp. prepared mustard
1 clove chopped garlic
1 tsp. salt
1 tsp. sugar
¼ tsp. black pepper
¼ cup chopped parsley
Combine dressing ingredients. Pour over thick sliced fresh tomatoes no more
than one hour before serving.