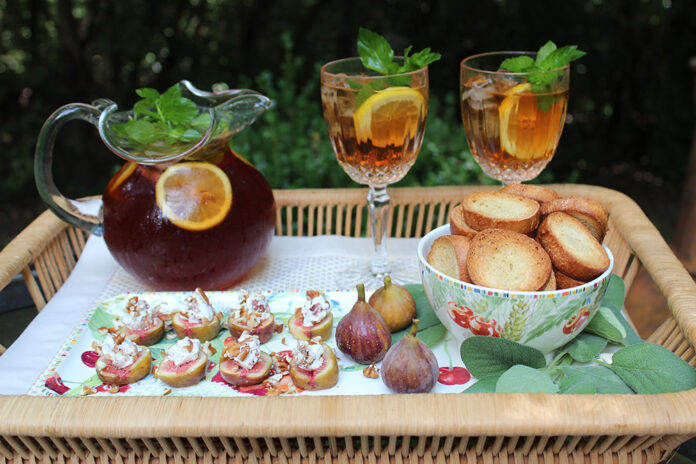 By Ann Cipperly
While fresh fruits are delectable by themselves, they are yummy baked in pastry, cakes or simply mixed with a dressing to bring out their flavors. Try a few new dishes for your family while fresh fruits are in abundance and at their peak of flavor.
Fresh figs are one of my favorite fruits, and I look forward to serving them at the end of July and early August. I have been blessed to have a friend who has let me pick figs from her large tree the past few years.
I always plan to try several recipes with the figs, then I eat so many that I run short. One recipe I make every year is baked figs stuffed with cheese as it is so easy. We tried this appetizer at one of Don's brother's homes when he lived in Dallas.
After living in New York so long, moving to Dallas was an adjustment for Ed. He made the best of it moving into a beautiful home with a chef's kitchen and creating a wine cellar. Ed had a love of fine wines and cooking gourmet dishes, and the stuffed figs were the easiest appetizer he made.
The stuffed figs were made by cutting an "x" in the top of the fruit and placing a small chunk of blue cheese. They were then baked for a few minutes until the cheese was warm. These were served under a shade tree by the pool, which is a cherished memory of a special person we miss.
Figs are an ancient fruit, being mentioned in the Old and New Testaments of the Bible. Remains of fig trees were found at Neolithic sites from 5000 B.C. Figs are native to Asia Minor and throughout the Mediterranean in Greece and Italy.
Figs were brought to southern California in 1769 by Spanish Franciscan missionaries led by Junipero Serra. The variety they cultivated came to be known as the Mission fig.
Fresh figs are fragile. If you are not eating or cooking with them in a day, they can be stored in the refrigerator a few days.
Watermelon is another wonderful summer fruit, and it is delicious served in salads. Jo Ellen James' recipe includes Vidalia onion and feta tossed with olive oil and red wine vinegar dressing. Martha Hicks's Watermelon Salad is one that she and her daughter, Laurel, enjoyed at Chez Julien in Paris. It is mixed with cantaloupe, strawberries, mozzarella cheese and bacon. Michelle Hodges' salad can be made with watermelon or pears. Try all three while watermelon is in season.
Watermelon is another ancient fruit. Seeds were found in the Dead Sea region at ancient settlements, and in a prehistoric archaeological site in southwestern Libya, many 5,000-year-old wild watermelon seeds were discovered. European colonists brought watermelon to the New World, and Spanish settlers were growing watermelon in 1576.
When selecting a watermelon, check the ground spot to be sure it is yellow in color. Pick a melon without soft areas, dents or cuts, and be sure to wash it before slicing.
Fresh fruit is a nutritious snack to have on hand for any time of day or to embellish an array of dishes. At breakfast, sprinkle blueberries, blackberries or strawberries over cereals, and add color and flavor to salads at lunch. Start dinner with cheese and fruit or cap the meal with a fresh fruit dessert.
Look over recipes and create a wonderful treat for your family this coming week.
Fresh Cheese Tray and Figs
Sid James Nakhjavan
Arrange assorted fresh cheeses such as Brie, Roquefort, chevre and Boursin on tray. Garnish with red and white grapes, rosemary and fresh mint. Serve with fresh figs and crackers.
Baked Fresh Figs Stuffed with Cheese
Fresh figs
Goat cheese or blue cheese
Cut an x on the top of figs. Place a small piece of cheese into the figs. Bake at 350 degrees for 8 to 10 minutes until cheese is softened.
Baked Fig, Bacon and Goat Cheese Crostini
4 oz. crumbled goat cheese, softened
4 oz. chopped cooked bacon
2 Tbsp. finely chopped toasted pecans
12 fresh figs
1 Tbsp. honey, optional
Toasted baguette slices
Preheat oven to 350°. Stir together softened goat cheese, bacon and finely chopped toasted pecans. Cut figs in half. Press back of a small spoon into centers of fig halves, making a small indentation in each. Spoon bacon mixture into indentations.
Bake on a baking sheet 7 minutes. Drizzle with honey. Serve immediately with toasted baguette slices.
Zabaglione Sauce with Fresh Peaches
Gina Fromhold
Serve sauce layered in champagne flutes with fresh peaches, beginning and ending with zabaglione.
2 egg yolks
2 Tbsp. sugar
2 Tbsp. Marsala wine
1 cup whipping cream
1/4 cup sifted powdered sugar
Combine egg yolks, sugar and wine in top of a double boiler. Beat with an electric mixer at medium speed until well blended.
Place over boiling water. Reduce heat to low; cook about 5 minutes or until soft peaks form, beating constantly at medium speed.
Remove mixture from heat. Spoon into a medium bowl. Place in a large bowl of ice. Beat about 1 minute or until cool.
Refrigerate 10 minutes. Combine whipping cream and powdered sugar in a small bowl; refrigerate 30 minutes. Add whipping cream to cooked mixture; beat until stiff.
Watermelon Salad
Jo Ellen James
1 (5 lb.) watermelon
1 Vidalia onion
1/4 cup red wine vinegar
Salt and pepper
1/2 cup extra virgin olive oil
2 Tbsp. chopped fresh mint
4 oz. feta cheese crumbled
Salt and pepper
6 whole mint sprigs for garnishing
Cut melon into bite-size pieces, removing seeds and set aside. Peel and slice the onion into rings.
In a small bowl, combine vinegar, salt, pepper, and whisk until salt is dissolved. Slowly whisk in olive oil, a few drops at a time. Add chopped mint.
In a large bowl, combine the melon, onion, and feta. Pour dressing over melon mixture and toss. Garnish with mint sprigs.
Watermelon Salad with Cantaloupe and Strawberries
Martha Hicks
This is a refreshing salad. Laurel and I ate it at Chez Julien in Paris.
3 cups irregular chunks of watermelon
2 cups irregular chunks of cantaloupe
2 cups sliced strawberries
Fresh mozzarella cheese, torn or sliced
Fresh mint and sweet basil
3 strips crisply cooked bacon, crumbled
Extra virgin olive oil with finely grated fresh vanilla bean
Balsamic reduction
Drizzle olive oil with grated vanilla bean on 4 plates
Arrange watermelon, cantaloupe and strawberries. Arrange fresh mozzarella with fruit. Make sure that all your colors show. Sprinkle with a chiffonnade of fresh mint and basil. Sprinkle bacon crumbles. Drizzle with balsamic reduction. Fruit should be chilled. Bon Appetit!
Pear or Watermelon Salad
Michelle Hodges
Romaine lettuce
Pecans
Ripe pears or watermelon
Feta or mozzarella cheese
Poppy seed dressing
In a bowl, place chopped romaine lettuce. Cut pears or watermelon into bite-size pieces and place in bowl. Cut feta or mozzarella cheese into bite-size pieces and place in bowl.
Add chopped pecans. Pour purchased poppy seed dressing into bowl and toss together. Serve right away.
Note: Feta goes well with pears, and mozzarella is best with watermelon.
Blackberry or Blueberry Crisp
4 cups fresh or frozen blackberries or blueberries
4 Tbsp. sugar
2 tsp. cornstarch
3 tsp. water
1 tsp. lemon juice
1 cup quick-cooking oats
1/2 cup all-purpose flour
1/2 cup packed brown sugar
1 tsp. ground cinnamon
1/2 cup cold butter
Vanilla ice cream or whipped cream, optional
Place blackberries in a greased 1-qt. baking dish. In a small bowl, combine sugar, cornstarch, water and lemon juice until smooth. Pour over berries.
Combine oats, flour, brown sugar and cinnamon; cut in butter until crumbly. Sprinkle over berries.
Bake, uncovered, at 375 degrees for 20 to 25 minutes or until filling is bubbly. Serve warm with ice cream or whipped cream, if desired.
Peach Cobbler
Connie King
1 ½ cups self-rising flour
1 ½ cups sugar
2 cups milk
1 ½ sticks butter
6 cups fresh peaches, sliced
Combine flour and sugar; add milk, mixing well. Melt butter in 13 by 9-inch baking dish. Pour in flour mixture. Pour peaches in center. Bake at 350 degrees for 35 minutes or until golden brown.
When peaches are out of season, can use canned.
Easy Blueberry Cobbler
Pat Randle
Can use blackberries
2 cups all-purpose flour or whole wheat pastry flour
1 cup sugar (or can use Sucanat)
1 ½ tsp. baking powder
½ tsp. salt
¼ cup melted butter or salad oil
¾ cup milk
1 egg
2 cups blueberries
Place first seven ingredients in large bowl; blend well. Gently fold in blueberries. Pour into a greased two-quart casserole.
Topping
1 cup sugar
4 Tbsp. butter, softened
2 tsp. cinnamon
Mix ingredients together; sprinkle over batter.
Bake at 350 degrees for to 45 minutes. Good served warm with peach ice cream.
Anna's Easy Fresh Peach Pie
4 peaches, peeled and sliced
1 cup self-rising flour
1 cup sugar
1 stick butter
1 small can Carnation evaporated milk
Melt butter in bowl in microwave. In separate bowl, mix flour, sugar, butter and milk; stir well. Add sliced peaches.
Pour into baking pan. Cook in 375 degree oven for 30 minutes. Serve warm with vanilla ice cream on top. Recipe can be doubled.
Raspberry and Fig Cake
Dr. Shirley
Lazenby
Dry breadcrumbs (I use cornmeal)
1 1/2 cups sugar
3 eggs
1/2 cup butter, melted
Zest of 3 limes, divided
1 1/2 cups flour
Juice of 1 lime
1/2 pint raspberries
4 figs, cut into eighths (or additional 1/2 pint raspberries)
Powdered sugar
Preheat oven to 350. Butter a 9-inch springform pan and coat with breadcrumbs.
In a bowl, using a handheld mixer, beat the sugar and eggs at high speed. until fluffy, 2 minutes. Beat in butter and 2/3 of the zest. At low speed, alternately beat in flour and lime juice until almost incorporated. Using a rubber spatula, gently fold the batter until smooth.
Scrape the batter into prepared pan and smooth the surface. Gently press in raspberries and figs.
Bake the cake on the bottom third of oven for 40 minutes. Transfer to the upper third of oven and continue baking for 35 minutes longer until a cake tester instead in the center comes out clean with a few crumbs attached.
Transfer to a rack to cool. Run a thin knife around the edge and release the springform. Dust with powdered sugar. Sprinkle with remaining lime zest, slice and serve.
Easy Fig Spread
Anna Asbury
shared this recipe years ago. If you enjoy fig preserves, this is similar without all the work. It is good on toast for breakfast.
1 cup soft figs
1 cup sugar
Small amount of water
Dash of lemon juice
Combine ingredients in saucepan; simmer until the consistency of jam.
Fig Preserves
Bryce Farms
6 quarts figs
1 lemon
3 quarts water
4 lbs. sugar
Sprinkle firm ripe fruit with baking soda (1 cup to 6 quarts fruit).
Cover with 6 quarts boiling water and let stand for 15 minutes. Drain and wash in 2 baths of clean cold water. Let figs drain.
Make syrup of 4 lbs. sugar to 3 quarts hot water. Add figs and cook rapidly until clear and tender. After the syrup thickens some put juice of one lemon in it. Take them off heat and let plump overnight.
The next morning take a small amount out and check to see if it is thick enough. If not, you can cook a little more, then put in jars and process in boiling water for 25 minutes.
Figs will be plumper if you don't pack them so thick
Fresh Peach or Berry Trifle
1 pound cake, homemade or purchased
6 oz. pkg. instant vanilla pudding
2 cups whipping cream, whipped and sweetened with 1/3 to ½ cup sugar or medium-sized whipped topping
Peaches, Strawberries, blueberries or choice of fresh fruit
Prepare vanilla pudding mix as directed on package. Chill until ready to assemble trifle.
In a trifle bowl or large bowl, place a layer of pound cake slices, top with half of the pudding and fruit. Then spread whipped cream over fruit. Repeat layers. Garnish top with additional fresh fruit, if desired. Chill until ready to serve.
Bacon-Wrapped Figs
Emma Jane Hunt
8-12 fresh figs, cut in half length-wise
8-12 slices sugar-cured black pepper crusted bacon, cut in half
Wrap each fig half with half a slice of bacon.
Place wrapped figs in a sauté pan and cook over medium heat, turning every couple of minutes to cook the bacon.
Serve warm or at room temperature.