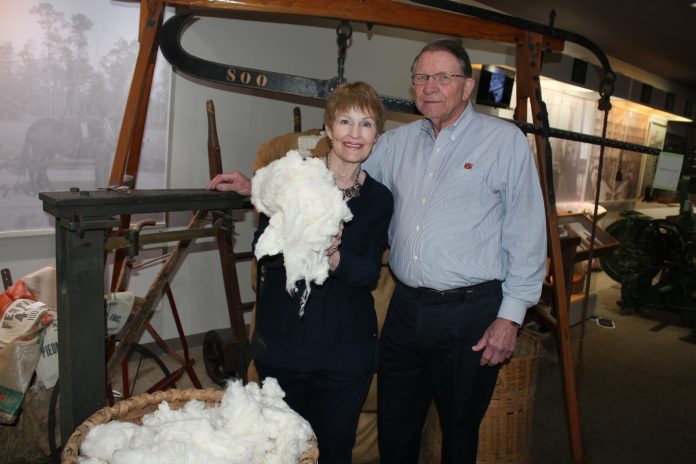 By Ann Cipperly
When George Crawford looks back on his childhood, he recalls happy, carefree days with friends in the idyllic setting at the Pepperell Mill Village. George will reminisce with many of those friends at the 14th annual reunion of the Pepperell Kids on May 5 at his Lake Martin home with his wife Janet.
George was in the third grade when his father was hired as traffic manager at Pepperell Mill in 1949. Since there was not a house available in the village, they lived in the POW camp for two weeks while looking for a place to live. After several months in a rental, a house in the village became available.
"It is really difficult to explain," says George. "It was basically like one big family. It didn't matter where you were, if the family was eating, you were welcome to eat with them. If you got in trouble at a friend's house, you got spanked. Then, they called your parents, and you got spanked again."
George feels the village became close knit because they were a small community with their own grocery store, drug store, churches, beauty parlor, barber, post office, service station, scout hut, a ballpark and two full time nurses at the clinic. The only time he remembers going to downtown Opelika was on Saturday mornings to the movie theater.
They had a Little League baseball team and a midget football team called the Pepperell Dragons. "We were in a league with three teams from Opelika," says George, "and we rarely lost a game. At the village about all we boys did was play sports and fight."
He graduated from the 9th grade at Pepperell School, and then attended Cliff High School, graduating in 1958. He lived in the village from 1949 until he was a junior at Auburn University in 1962.
George worked at Georgia Highway Express Trucking Company to pay his way through college. After graduating in 1963, he was transferred to Atlanta for a training program. He was then sent as a terminal manager to Thomasville, GA, where he was the youngest manager in the company.
Over the years, he worked his way from a dockworker to a senior vice president at Old Dominion Freight Line, one of the largest carriers in the country.
In 1994, he started his own his own business, S & H Transportation Services in Greensboro, NC. He sold the company in 1999 and stayed on a year longer to manage through the transition.
George and Janet lived in various places over the years but had enjoyed living on Lake Wiley in the Carolinas. After the business sold, they began looking for another lake home and decided on Lake Martin. They purchased a lot and had a house built in 2001.
Janet, who had lived the first five years of her life in Tallassee, had a desire to live back in this area. Her father had been an airline mechanic during World War II. When he returned home from the war, he went to work with Eastern Airlines in Atlanta. Janet recalls on her 5th birthday taking the train with her family to College Park, south of Atlanta.
She spent her summers visiting both sets of her grandparents who lived between Tallassee and Notasulga. "It just felt like the home of my heart," says Janet, who also wanted to be near her parents. Her mother has passed away, but her father is now 100 years old.
George had been gone from Pepperell for 37 years and had lost track of everyone he knew in the village. He had only returned occasionally for Auburn football games.
After they moved to Lake Martin, George received a call from Jane Sanders Worthington in 2003, asking if he was the George Crawford from Pepperell. Jane told him they had been trying to find him everywhere, adding that someone thought he was in the mafia, while another person thought he was dead.
Jane, who also grew up in the Pepperell Village, was contacting him for a class reunion of Cliff High School. They then decided they should get their village friends together for a reunion. George coined the name "Pepperell Kids."
George and Janet enjoy opening their home for hospitality and began hosting the reunions. The first reunion was held in 2005 with 30 plus attending with everyone bringing a dish. After four years, they decided it was easier to have the event catered with barbecue.
As word spread about the reunion, it continued to grow larger every year, reaching a total of 161 "Kids" in 2013.
"It has been a labor of love," George says. "My reward over the years has been watching a new person attend. They will look at someone and say, 'I know that person.' Then, they will look at the nametag and say, 'Oh, my gosh' and start hugging. To see the pleasure on their faces is all the payment I need."
He receives many thank you notes for hosting the reunion. When some can't go, they will still send a check to help with expenses.
George has over 200 names on a Pepperell Kids e-mail list that he contacts when someone has a prayer request or he is advised of a death.
"Unfortunately, as we age we are losing some of the Kids," he says. "Others are getting where they cannot travel anymore. Last year it was down to 70 attending. It is unusual that elementary kids still get together. We were so close; that is why the Pepperell Kids getting together is such a blessing."
This year two unworn 1950s vintage Pepperell shirts are being raffled for a $5 donation. The funds collected will go toward purchasing a painting by Elaine Western of the water tower and smoke stack at Pepperell to donate to the Museum of East Alabama from the Pepperell Kids.
The group donated the dragon monument next to the museum. One year George gathered bricks from the beachery to take to the reunion and was getting ready to save bricks from the mill building when it burned.
Although Janet did not grow up in the village, she is happy to open their home for the reunion. "Wherever we lived," she says, "we liked for our home to be the gathering place for our children's friends and now for our friends."
The Crawfords' two children are now grown. Their daughter, Heather Crawford Ross, and her husband, Trevor, who live in London, England, have two children, Madison, 3, and Noah, 1 year old. Son Scott lives in Birmingham and has two children, Dylan, 4; and Ellie, 6.
Janet enjoys offering hospitality and finds it a joy to host the Pepperell Kids reunion. "They have shown me so much love," says Janet, "and said that I can be an adopted Pepperell Kid."
Anyone who attended the original Pepperell School for any amount of time or lived in the mill village before the houses were sold is invited to attend. Pepperell Kids can contact George at sandh@mindspring.com.
Ann Cipperly can be contacted at recipes@cipperly.com.
Recipes:
Chef's Pot Roast
Two of Janet's favorite recipes, Chef's Pot Roast and Easy Spinach Soufflé, are from cooking classes she took from an Atlanta chef when she and George were first married. They have remained favorites over the years. The method of cooking the roast is different since it is baked while frozen.
Chuck roast, medium to large, frozen
Whole carrots
3-4 large potatoes cut in half or a bag of small new potatoes
4-5 sweet or regular onions, cut in half
(Quantity of vegetables is whatever you desire.)
1 or 2 pkg. dry onion soup mix
Water
Worcestershire sauce
Preheat oven to 320. Place roast in a large baking pan.
Distribute vegetables around and on top of roast. Add enough water to cover the bottom of the pan. Sprinkle 1 or 2 pkg. dry onion soup mix over roast and vegetables.
Liberally sprinkle Worcestershire sauce over all.
Cover tightly in foil to prevent steam from escaping.
Bake for 6 hours. Roast will be tender.
East Spinach Soufflé
2 boxes frozen chopped spinach, microwave according to directions on box. Drain and mash all water out of spinach.
8 oz. pkg. cream cheese, softened
¼ tsp. nutmeg
1 stick butter, softened
1 to 1 ½ cups grated Parmesan cheese
Juice from ½ lemon, optional
Salt and pepper to taste
Beat cream cheese and butter until fluffy. Add spinach and nutmeg. Then add Parmesan cheese and lemon. Add salt and pepper to taste.
Bake at 350 for 30 minutes.
Greek Carrots
1 bag whole carrots
Greek seasonings
Olive oil
Put carrots in large Ziplock bag. Add enough oil to coat by shaking or rolling bag around.
Open bag and sprinkle Greek seasonings liberally over carrots.
Remove carrots from bag and place on foil covered cooking pan in a single layer.
Bake at 425 for about 30 minutes, depending on the thickness of the carrots. Carrots are done when you can easily penetrate with a fork.
Carrots will caramelize and be toasted.
Provençal Stuffed Tomatoes
Janet serves colorful vegetables for an attractive presentation.
6 medium or large tomatoes
Salt
Freshly ground black pepper
2 Tbsp. plus ½ cup olive oil
½ cup dried breadcrumbs
3 Tbsp. freshly grated Parmesan cheese
2 cloves garlic, peeled
3 sprigs fresh basil
Preheat oven to 350. Cut tomatoes in half width-wise. Place on a baking sheet or in a casserole dish, cut side up, and generously season with salt and pepper. Drizzle with 2 Tbsp. olive oil.
In a food processor, combine 1/2 cup olive oil, bread crumbs, Parmesan, garlic, basil and 2 pinches of salt; process for about 1 minute. The mixture should have a wet, crumbly consistency. Press breadcrumb mixture onto tomatoes. Bake for 15 minutes or until tops are browned and tomatoes are warmed through. Serves 6-8.
Best Shrimp
1 stick butter
1 lemon, sliced
2 lbs. fresh shrimp, peeled and deveiued
1 pkg. dry Italian dressing
Melt butter in baking pan. Layer lemon slices over butter. Add shrimp. Sprinkle Italian dressing over shrimp.
Bake at 350 for 15 minutes.
Note: Can sprinkle panko crumbs over shrimp before baking.
Resa's Fresh Salmon Steak
Janet prefers dishes that use a few, easy to find ingredients.
Salmon steaks
Chopped horseradish in a jar (not sauce)
Panko crumbs
Spread horseradish over salmon; sprinkle panko crumbs over top. Bake at 360 for about 10-12 minutes, depending on thickness of the salmon.
Boo's Slow Cooker Pulled Pork
2.5 lbs. Boston butt
Lawry's seasoned salt
1 can Dr. Pepper
½ bottle Sweet Baby Ray's Original Barbecue Sauce
Coat pork with seasoned salt. Place in a slow cooker. Pour Dr. Pepper over top and then barbecue sauce.
Cook on low for four hours. Pull pork apart with a fork. Cook another hour in the juices.
Maureen's Ice Cream Cake
Instead of the Whoppers candy, you can also use toffee bars or Butterfinger candy.
12 ice cream sandwiches
Large carton of Whoppers candy
2 cartons Cool Whip
Hershey's Chocolate Syrup
Place ice cream sandwiches in a 9 x 11 ½-inch glass dish.
Crunch half of the Whoppers and sprinkle on top.
Spread Cool Whip on top. Then drizzle chocolate syrup over Cool Whip.
Add the other half of crunched Whoppers, and then more chocolate syrup.
Double Chocolate Cherry Dump Cake
This recipe is from the Crawfords' son-in-law Trevor Ross.
For the cake:
1 devil's food cake mix
1 can cherry pie filling
2 eggs, beaten
1 tsp. vanilla
1/2 cup chocolate chips
Topping:
1/3 cup of milk
5 Tbsp. butter
1 cup sugar
1 cup chocolate chips
Mix all cake ingredients together with a spoon and bake in a greased 9 x 13-inch pan for 35-40 minutes at 350 degrees.
When cake is semi-cool (doesn't have to be completely cool, just warm), boil topping ingredients for one minute, stirring constantly. Pour over cake.
Pineapple Sausage Skewers
1 pkg. sweet Italian sausage, sliced 1/2 inch thick
1 whole pineapple, peeled, cored and cut into 1-inch chunks
1 cup barbecue sauce
8 bamboo skewers, soaked in water for l hour, or metal skewers
Preheat grill to medium. Thread sausage and pineapple on skewers, alternating meat and fruit. Reserve leftover pineapple for another use. Brush skewers generously with barbecue sauce.
Grill over medium heat for 10-15 minutes, turning occasionally, until golden. Using a food thermometer, make sure the sausage reaches an internal temperature of 165 F before removing from the grill. Serve skewers over rice or with mixed green salad. Makes 4 servings.
Note: Can add red and green peppers for color.
Crustless Quiche
Can put together quickly for Sunday brunch or supper. Janet found this recipe years ago in the "I Hate to Cook Cookbook."
4 oz. (1 cup) shredded cheddar or Swiss
6-7 slices cooked bacon, crumbled or chopped ham
Sautéed mushrooms, optional
4 eggs
½ cup chopped onion
½ cup flour
2 Tbsp. butter, softened
½ tsp. salt
Dash of pepper
1 ½ cups nonfat milk (can use whole milk)
In a 10-inch pie plate or quiche pan, sprinkle cheese, bacon and mushrooms.
Combine remaining ingredients in a blender or beat until smooth. Pour into pan.
Bake at 350 for 35 minutes or until set. Let stand a few minutes before slicing.
Sandy's Corn Dip
1 can Mexican corn, drained
8 oz. shredded cheddar cheese
1/2 cup mayonnaise
1/2 cup sour cream
1/2 cup chopped green onions
Sprinkle of salt
Mix all ingredients together and refrigerate 2-4 hours or over night. Serve with Fritos or crackers.
Sara's Buttery Biscuit Rolls
2 sticks butter (no substitute)
1 8 oz. carton sour cream
2 cups self-rising flour, not sifted
Preheat oven to 350. Melt butter and mix.
Drop batter into miniature, ungreased muffin tins.
Fill to top. Bake for 25 minutes. Makes 24 small
biscuit rolls. May be prepared and frozen.
Blueberry Fool
2 cups fresh or frozen blueberries, thawed, divided
1/8 tsp. ground cinnamon
1/2 cup whipping cream
1 Tbsp. sugar
3 to 4 kiwifruits, peeled and chopped
In a shallow dish use a potato masher to mash 1 cup of the blueberries. (Or puree berries in a small food processor.) Stir cinnamon into mashed blueberries.
In a chilled medium bowl combine whipping cream and sugar; beat with rotary beater until very thick. Fold in mashed blueberries.
In six 6 to 7 ounce dessert dishes layer whipped cream mixture, the remaining 1 cup blueberries, and the kiwifruits. Serve immediately or cover and chill for up to 2 hours before serving. Makes 6 servings.