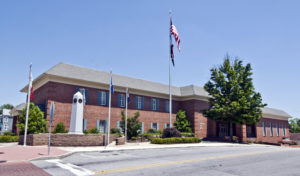 By Rebekah Martin
Associate Editor
Members of the Opelika City Council unanimously voted to repeal an ordinance at last week's regular meeting that would have allowed for the construction of a sewer line along Sutton Way, connecting the 14 homes to the city sewer system. The homes currently have septic tanks, many of which are causing problems and financial burdens for the homeowners.
The city council heard from homeowners during two public hearings in September before voting last Tuesday. The majority of the homeowners were opposed to the project and its assessment, which would have cost approximately $10,000 each. Out of the 14 homeowners, seven voted against the project, six voted for it and one homeowner was neutral.
"I don't want to impose on the community of Sutton Way something the majority has said that they do not want," Councilwoman Patsy Jones said. "Unfortunately this prohibits some of the ones who are having problems from getting some things done. We wanted to do what was fair and allow you all as citizens to tell us what you wanted to do, and I don't think it's fair for me to assess when a majority has said they do not want it."
In other business, the council also:
-reappointed Cathy Long and Shirley Carter to the Library Board with terms ending October 2021.
-reappointed Henrietta Thomas to the Lee County Youth Development Board with a term ending October 2021.
-reappointed Brent Poteet to the Board of Adjustments and Appeals.
-awarded a bid to Glenn Smith Chevrolet for the purchase of a 2018 Chevy Tahoe for the executive office.
-passed various resolutions approving annual appropriations to Envision Opelika, the Opelika Industrial Development Authority. The East Alabama Arts Association, Storybook Farm, Opelika Main Street, the Boys and Girls Club of East Alabama, the Lee-Russell Council of Governments, the East Alabama Community Ballet and the Opelika Chamber of Commerce for its Lee County Young Leaders program and 20-under-40 program.