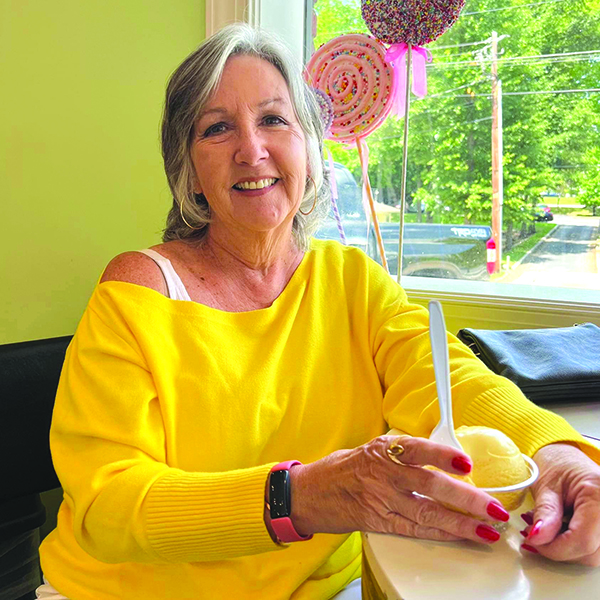 BY MICHELLE KEY
MICHELLE@
OPELIKAOBSERVER.COM
OPELIKA —
It is hard to find the words to express the grief that the Opelika and Auburn communities share after the news of the death of Opelika icon, Lorna Roberts.
Roberts died at her home on Friday, Sept. 30.
Born to Loren and Elouise Sutton on March 28, 1957, Roberts graduated from Opelika High School in 1975.
She married her sweetheart, Don Roberts, at the tender age of 16. She and Don were married 44 years before Don died in September 2017 following a battle with pancreatic cancer.
The couple had two children, Michael and Allyson, and four grandchildren, all of whom she adored.
The Roberts frequently dined at Cafe 123 in downtown Opelika — so frequent that owner John Robert Wood dedicated a booth to the couple.
"He [Don] always sat at the same booth, and he wanted that last booth so that he could see the room … and that was just his booth," Head Chef Eron Bass told The Observer in 2017. "… He had a love for food that you don't see too many people have."
Lorna continued to visit the restaurant almost once a week, often inviting friends to join her.
In a Facebook post, Louisa Wood shared, "She loved everyone at the Cafe and we all loved her. She ate with us almost once a week for more years than I can remember and she knew everyone in the place … Booth 5 at Cafe 123 will never be the same without Don and Lorna Roberts. Opelika will not be the same without them either."
She loved to travel and often did so with both family and friends.
Lorna is remembered for her infectious laughter and smiles. She is often described as being everybody's biggest cheerleader. She thrived upon serving others.
Lorna was well-loved by the Opelika community. Many of her friends posted sweet memories and tributes on her Facebook page.
"I've never had a friend like Mrs. Lorna. When I met her as a freshman in the theatre society at OHS, she told me 'you have an amazing voice! one day, you'll be a star!' Our friendship continued through my years doing shows with OHTS; I would run out and see Lorna and talk to her for as long as I could after the shows. When she came through the drive through at O Town Ice Cream, I didn't mind holding up the entire line to stick my head out the window and just talk and catch up. Her smile. Her laugh. She was just so radiant all the time." – Celina Aleman
"One of the most important things a person can do is just "show up!" Be there for those you love. That was Lorna. If she was invited, she showed up. No matter the occasion (or no occasion at all), she was always happy to be there. She was a great friend. She was kind, fun, funny and just a joy to be around."- Kate Larkin
"Lorna Roberts came into my life and filled a space that can never be taken by anyone else. She was part of my tribe. The laughs and the joy this beautiful friend brought into my world was something that is irreplaceable." – Angela George
"I know if Lorna could tell us anything right now it would be:
1. Love Jesus
2. Eat the food
3. Take the trip
4. Drink the wine."
– Lindy White
Lorna had a long and successful career in banking. She retired in November 2019, after having worked in the field for nearly 34 years.
She served on boards of several local organizations, including East Alabama Fellowship of Christian Athletes (FCA).
She was awarded the Spirit of Opelika award from the Opelika Chamber of Commerce in 2019 and was often seen attending chamber events. She supported local businesses throughout the community, championing for them regularly.
Lorna is survived by her parents Loren and Elouise Sutton, her children Michael Roberts (wife Nicole) and Allyson Schnarr (husband Brian), her grandchildren Austin Roberts, Luke Roberts, Livi Schnarr and Charli Schnarr, and her siblings Liz Sutton, Tim Sutton (wife Glenda) and John Sutton.
A memorial service was held at 4 p.m. on Tuesday, Oct. 4, at First United Methodist Church Opelika.
To honor Lorna, consider donating to East Alabama FCA (www.eastalabamafca.org), Auburn-Opelika Young Life (www.auburnopelika.younglife.org) or the EAMC Foundation (www.eastalabamahealth.org).
One particular Facebook post summed up what Lorna meant to the Opelika community:
"Mrs. Lorna was woven so deeply within Opelika and was truly a part of it's heartbeat." – Stephanie Pinckard
Opelika's heartbeat will continue, but will not be quite the same without Lorna's infectious smile and joyous outlook on life.