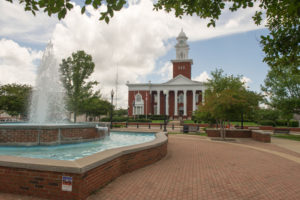 By Fred Woods
Opelika Observer
At last week's regular meeting, the Lee County Commission voted to sell land in Beauregard, acquired about 15 years ago, on the recommendation of the Lee County Recreation Committee, but totally unsuited for recreation purposes. The commission sold the 40-acre property for the same price – $240,000 – it originally paid for it, so no loss was incurred by taxpayers.
The vote was 3 – 0. Commissioners Eckman and Harris were both absent from the meeting.
Under the leadership of District 4 Commissioner Robert Ham, property more suited for ball fields and similar types of recreation has recently been acquired in both Beauregard and Beulah.
For the Beauregard property, design and other work preliminary to actual construction is almost completed.
Commission Chairman Bill English reminded everyone that the next commission meeting on May 29 will be held at the new Beulah Senior Center on Lee Road 270 in Beulah. The commission had voted earlier this year to meet there to dedicate the new center.
The facility is located on Lee Road 270 about 1/2 mile east of its intersection with U.S. Highway 29, about nine miles north of Opelika.
The meeting will begin at its regular time of 5 p.m. Central Standard Time.
In other action, the commission:
• after the required public hearing voted to vacate the right-of-way of Lee Road 670 in southwestern Lee County off Wire Road just east of its intersection with Beehive Road,
• appointed (second reading) Dozier Smith T to the East Alabama
Healthcare Authority Board,
• approved hiring a student intern for the Revenue Office for the summer, with salary to be paid out of already-budgeted funds,
• approved a contract for striping and traffic markers on various county roads with Hornsby Striping Company, Inc.,
• approved Highway Department assistance at minimal cost to the county to Beulah High School for brush control measures around athletic fields, and
• approved an off-premise beer and wine license for the Dollar General store at Marvyn on Alabama Hwy. 51 south of U.S. Hwy. 80.