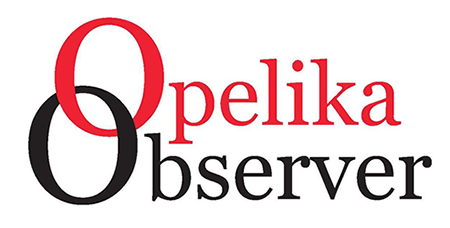 BY HANNAH LESTER
HLESTER@OPELIKAOBSERVER.COM
LEE COUNTY —
The Lee County Commission heard an update from Girls' STEPS Inc. Monday night after a $12,000 contribution to the project.
Tiffany Gibson-Pitts, Girls' STEPS Inc. CEO and founder, presented information to the commission on what the organization has accomplished lately and its upcoming goals.
Although school is just starting back, Pitts shared about different after-school and in-school programs that were held last year.
"We offered an after-school tutorial program [Project Hope] for boys and girls in a range in the community, as well as we started a weekend backpack program where students could come and get food on Fridays to have over the weekend, and then we also created hygiene packs because we noticed some girls needed some personal items, as well as some boys," she said. "Hygiene is very important for kids because we know if they don't smell right, they can get picked on. So we're trying to alleviate all of that."
Additionally, outside of the school programs were events for girls in third through 12th grades that encouraged time with family. There was a mother-daughter dinner and a father-daughter brunch.
"We know that research shows that girls who have a strong relationship with their mothers are less likely to participate in deviant behavior, so any opportunity we have to incorporate parents into what we are doing, we try to do it," Pitts said.
"Also, we know that we have a lot of unfortunately absent fathers. So that was a really, really great event for dads to come and be a part of their daughters' progress in our program. If a father wasn't there, we had grandfathers and uncles, but girls were able to identify a male figure in their lives, and we know that's very important when we're talking about self-esteem or for them making choices."
Another event the program held was the Dare to Dream Brunch for the community as a whole. Girls in the community "who were doing great things" received awards in different categories.
"We also offered a camp for middle school girls this summer," Pitts said. "And if you know anything about school, middle school is one place nobody really wants to be."
Things that the program teaches its participants through all these and more events include career prep, how to find yourself, college prep, etiquette, self-defense, healthy relationships, mental health awareness and more.
Nineteen of the girls graduated from a first-aid course. The group participated in the Slam Dunk the Junk cleanup with Opelika, gave donations to the Opelika Senior Center and more, Pitts said. Girls' STEPS Inc. is also trying to help the girls learn how to start their own businesses and make money.
"Without your support, we would not have been able to do some of the things we have done," Pitts said. "So I hope it continues."
The commission donated $12,000 to Girls' STEPS Inc., however, there are still more needs, Pitts said.
"We also need to purchase two vans, so that's something that we're working on some fundraising," she said.
She said she also submitted information to the commission to consider giving more money in the next budget cycle.
"As I've mentioned before, I'm very familiar with Girls' STEPS and I think you do an incredible job, and we really, truly appreciate what you do, and I think the commission made a great investment," said District 5 Commissioner Richard LaGrand.
OTHER BUSINESS:
– The commission heard a solid waste update from Environmental Services Director John McDonald given the county has been working with Arrow Disposal for five months now.
– The commission approved two members to the East Alabama Health Care Authority Board.
– The commission approved two members to the Lee County Communications Board.
– The commission discussed, but did not vote on, an EMA Building Project Change Order. They agreed to discuss funding to finish the EMA building during the next budget cycle.
– The commission approved the appointment of District 2 Commissioner Ross Morris to the Lee-Russell Council of Governments & Metropolitan Planning Organization.
– The commission heard a report on the Rebuild Alabama Act and Lee County Transportation Plan from County Engineer Justin Hardee.
– The commission approved a request to help Beauregard with the Beauregard Fire Department Storm Shelter Building Pad.
– The commission approved a renewal of the disposal of solid waste contract for the transfer station in Opelika with Arrow Disposal.
– The commission set the 2023 Budget Work Sessions for Aug. 29, Sept. 12, Sept. 13 and Sept. 15.